National Walk at Lunch Day is only a week away! Now is a good time to start planning your walking route, whether it's just a couple blocks around the office or walking a mile to one of our pit stops and back. Two Arlington organizations have found creative ways to incorporate DC scenery and parkland into their walking routes, making lunchtime exercise enjoyable and picturesque!
For the past couple of years, the American Psychiatric Association (APA) in Rosslyn has been actively involved in promoting and participating in National Walk at Lunch Day. Organized by the APA's volunteer-based employee wellness committee, over 40 employees walk together down the Mount Vernon Trail and over to Roosevelt Island to check out the park and enjoy the spring weather. Each year the event has grown more popular and we look forward to hearing about APA's walk this year!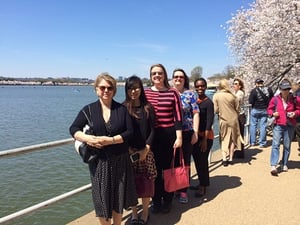 Staff at the American Society of Transplant Surgeons (ASTS) took advantage of the recent warm weather to visit the tidal basin and take in the cherry blossoms. They took the Metro into DC from Crystal City and spent an hour strolling along the Tidal Basin and visiting the Jefferson Memorial. This is the second year the staff at ASTS has scheduled their own version of "Walk at Lunch" to coincide with the annual Cherry Blossom Festival.
You and your company can walk at lunch as well next Wednesday, April 30th, for National Walk at Lunch Day! Arlington Transportation Partners can't guarantee peak cherry blossoms such as the ones ASTS saw on their walk, but the three different Walk at Lunch Day pit stops in Rosslyn, Crystal City, and Ballston will offer different vendors, raffle prizes, and gift bags for registered groups.
Remember, you don't have to make National Walk at Lunch Day the only day you get out and walk! Take some inspiration from APA and ASTS, and schedule occasional "Walk at Lunch" events throughout the spring and summer. Your health and peace of mind will thank you!
For more information on ATP's National Walk at Lunch Day pit stops, visit the event webpage or contact us at solutions@transpartners.com and 703-247-2417.