On August 7, Arlington Transportation Partners and over 130 of our friends and neighbors closed down a small side street on Columbia Pike. Why? To celebrate mobility and transportation options in Arlington County, specifically those available along the Columbia Pike corridor where access to Metrorail is more limited.
Understanding the options in Arlington is important in any urban village; however, the most important aspect of Our Shared Street is how we choose to reach our destination. By car, by bicycle, by transit, or by foot—it's important to demonstrate care and respect towards all modes on the road. The pop-up is an opportunity for residents to interact in a safe place and try different mobility options.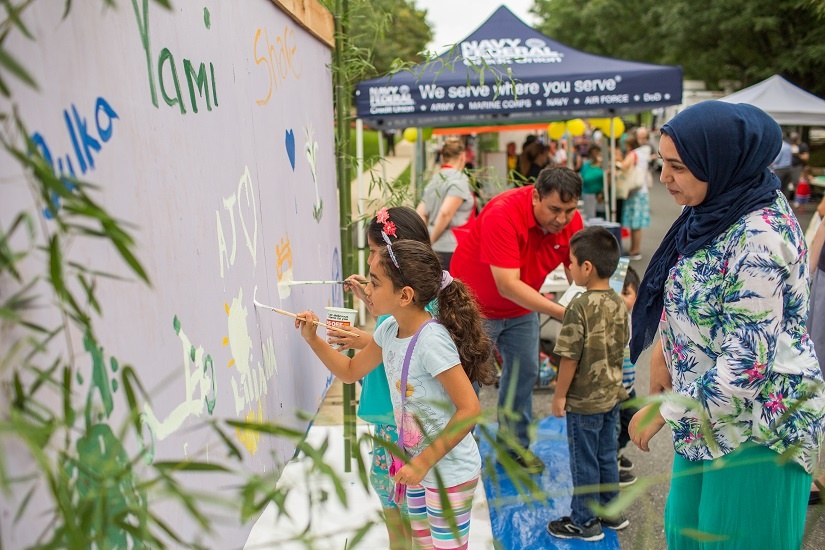 Testing Mobility Options
One of the most popular spaces at the pop-up was our brand-new Mobility Experience Station that was filled with fun transit options—Bird and Lime scooters, Capital Bikeshare shared-use bikes, and electric-assist bikes from Trek Clarendon. Bringing these options directly to residents breaks down barriers to sustainable transportation, further encouraging access to new options arriving in the County.
Bird also handed out free helmets to attendees while Capital Bikeshare helped sign up residents at the event with a discounted membership.
Testing walkability
While not as trendy as a scooter, walkability and bike-friendly infrastructure were important topics at the pop-up. WalkArlington and BikeArlington helped residents discover their 20-minute neighborhood, an initiative to learn about all the places you can travel to in 20 minutes or less without a car. Just remember—every active commuter out there makes more space for others on transit or on the road.
Creating Safe Streets
When we asked one resident why he loved living on Columbia Pike, unprompted he said, "Transportation!" But everyone who lives on the Pike doesn't know their options.
With the support of all Arlington County Commuter Services (ACCS) programs, Our Shared Street Pop-Up presents a unique opportunity for all commuter service programs to connect on Columbia Pike specifically. Jim Larsen, Bureau Chief of ACCS said, "It's great to see Arlington County Commuter Services out together and engaging the community in a different way. Bringing information and opportunities to try various modes directly to the community breaks down barriers and opens up opportunities to sustainable transportation."
Why Arlington
In Arlington County, residents and visitors can enjoy and use 11 Metro stations, 15 ART bus routes, 22 Metrobus routes, 40 miles of bike lanes and sharrows, 50 miles of shared-use trails, and 92 Capital Bikeshare stations. The wide range of transit options makes Arlington one of the nation's most livable cities, and the Our Shared Street initiative works to make all options accessible to every neighborhood and individual.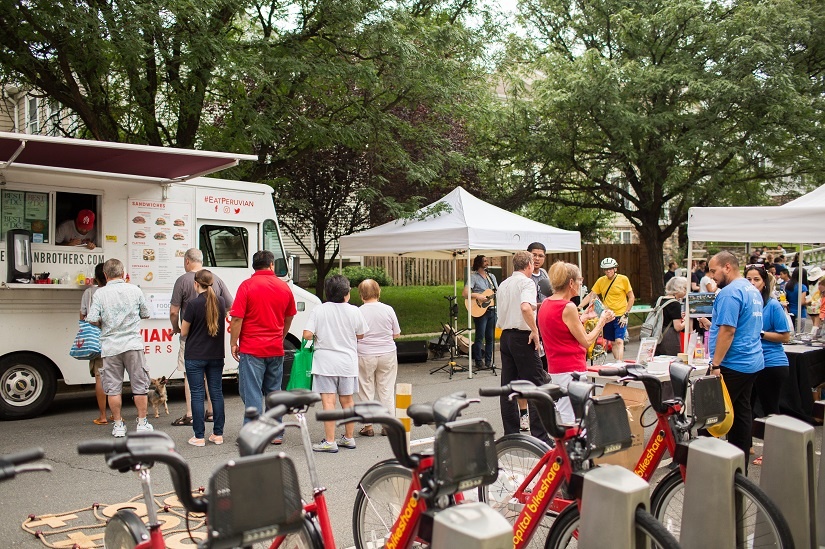 What's Next
First and foremost, thank you to our sponsors E.G. Reinsch, Navy Federal Credit Union, and S.L. Nusbaum for their generosity. Their support provided the giveaways and free food that many enjoyed. Secondly, thank you to each of our partners who showed up despite the questionable weather and helped create a wonderful community moment for Columbia Pike.
Last, but not least, thank you to everyone who joined us at our second annual pop-up event. If you missed out and you want to better understand Our Shared Street—visit our dedicated site and download the Frequently Asked Questions. You can also join our mailing list for event updates and news about next year's pop-up.
Photo Credit: Reema Desai/ReemaDesai.com for Arlington Transportation Partners