When I'm not at my day job managing ATP's Residential Program, I volunteer my time serving as President of my condo's Homeowners Association (HOA). I'm no stranger to tackling a broad range of issues popping up around the community; however, I've discovered an app that makes life MUCH easier for property managers, businesses and residents!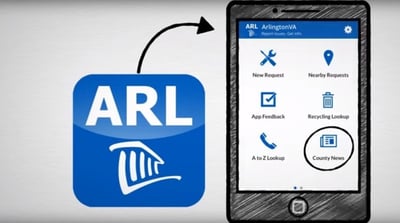 The ArlingtonVA app (yes, they have their own app) is a one-stop shop for all the latest County news and info, including:
Events Calendar
Recycling Lookup
Nearby Requests
Service Directory
Pay Bills
County News
Police News
County Website
Closing & Cancellations
My favorite feature is the app's "New Request" option that allows users to submit a variety of non-emergency issues via Arlington's user-friendly Report A Problem tool. Damaged bus shelters, potholes, broken park swings or trash collection issues? In a few short clicks, users can snap a photo, drop a pin on the map and leave County staff a quick note.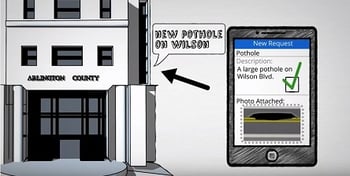 Requests are automatically routed to the appropriate County division, so users don't have to waste time trying to identify the correct department. Users also have the option of submitting requests anonymously, but I highly recommend creating an account. Registered users have the ability to track their reports and benefit from receiving helpful update emails.
Since downloading the app a year ago, my HOA has successfully reported a broken streetlight, damaged bike lane and an uneven sidewalk near our multi-family community in Courthouse. We've been so impressed with the County's timely responses that we now share this helpful ArlingtonVA app YouTube video with our residents and encourage them to submit their own reports. Property Managers – No need to thank me…just share this info and go download the app today!
The mobile app is available for FREE download through the Apple or Android store. Don't have a Smartphone? No problem, you can also "Report A Problem" here via Arlington County's website. It's that easy!
For more Arlington County tips, stay tuned to our blog or contact us.