When I first moved in to Arlington after ten car-free years in Manhattan (plus a few car-free months in Maryland and DC), I was afraid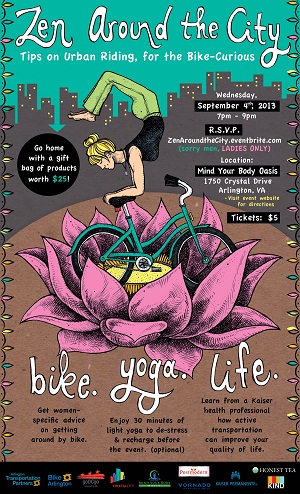 I'd be forced to buy a car to get around. That first winter I mastered the public transportation system, and decided that riding the bus in Arlington is much more enjoyable than riding the bus in New York.
However, by the time the first spring rolled around, I was ready to get a bike. It was something I'd wanted in New York, but had neither the storage nor the gumption to bike around midtown (New York is now much more bike-friendly than when I lived there). My hunt for more information about biking around Arlington led me to a Ladies' Night event at the Clarendon Revolution Cycles, where a group of maybe 30 women learned about safety (Road ID), comfort (chamois cream!), and even some basic maintenance (changing a tire). Being exposed to all of these things did not turn me into a hard-core roadie, but allowed me to slowly become more comfortable with the idea of biking for transportation in general.
That support group I had found, even for that one night, made a huge difference in my biking and is why I am participating in BikeArlington's ladies-only "Zen Around the City" event on September 4th. The event, held at the Mind Your Body Oasis Yoga Studio in Crystal City, offers "Tips on urban riding, for the bike-curious." Some gentle yoga will start off the evening, there will be a number of women bike experts to offer advice, plus a representative from Kaiser Permanente, to talk about active transportation and health. Throw in tasty food from Postmodern Foods and a gift bag of products worth at least $25, and your evening is made!
A huge thank you to the Crystal City BID and Vornado for their support with this event as well as several other sponsors who have made Zen Around The City possible. For more information on the event, visit ZenAroundtheCity.eventbrite.com. Tickets are $5. The event is filling up fast, so grab your girlfriends and sign up! See you there.