Usually when people talk about public transit you hear two schools of thought:
Public transit is easy to use.
OR
Public transit is a little scary. I don't even know how to ride the bus.
If you fall into the second category, Arlington Transportation Partners (ATP) is here to help. We get it, taking that first step on to bus or metro can be intimidating. While we can't exactly hold your hand, we do want to make the transition from car dependent to car-lite (or car free!) as easy as possible.
So first thing—let's get you set up to actually ride the bus or the metro. The best (and most cost-efficient) way is to purchase and use a SmarTrip card. Fun fact: buses do accept cash, but the only way to ride Metrorail is with a SmarTrip card.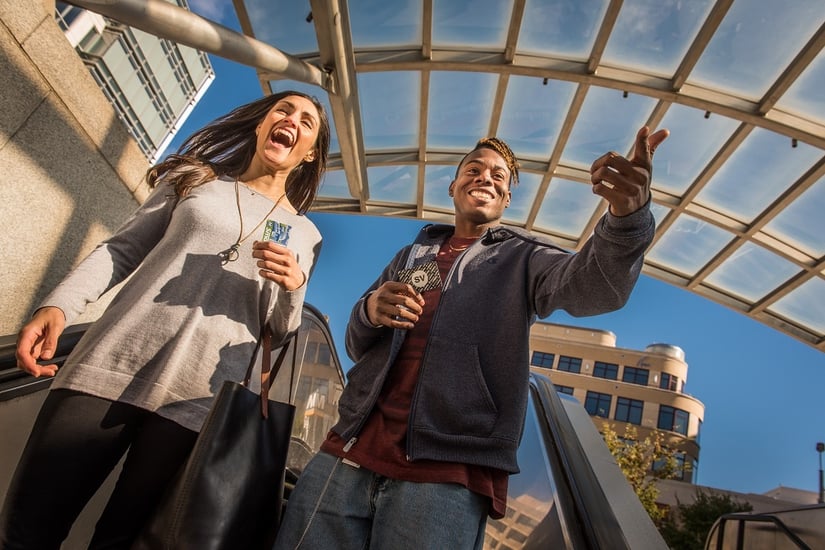 What is a SmarTrip Card?
A SmarTrip card is a rechargeable card used to pay fares on Metrorail and local bus systems in Virginia, DC, and Maryland.
Where Can I Purchase a SmarTrip Card?
You can purchase a card online or at Metro sales offices, retail outlets, and commuter stores. There are four commuter stores in Arlington County:
You can also visit nearly any Metro Station and purchase one from an ATM-like machine.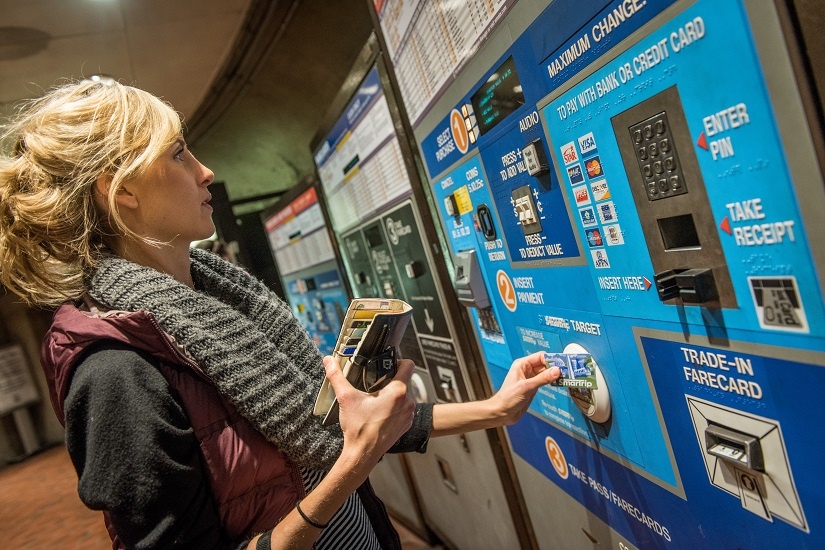 How Much Does a SmarTrip Card Cost?
The card costs $2.00 and comes with $8.00 in stored value for a total price of $10.00.
How Do I Add Money to My SmarTrip Card?
You can add money online or at any Metrorail Station, on a Metrobus or at commuter stores and point-of-sale devices. See below for detailed instructions for each method.
Online
Log in to your SmarTrip online account.
Select the card to which you want to add stored value or a pass.
In the right menu under Online Purchases, click the link to either Add Value or Add Pass and follow the prompts to complete your order.
All major credit card or debit card are accepted to add money online.
Metrorail Station
Go to a 'blue' Passes/Farecards or to a 'black' Add Value machine, located at the entrance of every Metrorail Station.
Tap your SmarTrip card against the circular SmarTrip target.
Follow the prompts on the screen.
You can pay with cash or debit/credit card.
Metrobus and most other regional transportation providers
Before you touch your SmarTrip card to the target on the farebox, push the ADD VALUE button on the left side of the target. If you're not sure where that is, ask the bus operator.
SmarTrip point-of-sale device
Available at Commuter Stores and hundreds of CVS/pharmacy and Giant Food store locations.
What is the Benefit of Using a SmarTrip Card?
There are several benefits to using a SmarTrip card—the best reason to use a SmarTrip card instead of cash is because it saves you money. SmarTrip users enjoy reduced fares, free bus-to-bus transfers, and reduced bus-to-rail transfers (or vice-versa). SmarTrip cards also make boarding public transit more convenient, increase your personal safety, and can even get you added discounts and deals at participating restaurants, stores, and museums.
Where Can I Use My SmarTrip Card?
SmarTrip cards are valid on the following transit services:
Arlington Regional Transit (ART)
DASH
Ride On
Fairfax Connector
CUE
Loudon County Transit
Omniride
TheBus
DC Circulator
Maryland Transit Administration Local Bus
Light Rail and Metro Subway
Registered vanpools
Parking at Metro facilities
Should I Register My SmarTrip Card?
Yes! You can register your SmarTrip card to protect it in case it malfunctions or is lost, stolen, or damaged.
Arlington Transportation Partners wants to make your commute easier for you, so tap your SmarTrip card and hop on the next bus or Metro! Still have questions? Don't hesitate to contact us.
Editor's Note: This was first published in November 2014 and has been republished with information written by Christy Lee.
Photo Credit: Sam Kittner/Kittner.com for Arlington Transportation Partners