We have all heard and read about the benefits of exercise to your physical and mental health. However, the challenge for most of us is how to squeeze exercise into our busy schedule. What if you could combine exercise and your daily commute to work together?
Maybe walking or biking (or rather active transportation) all the way isn't practical, but you could run/walk/bike part of the way and we bet you will notice a difference. Most metro stations have bike racks located outside the station and some even have bike lockers that you can rent to make biking an easy commuting option. Ride your bike or walk one way and take public transit the other way until you slowly build endurance to actively commute both ways.
But before you get started, here are some summertime active commuting tips to consider. Summer weather comes with plenty of sunshine and smiles, but unfortunately some sweat too. Don't let the summer heat and humidity stop you from your active commute.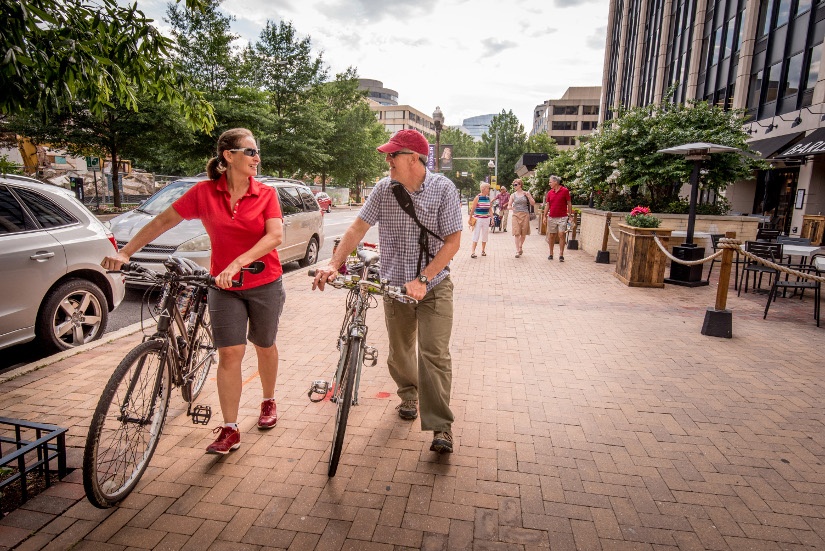 1. Stay Hydrated
Always carry a water bottle when biking, walking, running, or riding public transit.
2. Happy Feet
Wear comfortable shoes, sneakers, or walking shoes. Keep a pair or two of heels or office shoes at work to change. You don't have to go overboard like me (I have a full drawer).
3. Safety First
Wear a helmet when riding your bike, to help you feel comfortable. Make sure your bike has front and rear lights and wear reflective clothing when riding your bike or walking in the dark.
4. Dress Comfortably
Wear light colors, breathable fabrics, and moisture-wicking clothes. Don't forget your sunglasses!
5. Office Supplies
Depending on how much you sweat, it's always a good idea to keep a spare set of clothing, towel, baby wipes, or deodorant at your work station for a quick clean-up. If you plan to bike/run to work regularly, consider keeping your toiletries and clothes for the week at work. That way you don't have to shuffle clothes daily from home to office. Look for a dry cleaning service close to your work place and you won't even have to take clothes home at all.
6. Shower Power
Beat the commuting sweat with a clean shower. Most employer sites in Arlington have showers located in the building, just ask your office or HR manager for access to the shower facility. If your building does not have shower access, check with nearby health clubs for a shower-only memberships for active commuters.
7. Carry a SmarTrip® Card
For days when you are unable to ride your bike or walk home due to bad weather (or you just don't feel like it), have your SmarTrip® card in hand to enjoy your Metrorail/bus ride home.
8. One Way Ride
Consider riding your bike one way until you are comfortable and confident with your new commute. Or perhaps, if you're not ready to battle the hill today, put your bike on a bus or take your bike on the Metrorail on the way home.
9. Travel Light
Carry a small backpack with only essentials needed like a small make-up pouch or lunch. If you're carrying your clothes in daily, consider packing an outfit that is not bulky. If you plan to bike regularly, it is worth investing in a rack, panniers, or a front basket to carry the weight.
10. Plan Your Route
There are several apps and online resources available to assist in planning your route. Plan ahead so that you don't get lost. Always keep a map in hand for days when your phone battery does not cooperate. Our friends at BikeArlington have great resources you can use.
Photo Credit: Sam Kittner/Kittner.com for Arlington Transportation Partners