In October, a few of our team members volunteered to collect data about street safety in Crystal City, Ballston, and Rosslyn. This was part of the larger Data Protected Bike Lanes project that measured how often the bikes lanes were blocked by vehicular traffic during rush hour.
Volunteers used the How's My Driving web app to photograph instances of motorized vehicles parked or driving in bike lanes, or other potentially hazardous situations for people trying to travel by bike. The app was created to help jurisdictions and street designers learn what needs to be considered when laying out a new streetscape based on user provided data.
While the project focuses on how cars and trucks interact with the bike lanes, we couldn't help but notice how the surrounding buildings make an impact on how people decide to navigate in these areas.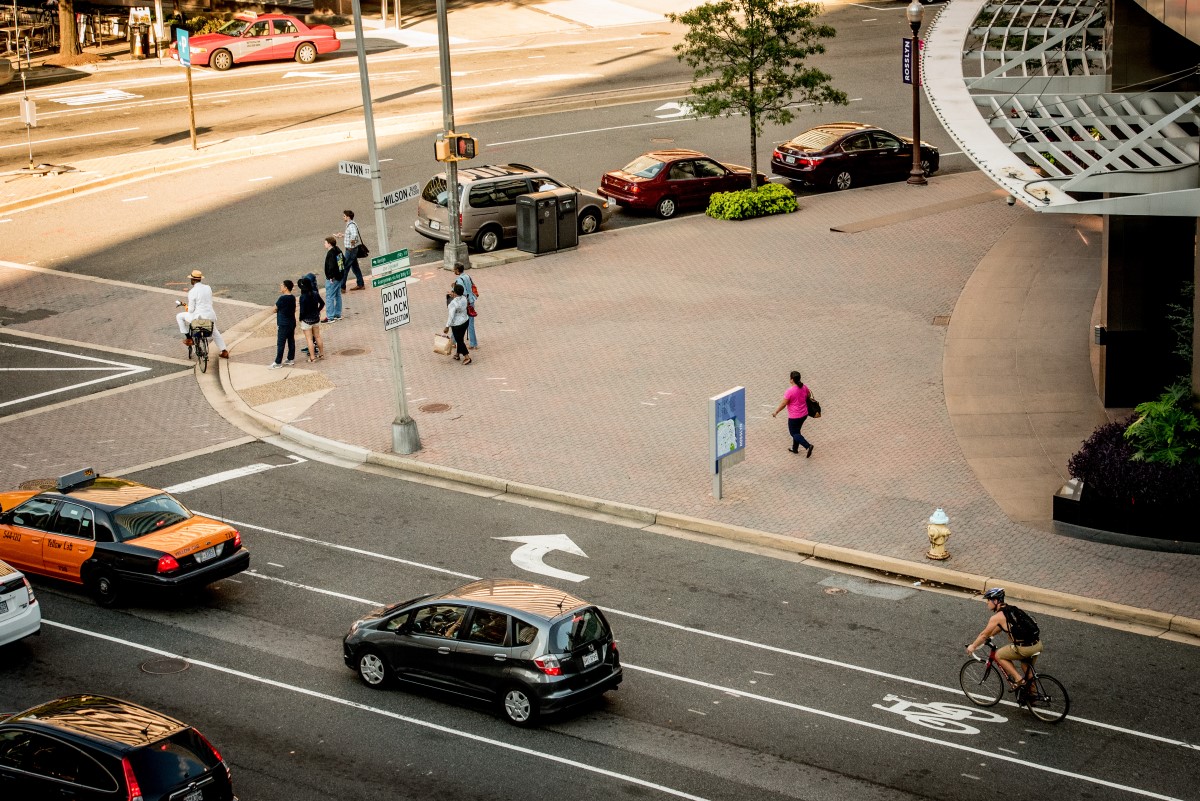 1. Work with Your Security Guard
In commercial buildings, the garage attendant or security guard might be the first person an employee or visitor talks to as they swipe into the garage. At one building on Lynn Street in Rosslyn, volunteers noticed that some people driving into the garage waited politely for the bike lane or driveway to clear while the security guard checked IDs as people entered. A few others people driving idled on top of the lane to wait for their turn to enter the garage, blocking the path. Your property's security team has the best opportunity to tell people to be mindful of the bike lane as they turn into the building or pause to deliveries or pickups.
2. Include Safety in Your Parking Policy
Your building's proximity to bike lanes might be one of the great selling points for people who choose to get around by bicycle. But tenants who opt to drive instead should still be made aware of street-sharing etiquette as part of their vehicle registration process. Such policies can include waiting on either side of the bike lane when turning in or out of the garage or pulling into a parking spot when picking up a ride. This way everyone can access your building safely regardless of how they get there.
3. Partner with your Shuttle Service Provider
If your building provides shuttle service to a Metro station, have your shuttle service provider join you in your commitment to road safety. Inspect the drop-off locations for any bike lanes and talk to the shuttle operator about making sure to pull over in a way that leaves the way clear for people traveling on that road. Most likely, your shuttle is not the only one servicing that Metro station, and it can be tricky for a person on a bike to navigate around vans without having to veer into oncoming traffic. You can be part of the solution by encouraging safe curbside practices.
Speak with the Experts
The way your building is situated is highly influential to how people choose to travel to and from it. Talk with your ATP representative to learn about what steps you can take to make traveling around your building safer for people on all modes of transportation.
Photo Credit: Sam Kittner/Kittner.com for Arlington Transportation Partners