May is National Bike Month, which not only brings us Bike to Work Day, but plenty of other excuses to get out on the bike lanes, roads, and trails to start biking. While new riders may typically feel anxious about a bike commute, the month provides additional resources to help you find your way and feel confident getting on a bike.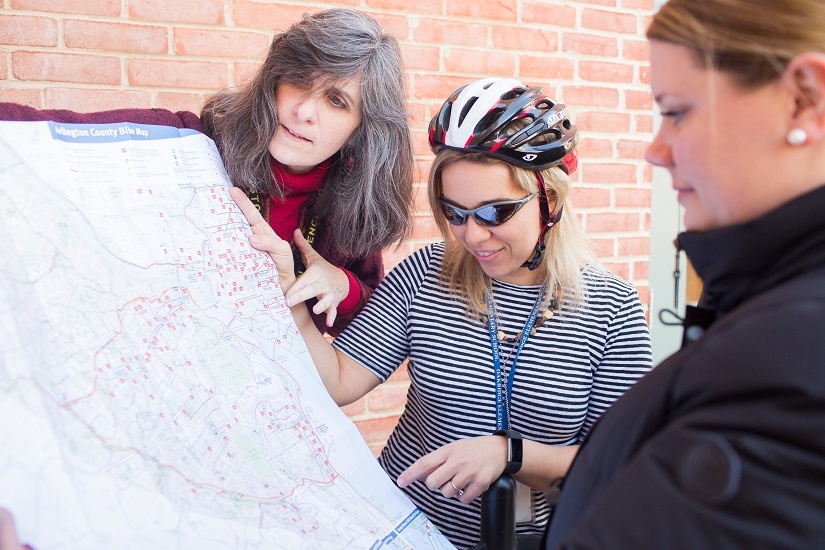 1. Take Advantage of the Great Weather
Everyone knows the phrase, "April flowers bring May flowers." In April, we saw plenty of rain and chilly weather, but in May we've finally reached warm temperatures and experienced some sunny days.
So, what does this mean for biking? May's temperatures are perfect for a bike ride because there's still a slight breeze in the air and the humidity isn't yet at it's height. This makes for a comfortable journey to work, to the grocery store, or just out on the trail.
2. Gain a Sense of Community
National Bike Month is a great time to learn from your peers. BikeArlington hosts multiple classes and community rides to help people feel more comfortable riding a bike, experience Arlington, and create friendships.
May is also a great time to find a friend to ride to work with, as those who took a break for the colder months are back to bike commuting. Earlier this month, Pinky accompanied BikeArlington and a local employee on her first bike commute to work, showing that we're all in this together.
3. Receive Tons of Encouragement
Arlington County is a Bicycle Friendly Community, meaning we're all about encouraging new riders. The County celebrates Bike to Work Day with nine pit stops, rewarding people who bike in with breakfast, giveaways, and more. Additionally, the Crystal City urban village of Arlington extends this day into a whole week of fun activities for riders.
This year's Bike to Work Day may have been rainy, but that didn't stop new riders from feeling the bike love. While volunteering at the Shirlington pit stop, I had the opportunity to meet two first time bike commuters who braved the rain to claim their well-deserved t-shirts as they made their way to work.
4. Experience More Mode Share
Between better weather, National Bike Month, and Bike to Work Day, people are getting out of their cars and walking or biking around a little more. This means a couple of things for you as a new biker—there are less cars on the road and the cars that are on the road are a little more cognizant of the fact that people are out and about.
Arlington works hard to make sure residents, employees, and visitors can get around safely and share our streets with all modes. With more friendly faces passing by, you have plenty of people who have your back as you get comfortable biking around town, helping you feel insulated and part of a larger group.
Start Biking
Whether you're working on that #SummerBody, in need of a better way to get around, or trying to make new friends in the area, biking can help. If you're ready to start moving, here are a few things you can do today to get started:
Read my journey of biking for the first time in Arlington
Check out BikeArlington's resources for new bikers
Give us a shout and let us know if you need some help biking to work
Photo Credit: Reema Desai/ReemaDesai.com for Arlington Transportation Partners