The way people bike in Northern Virginia is evolving. Biking is no longer only a form of weekend recreation, nor is it just for spandex road warriors. Biking is now an established form of transportation, used by diverse populations throughout Arlington County. Most importantly, it's used by people at your building.
Since biking as transportation is no longer a fad, it makes sense to ensure your property's facilities support people's commutes effectively and in a way that meets evolving expectations.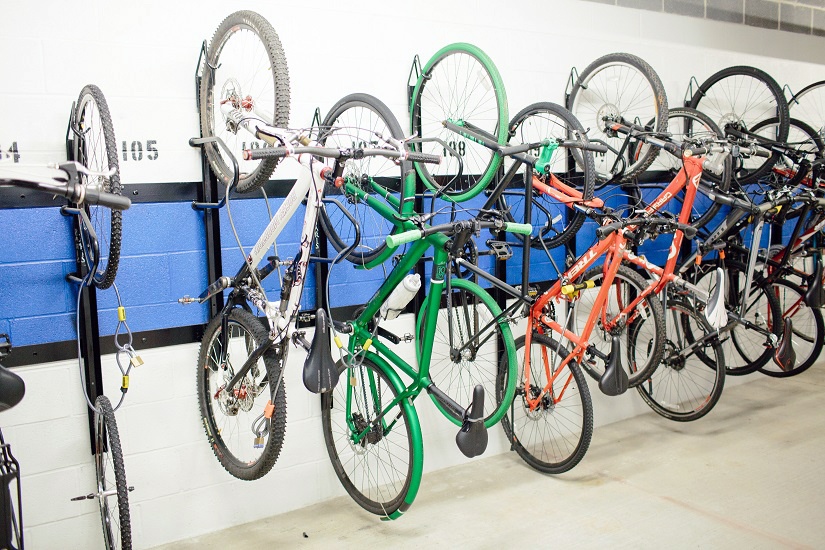 1. Register, Monitor, Survey
The easiest way to keep track of the space available in your bike room is by registering each bicycle and conducting annual audits.
At multi-family buildings it's key to know who is riding frequently versus for recreation; this information can be found through surveys. If your building has more than one bike facility, consider reserving the most easily accessible space for bicycles that are used most often, and encourage residents to keep other bikes in the other facilities.
2. Keep Tenants and Bikes Safe
Theft is a topic no one likes to acknowledge, but it's a realistic possibility for all buildings.
For bike cages in garages, a three foot steel plate surrounding the fencing makes it difficult to stick any tools or pliers into the cage. Fencing should also go all the way up to the ceiling to prevent people from climbing over. The spaces should be well lit and cleaned so tenants can safely get to the space and maneuver through it.
Control who has access to the bike room. Metal keys may be the cheapest option, but registering fobs or key cards are the best way to monitor entrances and exits.
Encourage proper bike locking by tenants. Share information about bike locking as you issue access to the bike room.
3. Service the Bikes
Partner with a local shop to host tune-up events onsite, or distribute gift cards tenants can use when they take their bikes to a partner business.
If you choose to have an in-house fix station in your bike room, keep it well maintained, and showcase it as a key amenity so tenants are aware and more inclined to use it.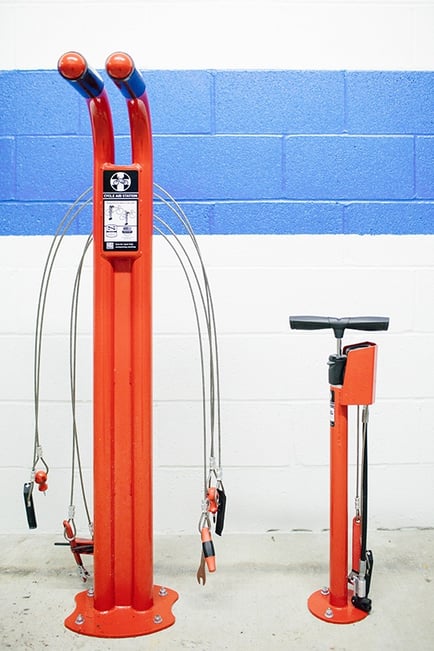 4. Know the County Standards
Arlington County is continually developing standards for building bike rooms in large buildings. These are based on best practices observed over the years as bike behavior evolves.
Before starting a massive renovation in your building, reach out to Arlington Transportation Partners (ATP) to learn the most current standards, or verify if your building has site plan requirements for a bike facility.
5. Don't Make It Difficult
Be a facilitator of bike commuting at your building, not a hindrance. Avoid the following counterproductive measures.
Making tenants come to the front desk every time
You may think asking tenants to go to the front desk for the bike room key is for their security, but what this does is turn people off from using a necessary facility and makes it harder to regularly travel by bike. As said above, fob access is a smarter way to control who gets in and out.
Charging for access
Your building's bike facility should be used to increase tenant satisfaction and entice renewals. Think about the long-lasting impact of your building and amenities as opposed to fixating on short-term income generation.
Ignoring the bike room
We've listed proactive strategies to take to make your bike room work for you. Letting the bike room get dirty and cluttered with other items should be an obvious bad practice, but you'd be surprised to know that this still happens. Appreciate your bike room and your tenants will appreciate you.
Talk with the Experts
Reach out to us to learn what your building's requirements are, or let us do the work for you and use our bike registration templates and forms. Arlington Transportation Partners can help you make the most of your existing or planned bike facility.
Photo Credit: Reema Desai/ReemaDesai.com for Arlington Transportation Partners