With or without Amazon's HQ2, Arlington's development pipeline over the next few years has no plans to slow down in the Metro corridors. More than 12 mixed-use projects are currently under construction, while over six active development applications are currently seeking approval.
These projects will bring thousands of new residents, employees, and visitors to Arlington, Virginia, which will have a major impact on the County's transportation network. Additional projects such as the Red Top Cab site in Clarendon and 1555 Wilson Blvd in Rosslyn are about to begin construction, with expected delivery in the next couple years.
In order to mitigate this demand, the County incorporated transportation demand management (TDM) strategies into the development process and coordinates with the Arlington Transportation Partners (ATP) Property and Development Services (P&DS) team to implement and monitor these programs.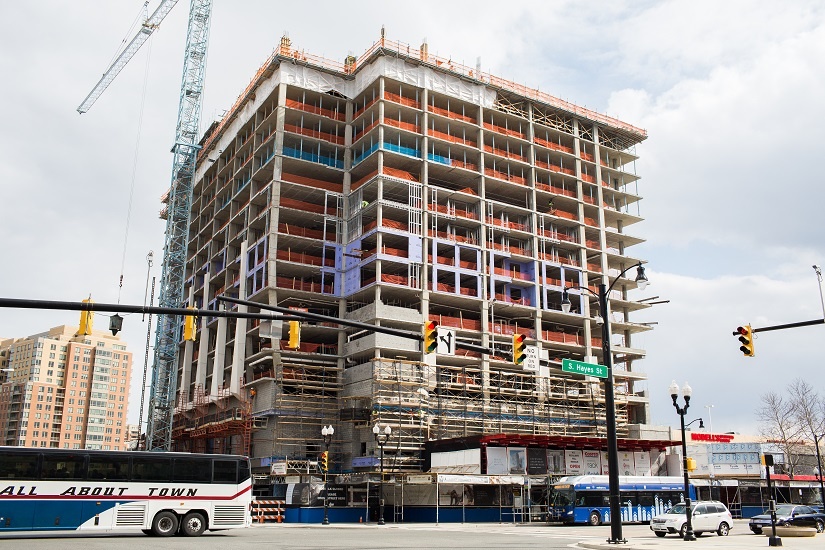 Arlington's Development
Process
All of the following projects requested exceptions to the County's land use and zoning policies, such as increased density or reduced parking relief. They are approved through Arlington's special exception site plan process which allows the County to require certain conditions of the developer. Conditions such as secure bike parking or transit subsidies can be part of a comprehensive effort to manage demand on the transportation system from new building occupants.
The Arlington Transportation Partners P&DS program assists sites with these TDM requirements to help them understand their commitment and maintain compliance with the County's conditions. With over 200 operating sites and many projects under construction or in the approval process, the work of P&DS will continue to be important over the next several years to successfully implement TDM programs and reduce traffic in Arlington.
Below are highlights of recently completed projects that our P&DS team has worked with closely as well as a few projects of note currently under construction.
Recently Completed Projects
The Altaire | Pentagon City/Crystal City
This brand new, 453-unit high rise development from LCOR has a proactive management team that has taken positive approach to their TDM requirements. This includes working with ATP to ensure all building employees, including contractors, have access to a sustainable commute benefit. Management also has a comprehensive bicycle registration process for their 184 secure bike parking spaces.
Central Place Office | Rosslyn
This development in Rosslyn by JBG Smith opened in early 2018. The office portion of the mixed-use Central Place features over 570,000 square feet of office space in addition to the highly touted new observation deck on the top two floors.
With tenants such as Gartner and Accenture, the property already has an active carpool/vanpool program and management works closely with ATP to host transportation welcome events for new tenants.
672 Flats | Ballston
The 173-unit residential property in Ballston is located directly across from the Ballston Quarter redevelopment that will open soon. 672 Flats, managed by Kettler, has been actively working with ATP since the construction phase, receiving customized training and materials to assist new residents in understanding the options available in Ballston.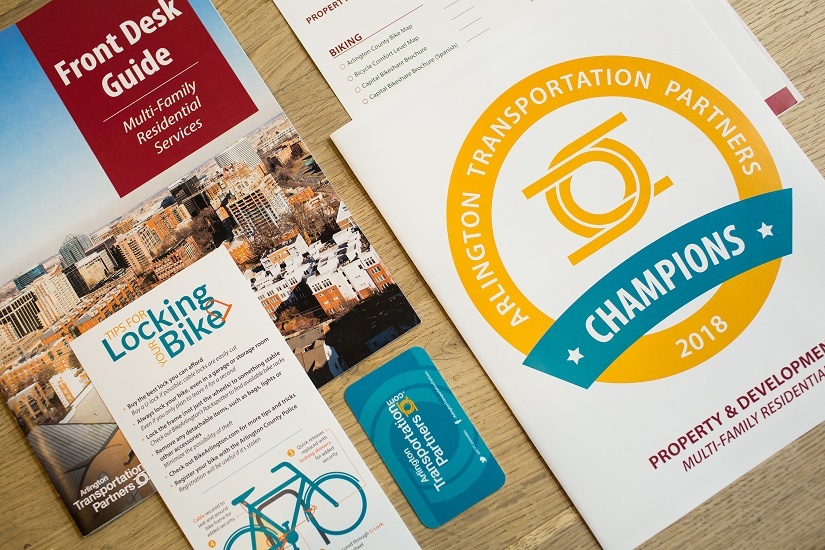 Projects Under Construction
Columbia Hills and Gilliam Place | Columbia Pike
Arlington Partnership for Affordable Housing (APAH) is developing both properties in the Columbia Pike corridor, providing 100% committed affordable housing units in each building. Columbia Hills will be delivering 229 units this fall, and Gilliam Place will open with 173 units in Spring 2019. APAH worked extensively with ATP to provide comprehensive TDM programs and manage parking restraints among residents.
Ballston Quarter Mall and Residential Tower | Ballston
The highly-anticipated Ballston Quarter redevelopment project from Forest City will feature 400,000 square feet of new and existing retail space as well as 406 units in the new residential tower. The retail portion of the project aims to open this fall, while the residential building will deliver in the first quarter of 2019.
The developer is providing ample bike parking above the required amount along the new streetscape, as well as several real-time digital transportation screens for customers, employees, and residents.
Include TDM Strategies to Your Property
With thousands of residential units and commercial square footage in development in Arlington, TDM strategies such as bicycle parking, transit incentives, and commute planning are key to encouraging efficient use of the transportation system. Connect with the Property & Development Services team to learn more about TDM strategies your property can implement to manage issues such as parking occupancy and keep up with new competition.
Photo Credit: Reema Desai/ReemaDesai.com for Arlington Transportation Partners