Love the Bus Week is an opportunity to thank the Arlington Public Schools (APS) transportation department for all their hard work. It is also an opportunity to encourage staff and students alike to ride public buses, including Arlington's own green Arlington Transit (ART) buses.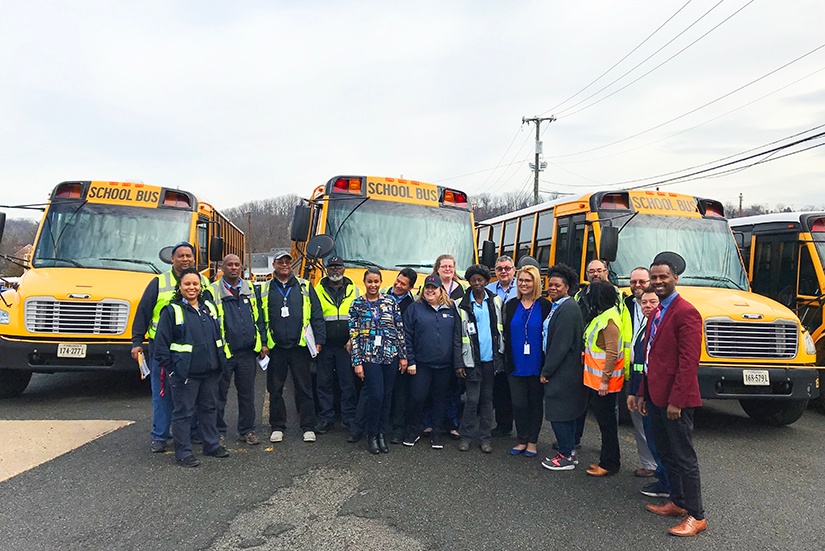 APS Transportation Staff Love Their Jobs
Love the Bus Week is all about the school bus drivers, attendants, and administrative staff that get students to their schools and home again. The APS transportation department, with almost 300 employees, takes its responsibility very seriously. The drivers, attendants, and office staff take great pride in their role within APS. Arlington Transportation Partners (ATP) interviewed some of the dedicated drivers during Love the Bus Week to shine a light on how they approach their job.
" We know we're transporting precious cargo. Kids—and their parents—are counting on us to get to and from school safely. We're one big family at APS Transportation and the kids are a big part of that as well." – APS Bus Driver
They are a great group of colleagues from different walks of life, including former military and government workers on their second or third careers. Overwhelmingly, they talked about how much they enjoy interacting with students every day. They all appreciated the thank you notes, Valentine's cards, and other goodies they received during the week as colleagues and students showed their appreciation for the teamwork that gets Arlington students to school every day.
Staff and Students Learn About Public Buses
This year, ATP also teamed up with ART to provide staff and more than 500 students at four schools a unique opportunity to learn about public buses, and to explore an ART bus. Patrick Henry Elementary School and Key Immersion Elementary School teachers joined their students to learn how to board a bus, to understand how wheelchairs can board, to practice signaling their stops, and to test out the bike racks. In addition, students at H-B Woodlawn and Discovery Elementary School learned how to read bus schedules and how to plan trips using the Car Free Diet bus map. Immersive, real-life experiences like this provides everyone, teachers included, with skills to navigate their way in Arlington's transit rich environment.
Love the Buses Year Round
Love the Bus Week might be over, but that doesn't mean you can't participate throughout the year and use a healthy and green mode of transportation more often. ART and Metrobus buses are a safe, convenient, and green way for APS employees and Arlington residents to commute. If you're interested in taking the bus on your commute, but aren't sure where to start—simply request your custom commute.