Last week at Bike and Walk to School Day 2017, many Arlington Public School (APS) staff took the opportunity to commute to work using sustainable modes of transportation. 71 APS employees in 21 schools and sites registered their bike or walk commutes through Arlington Transportation Partners (ATP) to compete to be the school with the most participation. The school with the most staff participants would be eligible for an on-site bike tune-up day in August to help all the cyclists prepare for a new school year and start their commutes in good shape.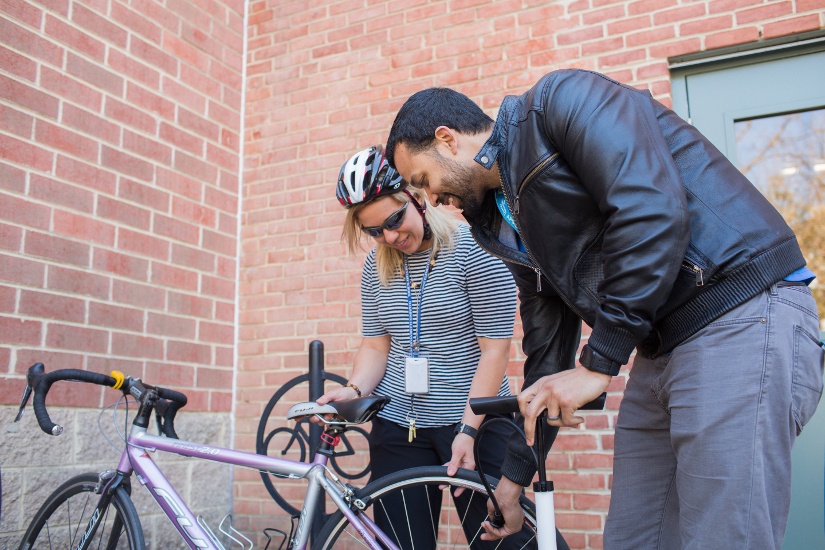 More APS Staff Are Taking Sustainable Commutes
This year's event saw an increase of 37% in participation compared to Bike and Walk to School Day 2016. Yorktown High School took the lead with a total of 18 staff members who participated, with 15 who biked and three that walked. Barrett Elementary School had eight staff walk to school. All seven registered staff members of Claremont Elementary School biked, including Principal Jessica Panfil. Everyone will receive swag for participating, but Yorktown staff also earned the special bike tune-up day incentive for having the most event participants.
Biking and Walking Creates Community
School-wide transportation events like Bike and Walk to School Day are easy ways to encourage staff to bike and walk to school. Not only do these events promote active living, they can also support staff comradery.
Yorktown staff created their own staff bike club and members are able to get to know each other outside of the school atmosphere, interact across departments, and set an example to their colleagues and their students. Walking clubs can do the same— staff at your school can create "walking school buses" by walking to school together from a colleague's nearby home.
Spending that time together strengthens friendships and helps manage stress in several different ways. One-day transportation events like Bike and Walk to School Day can often be replicated on a weekly basis or more.
Promote Bike to Work Day Everyday
Whether it's a one-time or weekly event, promoting active transportation along with carpooling and transit allows schools to boost employee morale and improve health at no cost. If your competitive streak has you thinking ahead to Bike and Walk to School Day 2018, consider creating biking and walking clubs for your staff.
Bicycle Friendly Business Designation for Schools
Recently, Ashlawn Elementary School became the first APS school to receive Bicycle Friendly Business designation. If your school is interested in applying and encouraging bicycle-friendliness to your staff, read our FAQs on registering. We can also assist you through the process, just contact us to start the process.
Photo Credit: Reema Desai/ReemaDesai.com for Arlington Transportation Partners