Spring weather brings joy to everyone with sunny days and cooler temperatures. While some of us are still teleworking, it is beneficial to take a short break and enjoy the outdoors. May is National Bike Month and it presents an opportunity to encourage your employees to start biking and celebrate events and festivities planned all month long.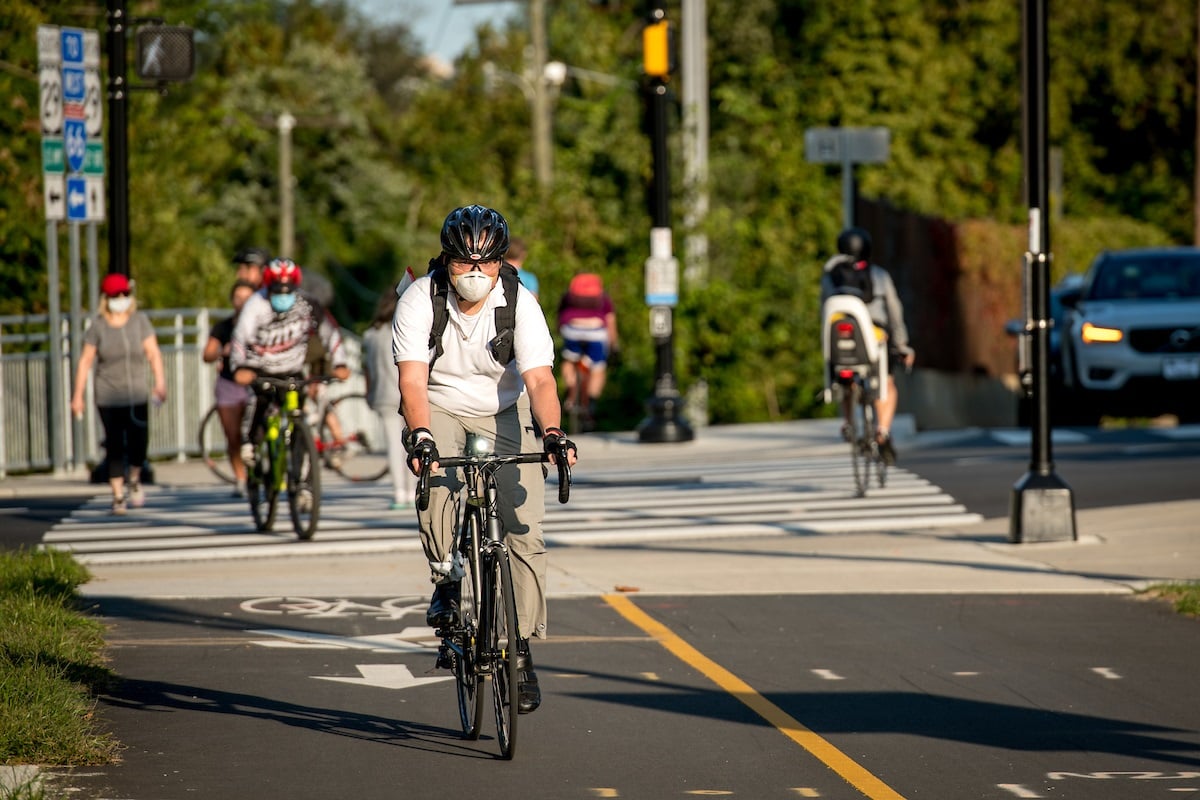 Bike to Work Day: Friday, May 21, 2021
Whether you are working from home or headed to the office, join people all over the region to celebrate biking as a safe and convenient way to travel around.
Register and stop by at any of the pitstops to pick up a free t-shirt—while supplies last. Your participation comes with many benefits, like a chance to win a free bike, courtesy of BicycleSPACE. Plus, if your company is enrolled in Champions, promoting this event earns you a Silver Level credit. Contact us for a printed poster or rack cards to promote biking at your organization.
Celebrate Bike Month
Join BikeArlington, our sister program to celebrate biking all month long in May with fun activities, virtual events and receive fun giveaways.
Registration is free and earns you access to weekly emails, tips, and resources to keep you motivated throughout the four weeks.
Capital Bikeshare
Capital Bikeshare is a great way to ride around the DC metro area with stations located conveniently for riders. Use Capital Bikeshare to run a short errand, commute to work, or participate in Bike to Workday. An employer provided subsidized corporate program can help employees save money and boost employee morale and productivity.
Celebrate and encourage biking in your organization by providing an annual Capital Bikeshare corporate membership.
Host a Custom Virtual Event
Invite Arlington Transportation Partners (ATP) to host a custom virtual bike event at your organization. Whether you are a new rider or an experienced rider everyone will learn something new. We will cover topics such as bike routes, safety guidelines, basic maintenance and more. Ready to schedule an event with us? Bonus tip— hosting a custom event qualifies for Gold Level Champions credit.
How Are You Celebrating Bike Month?
Need help with a bike commute route? BikeArlington is offering free customized bike route assistance. Request a free customized route now.
ATP can also help you with customized resources to promote biking at your organization and assist with incorporating biking in your return to office plans.
Photo Credit: Reema Desai/ReemaDesai.com for Arlington Transportation Partners