In their sixth consecutive year of being a Champion, we are pleased to announce that Bennett Park Apartments (Bozzuto) has achieved Platinum Level. This year, property manager, Ania Moore, and assistant property manager, Cristina Lopez, took on three new challenges to meet their Champions goals.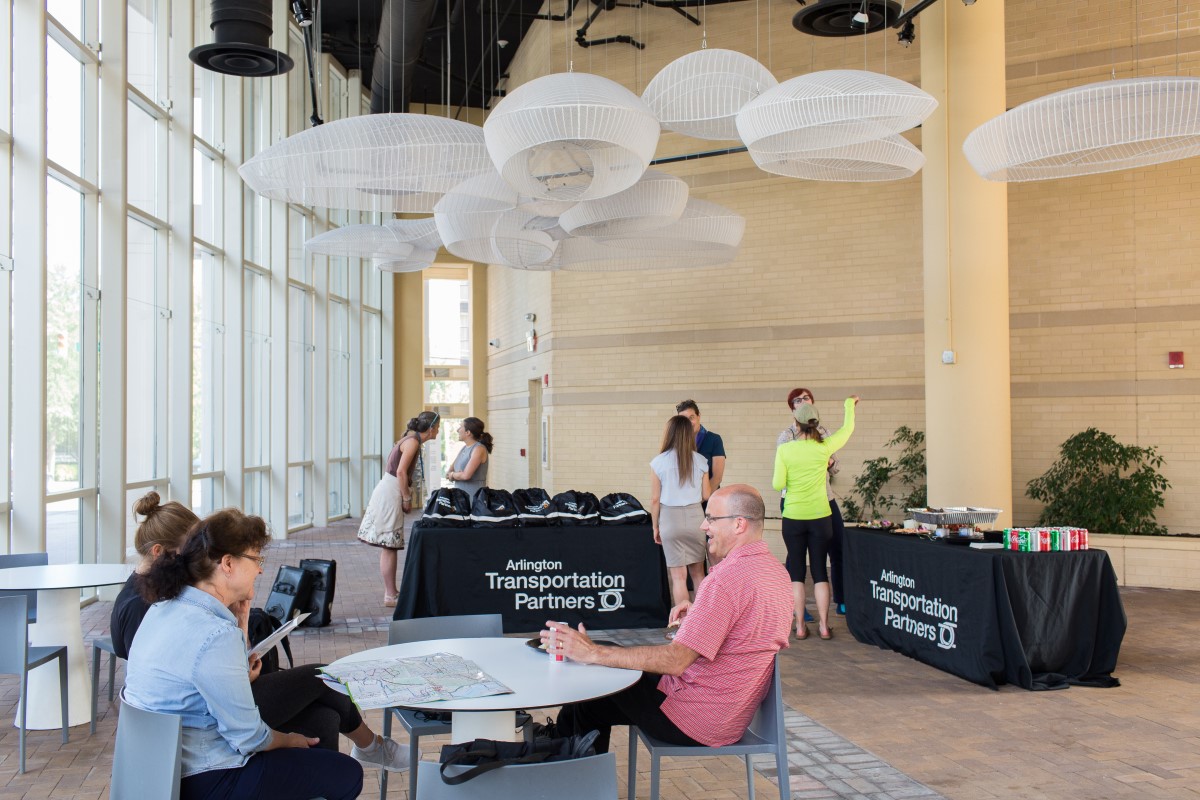 Supporting
Arlington's Educators
This summer Arlington Transportation Partners' Schools program welcomed the teachers and faculty to the new The Heights building—home of the H-B Woodlawn and Eunice Kennedy Shriver Program—on Wilson Boulevard, right across the street from Bennett Park Apartments. The Bennett Park team opened the Art Atrium event space in their building and sponsored food at an ATP event for teachers to meet with representatives from Arlington Public Schools, Rosslyn BID, and WalkArlington and to become acquainted with their new work neighborhood and the car-free commute options available.
Sponsoring an ATP is a Platinum Level Champions item, and the teachers' event would not have happened without the support of Bennett Park.
Lending a Helping Hand
Ania and Cristina went a step beyond promoting bus routes to residents and signed up for ART's Adopt-A-Stop program. Once a week, the team will make sure the stop is clear of any litter, ice, or snow, so people can wait at the stop comfortably. In recognition for their help, the ART operations team posted a sign on the stop giving credit to Bennett Park Apartments.
To help spread the word to residents, the team used ATP's flyer that shares what bus routes and destinations that are accessible by that stop. Keeping an eye on public amenities and sending up important feedback helps operators smoothly maintain the ART bus service. It contributes to a better experience to Bennett Park residents and other neighboring users of those routes.
Spread the Word
Property managers who enroll in Champions provide better solutions to residents and increase the likelihood of renewals. Ania and Cristina wanted more Bozzuto teams to have the same resources at their buildings so this year they successfully referred a sister property in Pentagon City to join the program. The team at the new building has worked with ATP and is now a Gold Level Champion!
Referring new properties into the program helps lift a neighborhood to be better for residents, or helps a property management company build a stronger, unified portfolio.
Be a Champion for Your Community
Congratulations to the team at Bennett Park Apartments for being this month's Champion of the Month and for earning Platinum Level in 2019. Whether your property management goals are to become local experts for your residents, or to tackle infrastructure projects such as managing parking occupancy or overhauling your bike room, Arlington Transportation Partners can work with you to create a strategy and support you every step of the way.
Photo Credit: Reema Desai/ReemaDesai.com for Arlington Transportation Partners