Garfield Park (Kettler Management), a Gold Level Champion, is located in the Clarendon neighborhood, with a wealth of transportation options surrounding the building. However, property manager Kelly Finucan noticed that while her residents certainly rely strongly on Metrorail and many even lived without a car, they weren't taking advantage of every option available.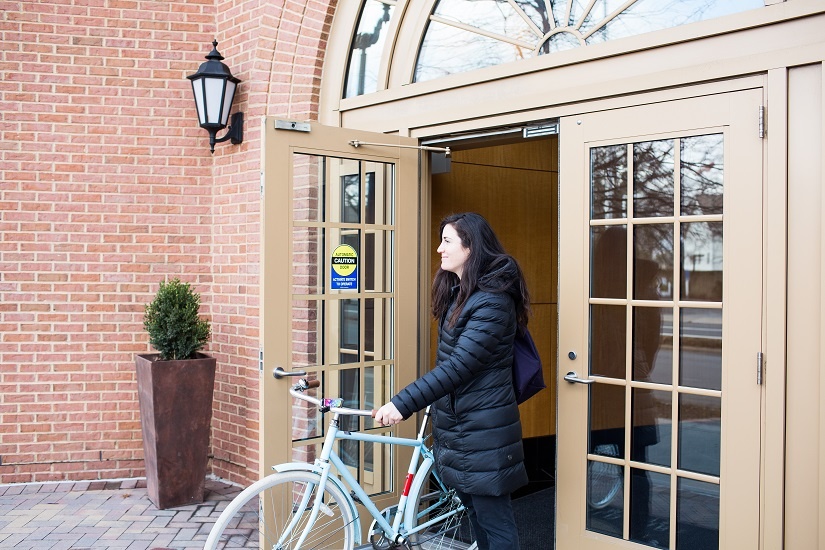 Recognizing Opportunity for Better Choices
Kelly observed during rush hour that she would see a lot of people riding bikes to work past Garfield Park, but few Garfield Park residents were making the commute by bike themselves. According to Kelly, she couldn't think of many residents who commuted by bike, and this was confirmed by a recent resident survey that reported only one person was a frequent bike commuter.
This prompted Kelly to question why her residents weren't participating in bike commuting. Surely it couldn't be for lack of convenience; the bike room at Garfield Park has an elevator that takes residents right out to street level to bypass garage ramps and traffic, and the number of people riding bikes past the building were a testament to the bike-friendly streets nearby.
Kelly knew there could be residents at Garfield Park who would benefit or enjoy an active commute but probably wouldn't consider it unless someone showed them how; and as a property manager, she was in the perfect position to share this information.
Lead by Example
To introduce her residents to the bike-friendly neighborhood, Kelly, with the help of Arlington Transportation Partners (ATP) and the support of Bike Arlington, invited her residents on a guided bike tour. ATP provided Kelly and her team with a manageable and scenic route to Theodore Roosevelt Island in Rosslyn, located 2.8 miles from Garfield Park. On the evening of the ride, ATP and the League of American Cyclists certified instructor gave participating residents an overview of bike safety and etiquette for sharing the streets. The group was then coached through navigating a range of streets—from busy intersections in the heart of Clarendon to a less crowded route along Key Boulevard.
The event was received well by residents, whose requests for more educational events have been met with a community ride scheduled to close the summer, and more rides in colder months to discuss how to prepare for bike commuting year-round.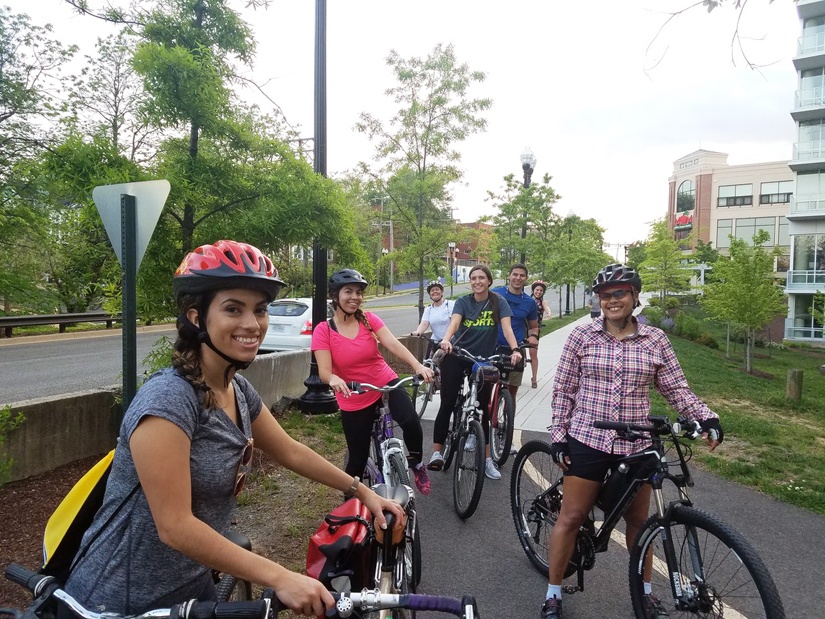 Hands-On Service for Change
ATP would like to congratulate Garfield Park on achieving Gold Level and being recognized as July's Champion of the Month for their commitment to promote a culture of mobility. Champions is a great way to strategize how to promote sustainability and mobility at your apartment community.
Photo Credit: Reema Desai/ReemaDesai.com for Arlington Transportation Partners (top photo); Claudia Pors (bottom photo)