The prevalence of smartphones in everyday life has made it immensely easy to access thousands of apps which provide useful (and not so useful, sorry Taco Text) information, from health monitoring to how to cook a chicken. The beauty of all of that data packed into your tiny little phone is that getting around Arlington County has never been easier. We've compiled a list of great apps to simplify your transit options in the area.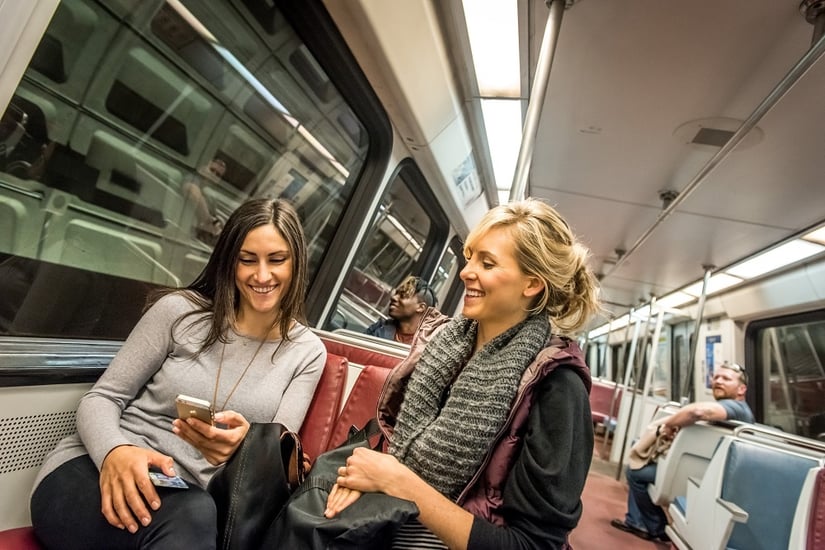 Transit Apps
CarFreeAtoZ is a trip planning tool for commuters (and every day transportation as well). It is the only platform that lets you see bus, metro, carpooling, Capital Bikeshare and walking all in a single interface. The app, produced by Arlington County, is officially available in both iOS and Android app stores.
This app stands out in the list because it can be used in major cities in the US and in Europe. The app provides tons of transportation options from your current location, even offering alternatives to the fastest route in case you would rather be on a bus instead of underground. This app should be on every transit user's phone as you can mark favorite routes as well as set alarms so you never miss your bus! The app also shows ART bus routes.
Bus and Metro Apps
Tracks Metrobus, DC Circulator and Metro rail in real time to help you plan accordingly. As mentioned above, unfortunately, no ART buses are tracked/
Not interested in when buses are coming and don't need it clogging your interface? Here's your solution. Capital Rails tracks Metro train arrivals, anytime and anywhere.
Capital Bikeshare
The official Capital Bikeshare app that allows you to purchase single rides, guest passes and more through the app. Unlock a bike with your phone or determine dock and bike availability. Unlike Spotcycle, this app is only for Capital Bikeshare in the DC Metro region.
Alternative Services
Both Uber and Lyft have carpooling capabilities that charge you a discounted rate for your trip with the understanding you may match with other riders on your route. When ordering your car you will be prompted with the option to share your ride and the price of your trip is given in advance! You can often save 40% off your trip by selecting the pooling option.
As you can see from this list, there are plenty of apps that make travel in the area easier. Mostly, it comes down to preference of interface and usability when deciding which is best for you! I, personally, have been using Transit exclusively for help finding routes around Arlington. Also, I tend to use Spotcycle on a daily basis to make sure I'll have a bike and bike dock waiting for me at each end of a Capital Bikeshare trip.
On-the-Go Information
Download our Apps for an Easier Commute postcard to have this information at your fingertips. If you'd like a printed copy for your office or building, contact us to let us know.
Editor's Note: This blog was first published in August 2015 and has been republished with updated information written by Jonathan Bollhoefer and Maggie Awad.
Photo Credit: Sam Kittner/Kittner.com