I was unprepared for cold and snowy winters when I first moved from California to the East Coast. But a couple of decades later, I've learned some tricks to make my car-free lifestyle fairly comfortable when the weather isn't at its best.
My best tip is to have as many commute options as you have winter gear—an all-weather plan. I bike as often as I can, but I also look up a few bus options for the days I don't want to bike. It takes a bit of planning ahead, but with the help of Arlington Transportation Partners (ATP), you can do it too. Depending on the weather and how you want to get to work, here are a few basics to keep in mind.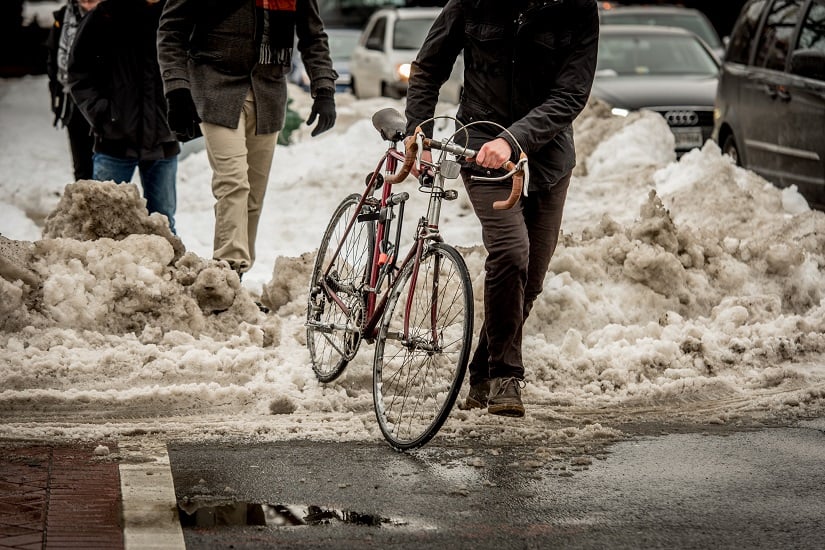 Familiarize Yourself with Your Options
Download our favorite commuting apps to come up with a few commute choices. Minimize the amount of time you are in the cold by using real time tracking apps to know when your bus or train is coming.
Layers, Layers, Layers
The eternal winter dilemma: it's freezing when you leave the house, then you overheat once you get on your bus. Or what feels warm as you get on your bike is too cold after 15 minutes of biking. Layers make it easier to adjust your personal thermostat. Unwrap your scarf, peel off the gloves, and remove that outer layer before you hop on the crowded train.
Have a Backup Plan
I draw the line at biking to work when the temperatures are below 30°F, when it is snowing, or during a severe thunderstorm. I have a few back up bus plans and I use my favorite real-time bus tracker app to tell me when the bus is coming. That way I minimize the amount of time I'm outside. I also suggest following local news and weather channels on Twitter for the most recent conditions before you head outside. You can also sign up for Guaranteed Ride Home if you feel that biking back home is too hazardous and for other emergencies as well.
Accessorize
Keep back up accessories at work. In addition to an umbrella, consider extra socks, gloves, a scarf, and a change of shoes. Wet shoes and socks from a soggy trek form the Metro station? Boom, dry socks in your desk drawer. Sudden drop in temperature during the day? Your scarf and gloves are on hand (pun intended) for a cozy commute home. My favorite scarves and gloves are reflective, because I like being brighter and more visible all year around.
Warm Up with ATP
With the right plan and gear, winter commuting can be enjoyable. A brisk walk or bike ride at the end of the day clears the office cobwebs and helps you enjoy the beauty of the season. Arlington Transportation Partners can provide you with the best resources to keep up your commute through the winter. Contact us now to plan your winter commute, before it gets too cold.
Photo Credit: Sam Kittner/Kittner.com for Arlington Transportation Partners