After nearly eight months of working from home, Arlington employees and residents now have a new place to work, learn, and gather safely outdoors this fall. The Rosslyn BID has transformed Gateway Park in Rosslyn into O2, which stands for Outdoor Office.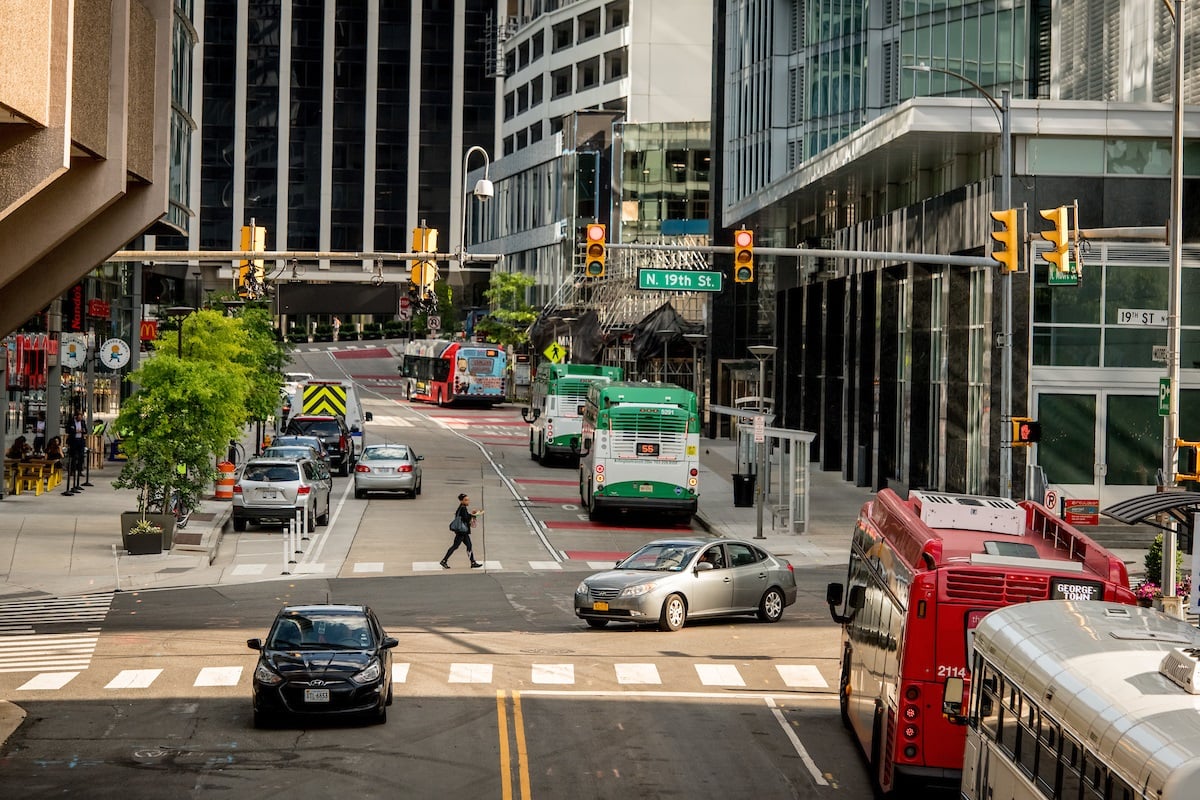 Fresh Air, Sunshine, and Free Wifi
O2 is conveniently located in Gateway Park, next to Key Bridge. The Rosslyn BID announced more details in a recent press release.
Centrally-located in Rosslyn's urban core, O2 will provide distinctly separate and easy-to-use spaces to foster a comfortable and connected work atmosphere for employees looking to come back to the neighborhood or residents needing a change from their home office. This free and safe environment is designed to make working outside a breeze, including an easy-to-use reservation system, and trained Rosslyn BID Ambassadors onsite to sanitize workspaces and maintain streamlined operations."
Health and Safety Guidelines
Arlington county's Parks and Recreation Department and the Rosslyn BID have implemented public safety measures to help prevent the spread of COVID-19. O2 visitors are encouraged to follow local park rules and CDC guidance. All furniture is placed 6-8 feet apart to encourage social distancing, and sanitizing wipe stations have been installed throughout the park.
Explore All the Options
Arlington Transportation Partners (ATP) offices are in Rosslyn, so we know all the best ways to travel to the area. There are plenty of free and low-cost transportation options within just a few blocks from O2.
Walk, Bike, or Scoot to O2
Gateway Park is located at the intersection of the Custis Trail and Mt. Vernon mixed-use trails, which offer over 20 miles of scenic views along the Potomac river. Pedestrians, cyclists, e-scooters and e-bikes can use the trails. There are four Capital Bikeshare docking stations within walking distance from O2. If you are looking for an e-scooter rental, the following companies operate in Arlington: Bird, Helbiz, Lime, Jump, Link, Razor, Skip, and Spin.
Transit Options
Rosslyn is the closest Metrorail station and serves the Blue, Orange, and Silver lines. Metrobus and ART busses are currently free to all riders and require them to board from the rear entrance and wear face coverings. Download the Rosslyn neighborhood Quick Glance below to explore all the nearby transit options and COVID-19 health and safety rules for riding transit.
Want More Resources?
Arlington Transportation Partners (ATP) can provide custom transportation guides for your office, commercial property, residential building, or hotel. Contact us if you would like more information and resources about local transportation options, including health and safety measures that transit operators have implemented during the pandemic.
Photo Credit: Sam Kittner/Kittner.com for Arlington Transportation Partners