The difference between people who use public transportation and those who don't is sometimes just a matter of knowing the facts. It's not that people don't want to bike or that they don't want to try the bus, it's that they don't know how. If that describes you, keep reading to erase all doubt.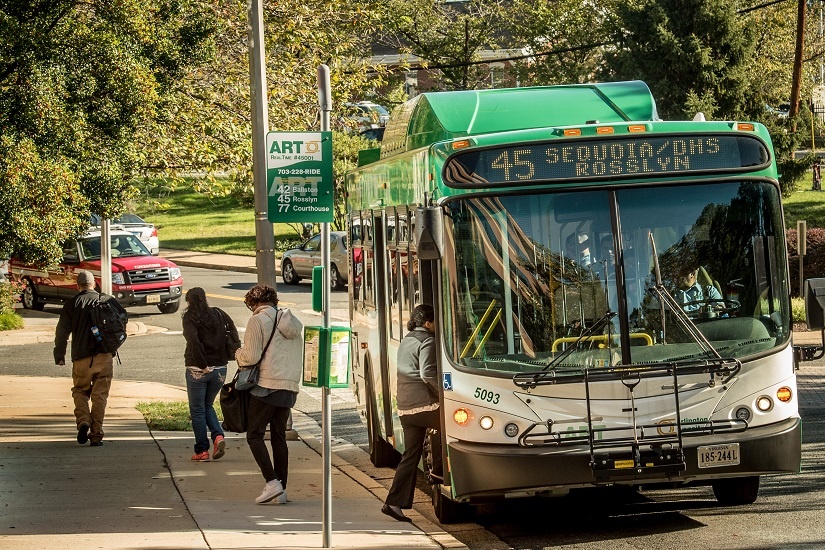 This is your go-to guide for How to Ride the Bus. There are two bus lines in Arlington—ART (Arlington Transit) and Metrobus. Both service Arlington County, with a combined 65 routes; however, the primary difference is that ART is run through Arlington County and Metrobus is run by the Washington Metropolitan Area Transit Authority (WMATA). Overall, there are very few differences between the buses and anyone traveling around the County can enjoy both services.
Additionally, the FAQ answered below apply to both lines, unless otherwise indicated.
How Much Does the Bus Cost?
The fare for the ART bus (green/white in color) and the Metro bus (grey/red in color) are the same—$2.00 per ride.
Transferring bus-to-bus, between either service, is free. Transfers between Metrorail and bus is a $0.50 discount.
Special ART bus feature
Arlington elementary, middle, and high school students can use an iRide card on ART buses for a special fare of $1.00 per ride.
How Do I Pay for the Bus?
Bus riders have the option of paying for their fare either by cash or SmarTrip card. If a passenger uses cash, exact change is necessary as bus drivers do not make change.
If a rider uses a SmarTrip card, just tap your card on top of the fare box as you board. You do not need to tap your card to exit the bus. You can also add value to your card on the bus if needed or set up auto-reload via WMATA.com.
How Do I Know Which Bus Route I Need?
WMATA has a comprehensive trip planner that we recommend to determine the bus route you need. Enter a street address or general area like 'Columbia Pike' or 'Rosslyn' to get started. Make sure you have at least 'Bus' or 'Both' selected under 'Using' and enter any other details related to your journey. Be aware that bus frequency changes during rush hour to accommodate the increase in commuters traveling to/from work.
If available, the WMATA trip planner will give you several options for your journey, which will vary in both time and fare amount. Regardless, the options provided will show you which bus line is needed to reach your destination.
How Do I Find a Bus Stop?
To find all bus stops along a specific route, for both ART and Metrobus, we recommend this map from Arlington Transit. You can select any route to add to the map and find the nearest stop.
How Do I Find a Bus Schedule?
Bus schedules are available nearly everywhere you look. If you look on ART or Metrobus sites or through trip planners previously mentioned, riders can easily access schedules for all lines. Paper schedules are also available once you're on the bus, usually at the front near the disabled seating area.
However, some of our favorite bus schedules appear through transit-friendly apps like Citymapper or Transit. They provide both schedule frequency for a specific stop (e.g., bus at 5:10 a.m., 5:30 a.m., 5:50 a.m.) and real-time information for all buses near your location (e.g., 38B in 2 minutes, 4B in 23 minutes).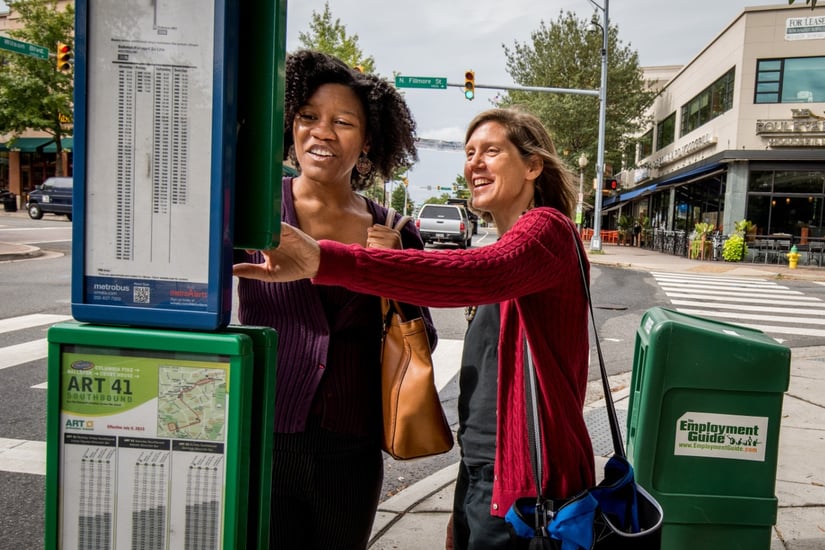 What Do the Numbers on a Bus Stop Sign Mean?
Each bus stop list the routes that stop for passengers. If you don't see your route listed on the sign, your bus will not stop to pick you up, even if it travels along a similar route as other buses.
The phone numbers listed on each bus stop connect to call centers that can answer real-time questions regarding scheduling and delays. For ART bus stop signs, the hashtag number is your reference number for real-time information either online or via 703.228.RIDE.
What Do Different Letters on Similar Routes Mean?
While a route number may be the same, variations in stops, final destination, or rush hour service are marked with a letter. For example, the Metrobus 16-series runs along Columbia Pike. For the most part, stops and frequency are similar, but all 16 buses do not service or terminate at the same place. The 16E, J, P all service Culmore, but only the 16E, P go to Pentagon City Metro Station, whereas the 16J goes to Pentagon Metro Station. Similarly, the 16Y is a rush hour only bus service along Columbia Pike that takes passengers in and out of DC.
As long as your portion of the journey is covered by all buses along a specific route, you don't need to worry about the letter. However, if you're traveling somewhere only serviced by a certain route—pay attention to the letters.
As an aside—there are no route variations, designated by a letter, for ART buses.
How Do I Let the Bus Driver Know I Want to Get Off the Bus?
This is easier than you think. For Metrobus, you pull the yellow cord that runs along the sides of the bus. For ART buses, you press the yellow strip that runs vertically between seats. For both bus services, there is also a red button on a pole near the backdoor that you can push to indicate you want to get off the bus.
If you're alighting at a popular stop, someone else may have already signaled the driver to stop. The cord/button only needs to be pulled/pushed once. You'll know someone else has requested to stop as the sign at the very front that reads Stop Requested will be lit up and red. If you don't see it, be sure to signal the driver yourself.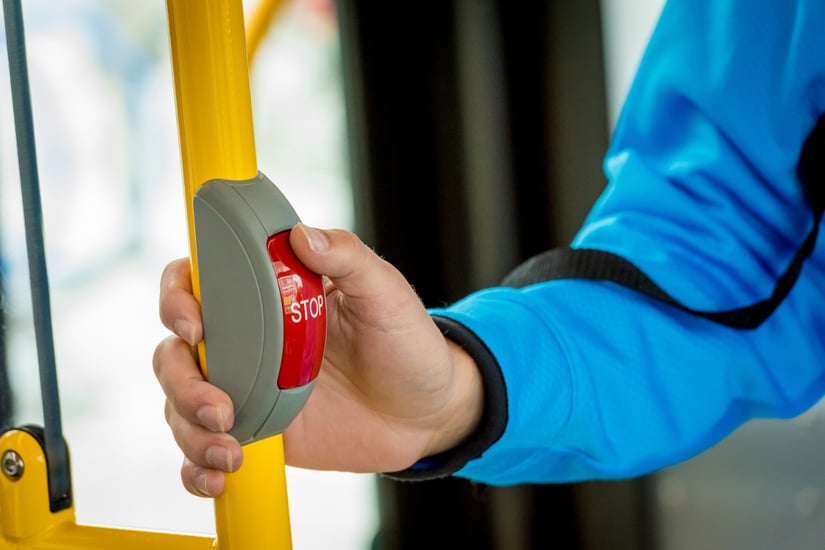 Can My Company Adopt a Bus Stop?
Yes! Adopting a bus stop in Arlington County is a commitment to helping both the County and bus riders. The Adopt-a-Stop program exists to make sure the places where people wait every single day to be shuttled to their destination remain clean and accessible, and it takes as little as checking once a week to qualify.
Bus stop adopters are publicly recognized with their name at the adopted stop and also gain recognition on ART's web site. Your company will be recognized as a community figure that contributes to the well-being of the County. You can see the full map of available ART bus stops here.
Adopters must:
Adopt the stop(s) for one year
Clean up the stop (at least once a week)
Clear the sidewalk path to the bus stop when it snows
Report any issues (vandalism, disturbances, etc.) of the stop to Arlington Transit
Be 18 years of age unless part of a group
Need additional answers to your questions? Contact us and let us know what questions you need answered. We'll update our FAQ accordingly.
Now that you're equipped with all this bus knowledge, put it to use and refer to our guide on visiting Arlington and DC memorials.
Photo Credit: Sam Kittner/Kittner.com for Arlington Transportation Partners