At Arlington Transportation Partners (ATP), we strive to live what we preach. This includes holding lunchtime bike tune-up workshops several times a year. During these workshops, we have a sanctioned opportunity to talk all about our bikes and learn some basic bike mechanics in order to improve our commutes.
All of this helps to foster a work culture that promotes active commuting and empowers riders who may find it more appealing to get personalized, hands-on repairs over going into a shop.
Earlier this year, BikeArlington started off the series by teaching us how to fix a flat. We then had our friends from Velofix teach us how to clean and oil our chains and adjust our brakes right at our office location. If you're in a crunch, and want to take your bike in for a quick tune-up, visit the Velofix team in Rosslyn or Crystal City.
After getting a tour of their tricked out mobile bike repair shop complete with an espresso machine, Alex from Velofix started by teaching how to adjust our brakes. We rolled up our sleeves and worked on two of our colleagues' bikes.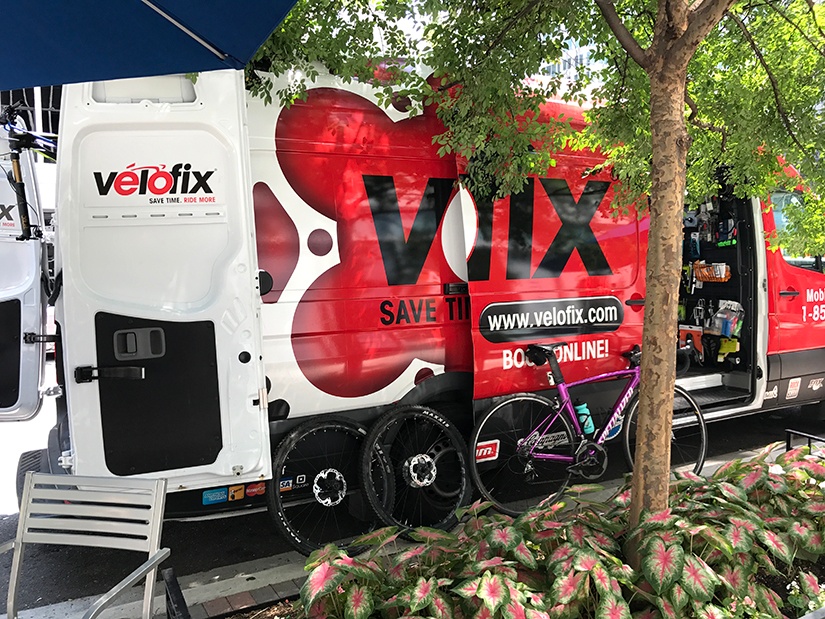 How to Adjust Your Brakes
Learn how to easily diagnose your brake issues and see if you can resolve the issue yourself before heading into your local bike shop or calling Velofix.
Inspect your brake pads
For rim brakes, start by checking the brake pads that run along the rim of your front and back wheel to make sure that there is still plenty of rubber on them. Generally new brake pads have some sort of pattern on them whether that's grooves or teeth. If these grooves or teeth are gone, it's time to replace them.
Another good thing to check while you are looking at your brake pads is if they are evenly lined up along the rim of your wheel. If they are placed unevenly, you will notice uneven wear in the rubber on the brake pads. You can adjust the placement of your brake pads using a 5mm allen wrench for most bikes.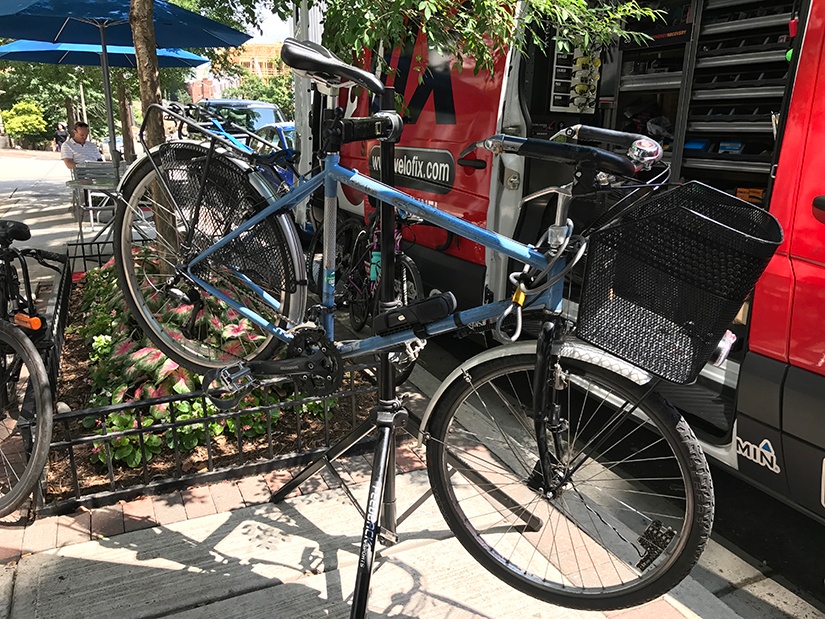 Tighten and adjust your brakes
If you brake pads are in good condition, but your brakes do not feel as responsive as you would like or are too sensitive, they may need some tightening or adjusting. A good way to tell if your brakes are too tight or too loose is by squeezing your brakes and noticing if they are activated right away or if you have to squeeze until the brake levers are almost touching the handlebars.
If you barely squeeze and your brakes are activated, you may need to loosen them. If there is little to no tension until your fists are almost completely closed, your brakes may be too loose. Start by making a minor adjustment to the cable tension by adjusting the barrel. You can do this by turning the barrels clockwise or counterclockwise. Check to see if the tension feels better.
Pro tip for brake safety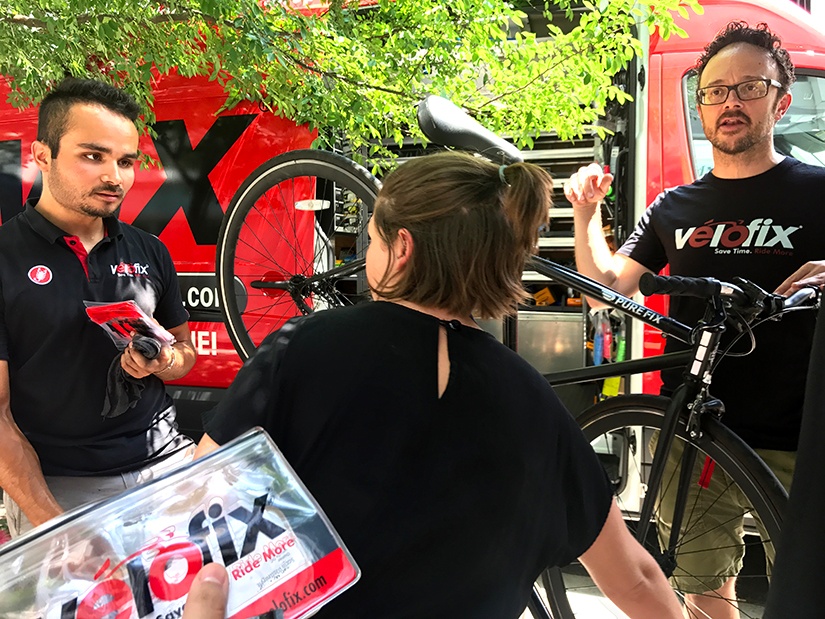 After you have adjusted your brakes make sure to test them before getting on your bike and riding to make sure they are working properly. You can easily do this by spinning the wheels in the air and squeezing the brake levers to make sure they are functioning properly.
More Ways to Promote Active Transportation
Once we adjusted the brakes on our colleagues' demo bikes, everyone left the workshop feeling more confident and inspired to ride. There are other ways to promote active transportation at your workplace or residential community in addition to holding bike maintenance workshops. Providing specific facilities and amenities that make it easier for your employees, residents or tenants to choose active transportation options and will encourage them to opt for that mode more frequently.
Secure bike storage
Secure bike storage areas should be easily accessible from the street and be fully enclosed to prevent theft. The Arlington County bicycle parking standards provide best practice guidelines for bike storage facilities.
Bike repair stations
Bike repair stations make it easy for people to quickly put air in their tires or adjust their brakes. These go great with new bike maintenance skills.
Shower facilities
Biking to work should never mean you have to show up sweaty. Providing showers for active commuters removes the hassle and stress from their commute.
What Next?
If you're interested in hosting your own bike maintenance workshop in your office or residential community, contact us and we'll assist you with setting it up.
Photo Credit: Claudia Pors for Arlington Transportation Partners