This past spring, obligations required my family to move back home and with that decision came the uncertainty of future employment with our current companies. Luckily, my spouse and I were both given the opportunity to work remotely and I felt relieved to have one less thing to worry about above and beyond housing, schools, and new communities.
Soon after moving, reality set in and the feeling of relief wore off. How was I going to make this work? I'd teleworked a few decades ago (think pagers, not cell phones) and truly missed the social aspects of connecting with people in an office.
Plus, my spouse was going to be working remotely as well. Would we share an office, split time at a coffee shop, find a coworking space? A little bit from column A? Maybe some from column B?
So far, I've created a system that I continue to tweak but has worked out quite nicely. I've identified four base elements that have been necessary to support my commute down the hallway.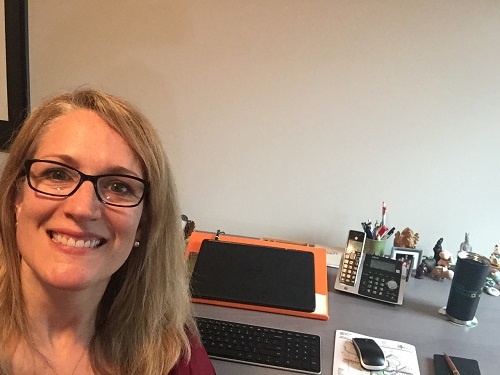 1. Do You Enjoy Your Work and Your Colleagues?
I have a great team of people working with me at Arlington Transportation Partners and a fabulously supportive boss. I've never felt much like a babysitter which is really important. If I would have had my doubts managing my team in a physical space, that would have spilled over to our virtual relationship.
Trust and communication are crucial to success. Having said that, you can't rely on the organic relationship building that a physical office space affords—you have to make time and sometimes, even schedule it. Use technology to your advantage—Skype meetings, chat, email, phone, project management software.
Find what works best for you and stick with it. Some of my best meetings are being able to "see" people and join in on the non-business chitchat through Skype or Google Hangout.
2. Organization is KEY
I realized the longer I took to get my remote office in order, the more disorganized I'd become. When I first started to telework, I worked in a coffee shop for a while and checked out coworking spaces. Ultimately, my spouse and I found housing that allowed us to both have separate office space.
Sometimes I run into my husband in the kitchen at lunch time. Other days, we barely notice each other until we start to wind down our days. I can't stress how important it was for me to have a consistent place to go every day that mirrored an office situation and had as few distractions as possible. An added benefit is not having to co-decorate. It's my little work world and I make it look and feel how I want.
3. Determine How to Measure Performance
This sounds like a no brainer—companies have this anyway, right? Well, not always.
We all have colleagues and managers who hold onto the misguided concept that "butts in seats" prove work ethic and productivity. Speaking from experience, it's not just the Baby Boomer generation guilty of this either.
Take the time to sit down with staff and supervisors to identify clear goals and expectations and visit them often. Get to know yours and your team members strengths and recognize successes no matter how big or small and keep a written record.
4. Understand Your Personality
Results from numerous personality assessment tools have always landed me on the fence regarding introvert and extrovert. I mentioned my concern of feeling isolated in my initial experience working remote. Technology allows me to feel connected in ways I wasn't able to when a pager, telephone, and email were my only resources.
Now and again, I'll check in with people and sometimes we don't even talk about work. It's important to keep the personal as well as the professional dialogues open with your team.
Pilot a Remote Work or Telework Program
My transition has worked out well. Remote working is popular these days, but it's not for everyone and every company. Give yourself time to identify if it's a good fit for you, make sure you organize your world, keep track of how things are going, and have open conversations often. After all, to quote Leonard Woody, "Work is something you do, not something you travel to."
Get in touch with us to start drafting a remote work or telework program at your organization.
Photo Credit: Sam Kittner/Kittner.com for Arlington Transportation Partners