How do you know when a company's culture has changed? Sometimes, it's pretty easy to see. In Arlington Public Schools' case, an at-capacity staff bike class and two more Bicycle Friendly Business designations show that biking has become more popular among APS staff and employees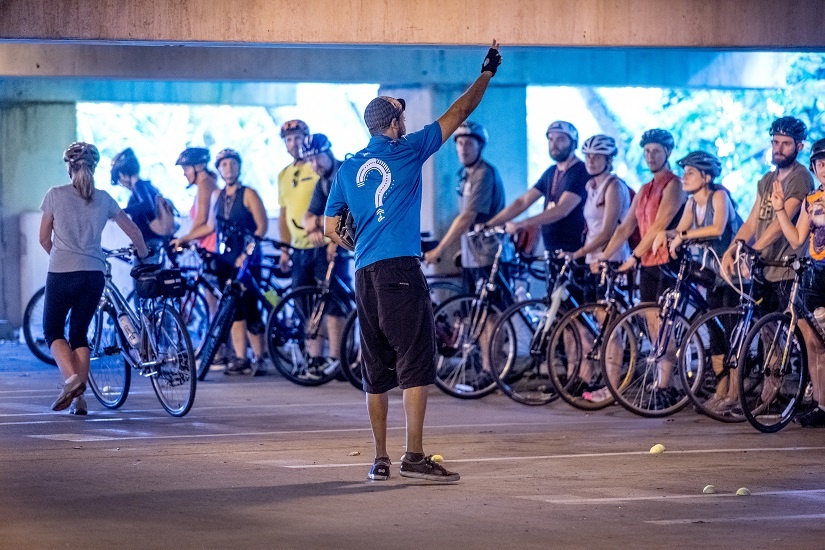 Find Inspiration for Change
Offer cycling skill lessons as professional development
Changing your company culture can be simple. Arlington Transportation Partners (ATP) recently sponsored a Washington Area Bicyclist Association (WABA) Confident City Cycling class as an elective session for Teachers' Day of Learning. The class was a success hitting the 50 participant limit, and more. Despite the extreme heat on the day, there were happy faces all around as APS teachers practiced signaling, executed tricky skill drills, and went on a group ride around Arlington. Participants appreciated a safe space to practice, and the fact that leadership supported active lifestyles.
Support colleagues, gain recognition
Discovery Elementary School and Yorktown High School are the two latest APS schools to be designated as Bicycle Friendly Business by the League of American Bicyclists. Staff at these schools have worked hard to provide a comfortable space that supports biking. At Discovery, staff and employees can take advantage of bike storage units, bike repair kits, and lessons about sustainable transportation. AT Yorktown, the staff have a large bike club that gives them time to connect with each other before and after their busy work days.
See the Change, Be the Change
The Yorktown staff bike club is featured in our new Champions video along with staff from Patrick Henry Elementary School, and K.W. Barrett Elementary School. These Champions have found ways to create positive change that works for them. Use their examples to think of what works best for your school, then ask ATP how we can help your school become a Champion. It's a new school year, so what better time to stat a culture shift?
Photo Credit: Sam Kittner/Kittner.com for Arlington Transportation Partners