Since 2014, Christopher utilized both his personal vehicle and the MARC train to commute to work. The hour-long commute from Baltimore to Arlington was a long and stressful journey for him. After deciding to look for another route to work, he was able to find a vanpool match thanks to the Commuter Connections website.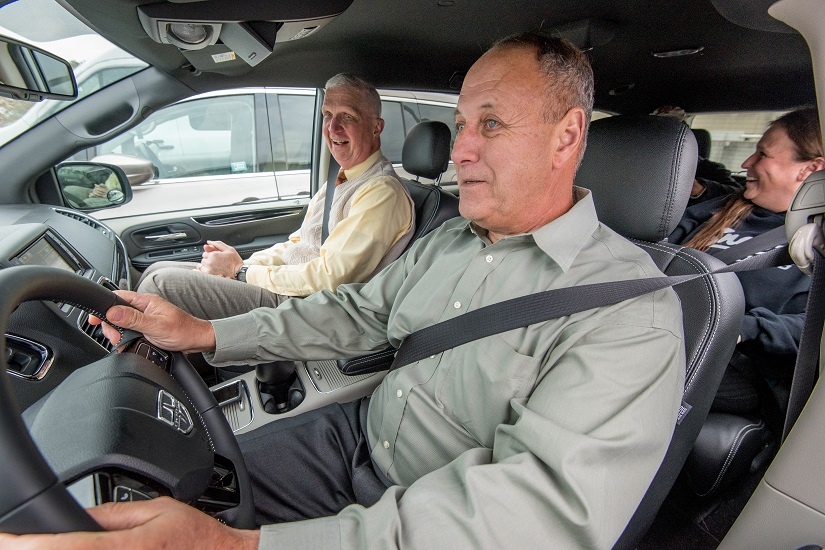 Journey to Joining a Vanpool
The process of joining a vanpool was fairly simple for Christopher. He first registered to be a member of Commuter Connections. Registered users receive access to the Commuter Connections Rideshare Bulletin Board which lists potential vanpools matches with information on van departure times, meet up and drop off locations, and contact information of the vanpool lead. Next, he reviewed his vanpool matches based on his work hours, and work and home location. From there, Christopher contacted the vanpool lead and was able to join an existing vanpool.
His vanpool provider contacted Arlington Transportation Partners (ATP) about Christopher being a new vanpooler coming into Arlington. Finally, Christopher was able to begin his stress-free commute.
Christopher is highlighted as our recent Vanpool Connect giveaway recipient. He says he truly enjoys his vanpool experience so far, especially since the people in his vanpool are very cordial and friendly.
Christopher's Vanpool Commute
Q: How much time and money do you save from vanpooling?
A: Vanpooling is a lot cheaper for me than taking the MARC train. Vanpooling saves me a lot of time and approximately $200 a month on gas and parking fees. The roundtrip mileage to work is approximately 40 miles.
Side note: On an average, 140,000 people commute into Arlington every day and spend about $900 a month and $10,000 a year on commuting costs. Vanpooling can reduce those costs significantly, especially if your employer provides a transit benefit.
Q: What difference has vanpooling made in the quality of your life?
A: Since I have been vanpooling, it has afforded me the opportunity to spend less time on the road and more quality time with my family. It has also helped decrease my stress levels.
Side note: Studies show that vanpooling can drastically lower stress levels by providing a relaxing ride to and from work. According to a 2017 study by the Association for Commuter Transportation, individuals who vanpooled experienced 21% lower rates of stress than those who drove alone to work in single occupancy vehicles.
Changing commute habits for the better
Christopher plans to continue vanpooling to work following the end of his participation of the six-month Vanpool Connect subsidy. His advice to those who are considering to join a vanpool is to be flexible and patient. Work out driving responsibilities ahead of time, establish relationships with your vanpool riders and communicate with them, and act respectfully while riding to ensure a comfortable commute with your fellow riders.
Are You Ready to Vanpool?
Vanpool is great way to share the ride with fellow coworkers, meet new friends, and beat the traffic by having a less stressful commute.
What are you waiting for? Save time by vanpooling to work.
Photo Credit: Sam Kittner/Kittner.com for Arlington Transportation Partners