A new report from American University's Kogod School of Business reports "most millennials drive to work alone". The survey looks at 300 Greater Washington non-student millennials and say they drive alone at a rate of nearly 60%.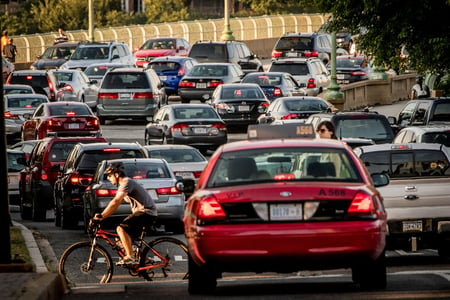 While 60% is certainly a majority, millennials are in fact historically driving less and increasingly interested in taking public transit and walking. The report itself does not state what boundaries were used to depict Greater Washington. This information is key to fully understanding the data in this study, since non-student millennials who reside outside the beltway would skew the numbers towards driving alone since they have less access to transportation options. In addition, this contrasts with the recent ULI study of 1,300 millennials "Inside the Beltway" where only 26% of respondents commute by car despite 68% of respondents owning a vehicle. Also, 65% of respondents list proximity to transit as one of the top 3 reasons for choosing where to live.
60% is not a shocking number, it's actually showing a positive trend
The drive-alone rate nationwide sits just above 76% and has stagnated in recent years after increasing annually for more than three decades. According to recent Census Bureau statistics the Greater Washington's drive alone rate sits right at the national average cited above.
In Arlington County, the drive-alone rate sits just below 60% for people of all age groups. Considering that the report is showing a 60% drive-alone rate for all Greater Washington non-student millennials, we would say that a 15-16% difference shows an apparent shift from the norms of generational driving habits. Arlington has one of the lowest drive-alone rates in the region and any report showing millennials driving alone at a similar rate region wide would seem to suggest a positive trend towards transit, biking, and other commute methods.
We need to help people know their options, and push for new commute modes
The addition of the Silver Line on Metro has offered thousands of people a new way to get to work. Not only are those people able to relax on the train and read a book on their way into work now, but the roads are less clogged so buses, carpools and vanpools can get to work on time, too. As we add more and more options to help reduce the traffic in our area we will continue to see driving alone decline.
But, adding infrastructure is not the only solution. We also need to make sure people know about their options and continue to push for greater benefits such as the recent increase to the transit benefit. We are working every day in Arlington to make sure people have all the tools they need to make their commutes easy and stress-free.
Suburban office parks are a thing of the past and companies such as Marriott are looking to more transit-friendly areas for their companies. 86% of all new office construction in the DC region is within a quarter mile of a Metro station – a clear market response to the increased demand from businesses wanting walkable, accessible locations for their employees. The ULI report mentioned above also shows that "proximity to work," "walkability" and "access to public transit" as the top three most important attributes for millennials when deciding where they would live next.
If the report looks to advise businesses in Greater Washington on how to attain and retain millennials, its poor advice to state businesses should not consider transit-oriented locations where they can offer great commuting benefits.