Remember when everyone was in a frenzy over an approaching blizzard and got sidelined by an icy evening commute?
The smallest amount of snow plus freezing temperatures turns every car driver's commute home into an hours-long ordeal. Stopped traffic on the interstates and major roads means even buses are stuck with nowhere to go. Pedestrians and cyclists have better luck, despite slippery and freezing cold trips home. The winners that day are most likely those who were already teleworking.
Fast forward to now. Do you know what your alternatives would be if you can't drive home from work?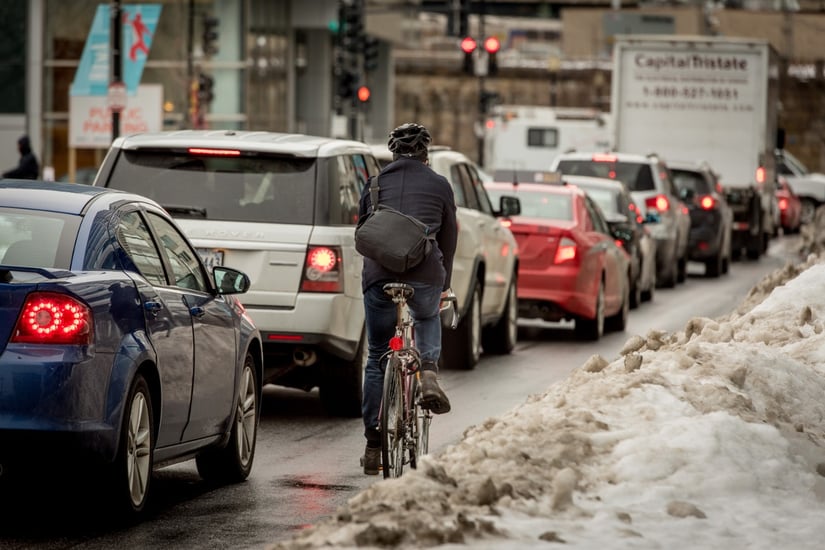 Before we get to the next snow event, make sure you're receiving the new winter commuting alert from the National Weather Service for the Baltimore/Washington area.
The NWS Forecast Office Baltimore/Washington alerts the public, regional governments, and transportation agencies 24 hours prior to potential weather hazards. If you've signed up for weather alerts in the region that are working with NWS, you'll be notified! This notice signals you of possible commute complications due to the weather and that you should plan accordingly. This is the perfect opportunity for employers to support telework, and for commuters to consider their backup commute options.
At Arlington Transportation Partners, we believe in being prepared for whatever commute emergency Mother Nature throws our way. Here are some actions you can take to be prepared too.
On-the-Go Alerts and Information
Follow @NWS_BaltWash on Twitter for on-the-minute weather and commuting updates, as well as ART Alert, WMATA and Arlington County. You can follow us at @ATPCommutes for updates on transportation benefits and programs.
Prepare Your Back-Up Situations
Know our commute options! Everyone on the ATP team each has two or three backup plans. If you don't know yours, use CarFreeAtoZ to find at least one. Try out these eight transit apps to make your commute easier.
You will also want to test your remote access occasionally, in case you need to telework. Find out if your company has a telework contingency plan. If you don't have a telework policy, ATP can help your company set one up.
Slippery, salty sidewalks in expensive dress shoes are no fun. Keep comfortable shoes and warm clothes stashed at work in case we need to walk or bike unexpectedly.
Don't Let Inclement Weather Stop Your Team
Don't let winter weather negatively impact your team's ability to keep business running smoothly. You can learn more about teleworking by downloading our free Understanding Telework Guide.
If you want assistance setting up an emergency preparedness commuting plan for your office or building, contact us to learn more about telework and other employee/tenant seminars.
Photo Credit: Sam Kittner/Kittner.com for Arlington Transportation Partners