The day we hold the Amazing Commute Race has luckily been bright and beautiful for five years running. Every year, our team meets up in one central location and takes off on different modes to see who can arrive at our office in Rosslyn the quickest. We've previously tried different ridehailing services vs public transit, a variety of active modes, and unique commutes like slugging.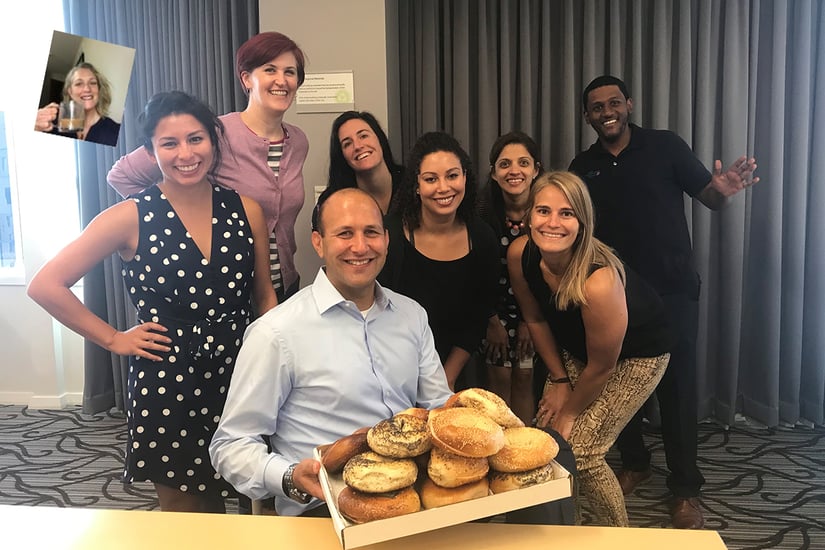 As we promised last year, we decided to start our race at a more realistic commute time and departed Vienna Metro Station at 8:00 a.m. instead of our usual 7:00 a.m. start. We also incorporated two new commute scheduling and subsidizing phone apps to report back to you on how they fared.
Waze Carpool is an app where you can carpool with someone in real-time and while on the go. There's also the IncenTrip app which rewards you if you take a sustainable mode or change your commute depending on its real-time recommendations. Since the IncenTrip app has an incentive for nearly all modes, everyone of our racers downloaded the app to be prepared to log their commutes today.
Pre-Race Facts You Should Know
Race Start Time: 8:00 a.m.
Race Location: Vienna Metro Station
Modes Represented: Bike, Commuter Bus, HOV (High-Occupancy Vehicle), Metrorail, SOV (Single-Occupancy Vehicle), Waze Carpool, and Telework
Race End Time: The clock stops when the racer is at their desk
Racer Stats and Takeaways
7th Place Winner – Bike | Sheila
Mode Used: Bike
Total Time: 84 minutes (This includes the time Sheila needed to shower to be ready for the day)
Total Cost: Free!
Summary: My bike ride yesterday morning was lovely. Along the way I saw three deer, countless dogs, and many smiling humans enjoying the morning sunshine. Commuting via the superb bike trails in this region guarantees you will never get stuck in traffic giving you a much more predictable arrival time once you get your routine down.
From Vienna, I biked on the Fairfax Connector Trail, the W&OD Trail, and the Custis Trail in Arlington. On the W&OD, there were a couple of detours in areas where they were doing construction, but the detours were very well marked and short. On one of the short detours, I was behind a bike commuter who had a speaker on his bike, so I even got a little shoulder shimmy in while wayfinding my way back to the trail.
My bike commute was not only free, but this means that I will have more free time after work since I already got my exercise in for today. I downloaded the IncenTrip app to log my bike commute but it wouldn't connect to my existing Commuter Connections account. I checked the route the app suggested afterwards, and it was pretty on par with the actual route I took so I could've received the cash incentive and earned money on my commute. Overall, I felt like I won with all the benefits that came with my ride. The post-ride endorphins are flying as sit down at my desk happy and ready for work.
ATP Pro-tip: If this commute seems like a lot for someone newer to riding a bike, biking one way and taking Metro home could be a great option. An e-bike can also help you ease into a new routine. We are happy to help with creative commute solutions.
#TeamBike is all ready for the workday now! @UrbanPLAYces #AmazingCommuteRace pic.twitter.com/CDMqoecFeH

— ArlingtonTransPrtnrs (@ATPcommutes) September 18, 2019
6th Place Winner – Commuter Bus to Metro | Elizabeth
Mode: Fairfax Connector Commuter Bus 698 to Metrorail
Total Time: 75 minutes
Total Price: $4.25 Fairfax Connector + $1.75 Metro ride from Pentagon to Rosslyn = $6.00
Summary: Although the initial plan was to try slugging* from Vienna to Rosslyn, I ended up changing plans to fill in for a colleague. The Fairfax Connector bus departed from the bus bay on the south side of the Metro Station promptly at 8:02 a.m., the scheduled time.
The IncenTrip app only offered me train directions when I tried to plan my trip. There was no way to filter the transit option to bus-only. I understand that going from Vienna to Rosslyn, Metrorail is the most logical option, so I can't fault it too much for that. However, in retrospect, I could have tried planning for Vienna to Pentagon, to see if the Fairfax Connector came up. It would be nice for the app to allow users to filter for bus only, or rail only in the next update.
We hit alternating patches of traffic and empty roads as we zoomed towards Rosslyn and ultimately the Pentagon. Possibly the longest part of that trip was the backup to get to the Pentagon! We arrived there about 8:48 a.m. or so, 15 minutes after the scheduled arrival time. Then I had to wait six minutes for the Blue Line train to arrive before finally getting to Rosslyn.
The biggest disappointment was having to pass up Compass Coffee, where I normally treat myself the few times I take Metro to work instead of biking. The commute wasn't a bad experience, it just took a long time. Taking a bus from Vienna to the Pentagon to get a train to Rosslyn isn't a realistic commute option, but it is an option. If regular Metrorail commuters ever need a backup plan, this could be a contender.
*For slugging, I joined the I-66 Slug Lines Facebook group, and downloaded the Sluglines app. People who plan to drive on I-66 post to the Facebook group what routes and times they can take passengers, and people looking for rides can do the same. The app has you reach the slug line location then indicate that you are there, so drivers can find you.
No one had posted to the Facebook group that they were looking for riders, so I was pretty sure I wouldn't find a ride that way. I didn't try the app in real-time because at that point, I was figuring out the commuter bus. Would it have ended up like my colleague Zara, who couldn't find a Waze carpool? We'll never know.
.@TinLizzieBikes made it up 👏🏼 the 👏🏼 hill 👏🏼 and at her desk by 9:17am for her multi-modal #bus commute! #AmazingCommuteRace pic.twitter.com/oVRZazohIl

— ArlingtonTransPrtnrs (@ATPcommutes) September 18, 2019
5th Place Winner - SOV (Single-Occupancy Vehicle) | Taylor and Dag
Dag was the passenger updating the team, so Taylor (the SOV driver) could safely use the roads.
Mode Used: Single-Occupancy Vehicle (SOV)
Total Time: 72 minutes
Total Price: $8.75 for mileage (15 miles @ $0.58/mi) + $16.00 = $24.77
Summary: Our commute started with a 41-minute ETA to Rosslyn and steadily increased time to our commute after the GPS re-routed us to take Lee Highway on the Fairfax side. Before starting our commute, we checked I-66 which would have saved us 15 minutes but cost us a lot of money for the tolls since we were acting as a single occupancy vehicle which was around $35.50 according to the I-66 toll calculator at the time.
The stop-and-go traffic coupled with the traffic lights on Lee Highway early on our trip added time to our commute. The GPS then put us on Arlington Boulevard which had heavy gridlock earlier on but cleared up as we got closer to the office. We ended up getting to a packed garage at the office at 9:05 a.m. which cost us $16.00 to park since we missed the $9.00 early bird cut-off at 9 a.m. We made it into the office and to our seats by 9:12 a.m.
Our pretend-#SOV team has parked and made it to their desks by 9:12am 😸 #AmazingCommuteRace pic.twitter.com/owhtxsCOTm

— ArlingtonTransPrtnrs (@ATPcommutes) September 18, 2019
4th Place Winner – Waze Carpool | Zara
Mode Used: Waze Carpool
Total Time: 65 minutes
Total Price: Free because it was my first Waze Carpool ride, but would have been $4.10
Summary: Since this was my first time using the Waze Carpool app, I was a little concerned about whether I would be able to find a ride along my route from Vienna to Rosslyn. The Waze Carpool app allows drivers and riders to schedule their commute routes and time windows up to a week in advance.
After downloading the app and verifying my account the day before, I was unable to find any scheduled rides ahead of time. On the morning of the race, I spent about 20 minutes searching for drivers along my route but was not able to find any nearby carpools. Quickly running out of options, I ended up sharing a ride to work with my colleague, Taylor. This wasn't the original plan but ended up being a good way to try out the app and figure out how it works without worrying if I was going to be able to make it to work on time.
Although my first-ever Waze Carpool trip did not go as expected, it could be a good option for commuters with flexible schedules traveling along busy corridors like I-66 and I-395 during peak hours. Waze Carpool is a great option for those commuting along high-traffic corridors like I-66 and I-395, especially if your employer offers eligible commuter benefits through Luum or RideAmigos. Carpooling with friends, coworkers, and other Waze Carpoolers made my commute much more enjoyable than it would have been if I was sitting alone in traffic. Since my actual day-to-day commute is shorter than this simulation, I will probably stick with Capital Bikeshare, the bus, or Metro for my commute.
BTW Zara made it in the office at 9:04–but with a lot of difficulty with the #carpool app 😟 #AmazingCommuteRace pic.twitter.com/ArRHSvESRA

— ArlingtonTransPrtnrs (@ATPcommutes) September 18, 2019
3rd Place Winner – High Occupancy Vehicle (HOV 2+) | Claudia and Pinky
Mode Used: High Occupancy Vehicle (HOV 2+)
Total Time: 43 minutes
Total Price: $9.00 total for parking at our office since we didn't have to pay tolls because we were riding HOV 2+ on I-66!
Summary: It was nice to be able to listen to music, drink coffee, and people-watch at our leisure. We were surprised at how clear traffic was after we got past I-495 but then we hit the bottleneck at Falls Church all the way to the end. We downloaded the IncenTrip app this morning and we were looking forward to earn points which would ultimately turn into cash rewards but we were disappointed to notice that the trip did not get logged.
Google Maps also didn't account for traffic on Key Boulevard around The Heights as teachers and parents were arriving at school, but we bailed and went around on Wilson Boulevard. Since The Heights location is so new, it will probably take Google some time to sync up the traffic seen in real-time.
#TeamHOV made it for second place!! Dashed to their seats for an 8:43am stop 🎉 #AmazingCommuteRace pic.twitter.com/z0Xi3tlZLQ

— ArlingtonTransPrtnrs (@ATPcommutes) September 18, 2019
2nd Place Winner - Metro | Fadi
Mode Used: Metro
Total Time: 31 minutes, 44 seconds
Total Price: $4.80
Summary: It was a perfect day to ride Metro. A train was already there when I arrived at the Vienna Metro Station platform. I quickly found a seat and just enjoyed the ride, listening to my favorite morning podcast (No Such Thing as A Fish) and feeling good about not being stuck in any traffic.
The IncenTrip app showed that there were lots of accidents today, so it was the perfect time to ride Metro. Unfortunately, it didn't log my trip, but I would have gathered 100 points if the app didn't crash a couple of times. I'll settle for (almost) winning the race this year!
We have our #1!! #TeamMetro wins #AmazingCommuteRace making it in the office at 8:30am! Let's see who follows along 😎 pic.twitter.com/REqNMGEm7P

— ArlingtonTransPrtnrs (@ATPcommutes) September 18, 2019
1st Place Winner – Telework | Wendy
Mode Used: Telework
Total Time: 30 minutes
Total Price: $0! Work pays for my hardware/software and subsidizes my phone line
Summary: Being in a different time zone, I started my day a bit early at 5:45 a.m. CST to the sounds of thunder. I grabbed an umbrella and headed out the door to walk the dog so she gets her wiggles (and hopefully barking) out of her system until late afternoon.
After the walk it was time to get camera ready. I ate with my son, walked him out the door for school, grabbed my coffee and sauntered to the home office. No work/life balance complaints from me! Telework wins most days but I do miss my bike commute at times.
Tied for #1 is @TDMWendy for #TeamTelework! Made it to her desk in Minnesota by 8:30 EST! "8:30am EST = 7:30 am CST. Remote working has me start a bit earlier but love just walking to the home office to get started." #AmazingCommuteRace pic.twitter.com/OhXApZ4Q7w

— ArlingtonTransPrtnrs (@ATPcommutes) September 18, 2019
Cost and Time Analysis of All Modes
It was definitely an interesting race this year. Switching the start time to 8:00 a.m. made a lot of difference as there was more traffic on the road. This week is also Try Transit Week and it's great to see Metro moving up four spots from last year and losing the race to telework by a single minute.
Trying Waze Carpool and the IncenTrip app was also a fun experience, and we'll make sure to incorporate both apps in the race next year. Below you'll find a table that summarizes time and cost for all modes.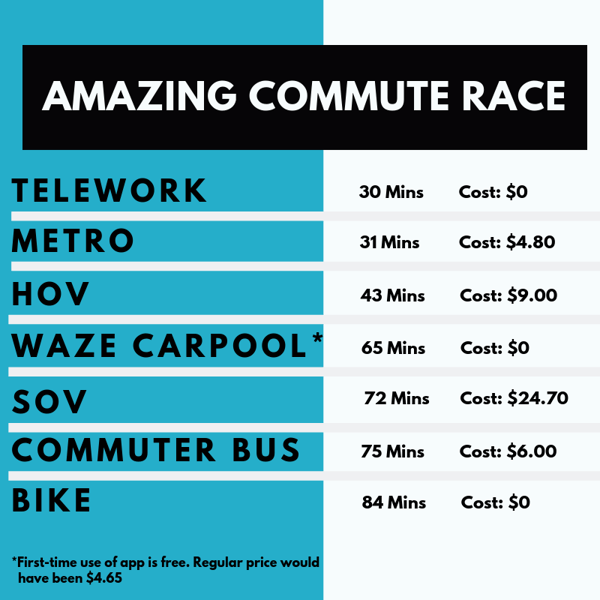 It's all about knowing your options at the end of the day. You could run into delays on the Metro and need to use a carpool app or take the commuter bus. You might be looking to save money and time on your commute and carpooling on I-66 could be the best way for you to go. If you're looking for a new commute, Arlington Transportation Partners can help you plan for the switch.