The Vanpool Connect program is highlighting our giveaway recipient of the month, Scott, who works for the Pentagon. He says the best part of riding in his vanpool is the friendly atmosphere provided by fellow riders and the great camaraderie they share with one another.
With the hour-long commute from Baltimore to Arlington, riding in a vanpool has allowed Scott to be efficient with time and get a head start on work. More importantly, he now has more time in the evening to spend with his wife and leisurely activities. See how vanpooling to work has given Scott more flexibility in commutes while having a better quality of life, and how vanpooling can offer you more options in your commute as well.
Flexible Commuting and Fun Vanpool Rituals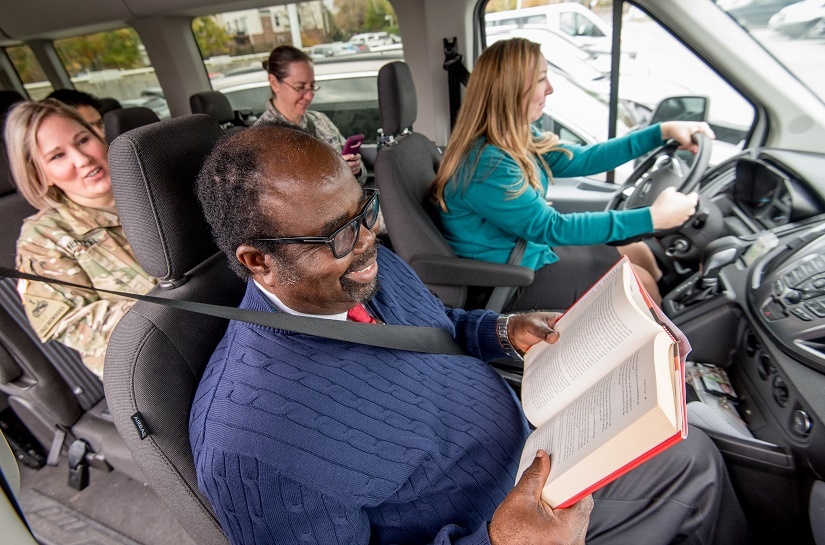 Q: What made you want to vanpool to work?
A: I accepted a position with a company in Crystal City, and I was driving every day. Traveling from Baltimore, I quickly noticed significantly increased expenses for driving and parking. I began looking for other transportation options. I found a vanpool and have been a member of a vanpool ever since! The vanpool has always been extremely reliable—I know what time we leave the pickup point, and I know exactly what time I will get to my drop off point.
Q: What is your favorite activity to do while vanpooling? Does your vanpool have a fun ritual?
A: My favorite part of the vanpool is no two days are the same. We don't get bored and the ride is never tedious or monotonous, even in the worst of traffic. The mornings are usually quiet, allowing members to sleep or work and facilitating members to prepare for their day. Some mornings the discussions are about a significant news story or world event, or maybe about the game last night.
The ride home is just as diverse. Some members may have teleconferences to attend, or wrestle with the end of day emails. Some conversations can be serious discussions, or something so abstract that we have solved world hunger and initiated a process to ensure world peace while saving the latest endangered species.
Our vanpool members usually meet once a week after work at one of the local restaurants to share a snack and a drink together to close the week. Not everyone participates all the time as we all have commitments but everyone does participate at one time or another. We occasionally meet retired members of our vanpool because over the years we have become like a family. We support each other with our personal challenges, and we celebrate our achievements equally.
Q: How much time and money do you save from vanpooling? How many miles is your commute round trip?
A: My round trip commute is nearly 90 miles per day. Not only do I save on the personal expense of driving every day in fuel and parking, but I also save on the maintenance and insurance on my personal vehicle. Total cost savings is approximately $400 a month.
Q: What is a misconception that you had about vanpooling before?
A: I thought vanpools, as other forms of public transportation, were cold, impersonal, inflexible, and inconvenient. Our vanpool is the exact opposite. The atmosphere on our van is friendly, welcoming, and supportive. Members can engage as little or as much as they wish, and everyone is respectful of others.
I thought it wouldn't allow me the flexibility to take care of business emergencies before or after normal working hours. Having the hour ride, allows me to effectively be at work and have things in motion an hour before I actually walk in the building. With the technology available today, I can be just as effective in the back seat of the van as I can at my desk. This allows me to efficiently and effectively ensure a successful workday closure of issues, challenges, and surprises.
Insider Tips to Start Vanpooling Today
You may need to be a little flexible on the pickup and drop-off times, but remember you have that time on the van to work in peace. There may be more than one vanpool for the route you need, contact all of them, as you may need a ride from them occasionally. Make sure you are a member of Guaranteed Ride Home, a program that provides four free rides home every year in case of emergencies such as sickness or unscheduled overtime.
Visit JoinAVanpool.com for assistance on finding a vanpool that meets your work schedule.
Photo Credit: Sam Kittner/Kittner.com for Arlington Transportation Partners