Just a quick recap - when we last left you, you had just discovered that we write some pretty stellar blogs. You'd dutifully read blogs 6-10 and relived the magic of the written word, but you likely felt unsatisfied. Left wanting more. Amiright?
Well, worry no more, here are blogs 1-5. Counting down in reverse order to give your Tuesday a little more dramatic flair.
As the marketing manager, I'm really proud of these blogs. I think they truly showcased the knowledge and value our team brings to Arlington County and the DC Metro region.
One of our favorite things to do here at ATP is test out new ways to get around. And when it's transit technology? We're like kids on Christmas Day. So when we found out that Boston-based startup, Bridj, was launching in DC - well, we had to try it. Even if it wasn't operating in Arlington. Many people coming to Arlington are multimodal commuters, so it only made sense for us to be in the know.
4. First Annual Amazing Commute Race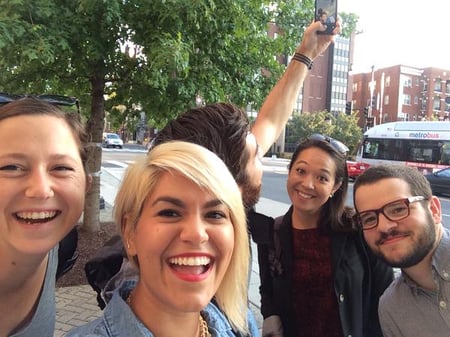 Speaking of testing out commutes, that's exactly what happened when we initiated an annual commute race. Easily one of the most invigorating and fun activities we did this summer, we put the regions transit system to the test to see which mode was really the fastest. We were surprised by some of the modes while others were a bit more obvious. At the end of the day, we had a new tradition on our hands as well as some new found insight. It's always good to check yourself when it comes to transportation options.
3. How I Commute to Work...Interrupted
As part of our 'How I Commute' series, I felt it was important to capture the good and the bad. So when the bad happened, I felt very strongly it was a story that needed to be told. This blog captures what happened when one of our own, Brendan Casey, was hit on his bike, during his daily commute. Spoiler - everything turned out ok! But you should click through to read to know your rights.
2. Top Five Bus Lines in Arlington County
Taking a cue from Greater Greater Washington after they published their list of Five bus lines everyone in DC should know, love and use, we knew we had to do the same for Arlington County. So if you're interested in trying the bus, see which lines we consider the most important here in the County.
And last but certainly not least, drumroll please...
1. Split: A New Rideshare Service in DC
Similar to our fascination and interest in Bridj, the same thing happened when we heard about Split. First we Twitter stalked them as they hyped their launch in DC, and when the app hit the App Store, we were on the case ready to test the service. Like Bridj, Split only operates in DC, so this test involved a multi-modal commute, but it's always good to A.) know your options and B.) how to use them.