Washington, DC's National Cherry Blossom Festival kicks off March 20 and with over a million visitors expected to visit, it's important to know your options to travel to and navigate the event. We do not recommend driving as parking is limited, and both vehicle and pedestrian traffic will be at a maximum. However, we highly recommend public transportation and depending on familiarity with the region and modes, blossom-goers may even make a trip multimodal.
Ultimately, your Cherry Blossom destination is the Tidal Basin at the Jefferson Memorial. Map your route using one of our favorite apps, Citymapper, and pick your mode from our list below.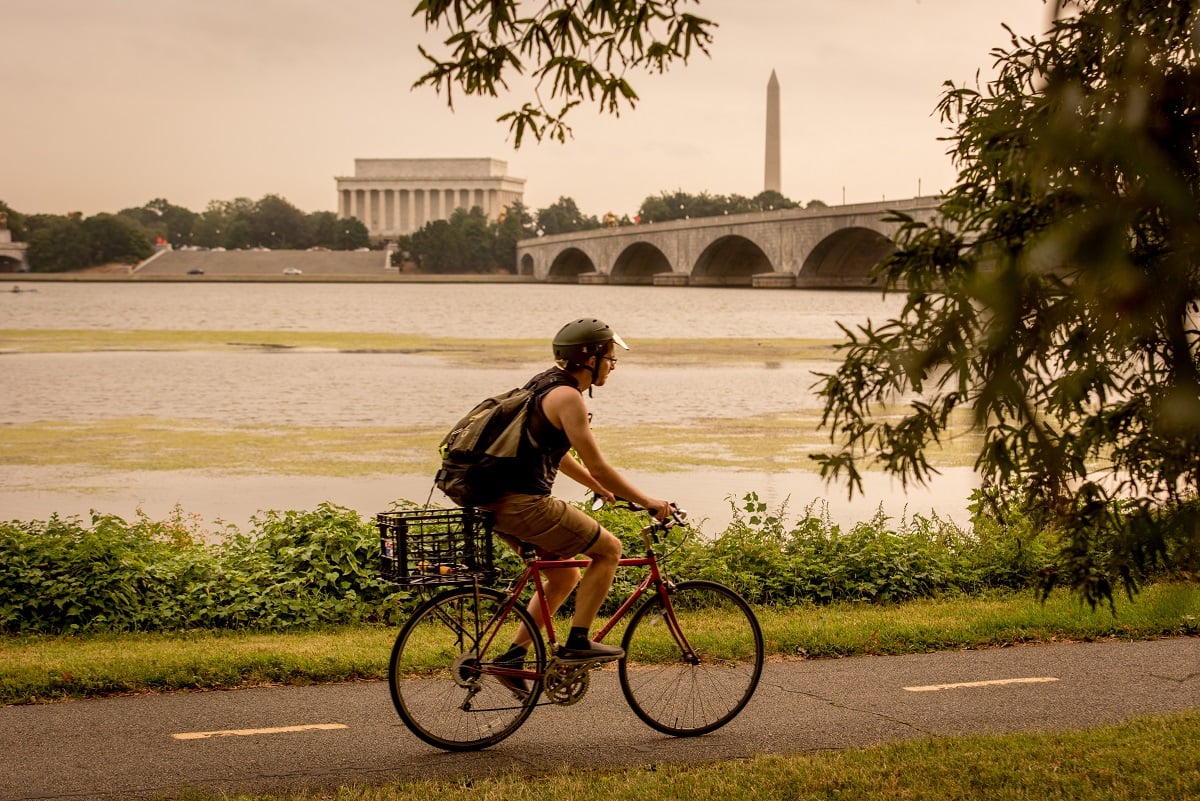 1. Travel by Metro
If you're new to the region, Metrorail is one of the most well-known options for touring the area. While there is no stop directly at the Tidal Basin, you can exit the system at nearby locations such as Smithsonian (Blue, Silver, or Orange Lines), L'Enfant Plaza (Yellow or Green Lines), or even Arlington National Cemetery (Blue Line).
Depending on your plans for the day, you could easily add in a stop at your favorite museum, memorial, or see the Changing of the Guard at Arlington National Cemetery.
2. Travel by Bus
The DC Circulator is a great and easy option as the route takes visitors directly to the Tidal Basin. The National Mall route starts at Union Station and runs along the National Mall, Constitution Avenue, Ohio Drive (i.e., Tidal Basic, Lincoln Memorial), and can be picked up anywhere there is a red DC Circulator sign at a designated bus stop.
The cost to ride is $1 and accepts both SmarTrip card and cash. No change is given, so if you pay with cash make sure you have exact change.
3. Travel by Capital Bikeshare
Capital Bikeshare is a fun way to get around Arlington County and Washington, DC. Visitors can use a bike and dock it at any available station around the DC Metro region. There are over 500 stations and more than 4,300 bikes in the system. The important thing to remember is that Capital Bikeshare is a transit system and should not be treated like a bike rental. Return your Capital Bikeshare bike to any station once you've arrived at your destination, then check one out again when you're ready to roll.
You can take a single trip for $2 or purchase a 24-hour pass for $8. Arrive in under 30 minutes per trip, and you'll only pay $8 all day. Ride for longer than 30 minutes and usage fees will apply.
During the Cherry Blossom festival, special bike corrals will be available during peak visitor hours.
4. Travel by E-Scooter
E-Scooters are one of the newest modes available to residents and visitors in Arlington and Washington, DC. With several different companies operating in the region, the most important thing to know are the rules. You can visit RideDockless.com to learn where to ride in Arlington County (spoiler: sidewalks are off limits in Arlington) and where to park in Washington, DC (spoiler: you can't leave them on national park grounds, such as the National Mall or any of the memorials).
Most e-scooters are $1.00 to unlock and $0.15/minute to ride, but may vary based on the company. Download the app for the e-scooter you want to ride for more details.
5. Travel by Water Shuttle
Perhaps lesser known to most, the Cherry Blossoms are accessible by water taxi from Georgetown. A great option if you're hoping to pack in shopping and dining before or after your visit the blossoms.
A water taxi costs $25.00 for adults, $12.00 for kids (return trip) and must be booked online and in advance.
Update Your Hotel's Brochures
One of the most important things an Arlington hotelier can do in advance of the National Cherry Blossom Festival is make sure your guest service offerings are up-to-date. In addition to training front office staff on nearby transportation options, Arlington Transportation Partners can provide hotels with new and updated brochures for easy travel around the County.
This service is free and brochures are delivered directly to your hotel.
Photo Credit: Sam Kittner/Kittner.com for Arlington Transportation Partners