The highlight of any Independence Day celebration in the DC area is the fireworks. Fireworks never fail to dazzle us with their colorful explosions, but the magic quickly wears off when the show is over and we cram into crowded Metro station platforms and trains.
Metrorail will be closing at regular hours on the Fourth of July at 11:30 p.m. but last train departures vary by station. You'll need to plan ahead since the fireworks over the National Mall tend to end around 9:30 p.m. However, most lines at the Metro stations around the National Mall don't tend to clear until around 11:00 p.m.
So what is a fireworks fan to do? We suggest watching them from one of many excellent vantage points in Arlington.
Watch the Fireworks from Arlington
Arlington has several locations along the Potomac River where you can watch the fireworks. We'd like to think that we are the only ones that know about these spots, but that's probably not true.
Biking and walking along the Potomac offers plenty of Instagram opportunities, so pick a spot and turn the trip into part of the event. Here are a few of our favorites, along with hints on how to get there the ATP way.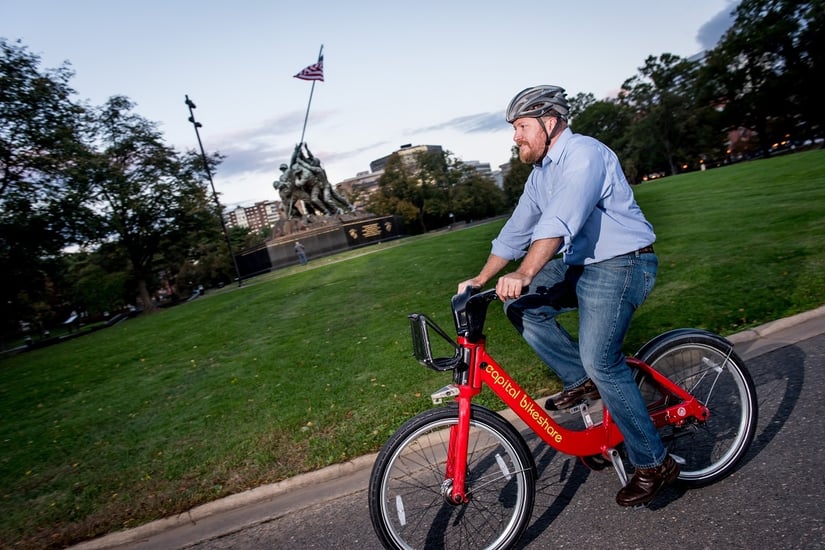 Iwo Jima Memorial
The US Marine Corps Memorial, better known as the Iwo Jima Memorial, is located in Rosslyn. Located upon a hill top, the Iwo Jima Memorial provides a grassy slope overlooking the Potomac River. We recommend you find a spot in the clearing in between Iwo Jima and the Netherlands Carillon, you'll get a full fireworks over memorials view.
Rosslyn is easily accessed by the Orange, Silver and Blue Metro lines, as well as several Metro and ART buses. A Capital Bikeshare station is also located right behind the Memorial. Read our Iwo Jima blog for more details.
US Air Force Memorial
The US Air Force Memorial is a soaring sculpture on top of another hill in Arlington. With less space than the Iwo Jima Memorial, it is likely to get crowded quickly.
Pro tip from Maggie, a former (long-time) Columbia Pike resident: Stop by the Memorial early and set up a blanket in your desired spot. Just come back when you're ready to relax and watch the fireworks. She doesn't know why, but people just respect it.
The Memorial is reached by foot from the Pentagon City Metro Station, about a 20-minute walk. Any Metrobus 16 routes running from the Pentagon Metro Station will also stop at the Air Force Memorial. Start your trip on a Yellow or Blue Line Metro train to either Pentagon City Metro or Pentagon Metro. Read the Air Force Memorial blog for more information.
Lady Bird Johnson Park
Hidden along the Potomac and the Mount Vernon Trail is Lady Bird Johnson Park. Actually an island and technically located in DC, this park is easily accessible from the Mount Vernon Trail as it's very close to the Virginia side of the river.
Biking or walking from Crystal City or Rosslyn is the easiest and arguably prettiest way to get there. Rental bikes, versus Capital Bikeshare bikes, are suggested as there are not any Bikeshare stations at Lady Bird Johnson Park—fees for usage over 30 minutes will occur. If you don't want to bike, take the Blue Line to the Arlington Cemetery Metro station and walk about 20 minutes.
Long Bridge Park
Located at the northern tip of Crystal City, this 30-acre park has plenty of space from which to watch fireworks. An easy 15-minute walk from the Crystal City Metro Station, this is likely to be crowded with locals, so enjoy the park amenities while you wait.
Gravelly Point
Gravelly Point Park is popular with locals and tourists alike, who enjoy watching airplanes take off and land at Reagan National Airport. The Mount Vernon Trail connects this park to Crystal City, just to the south, and to Rosslyn, further north. Walk or bike from Crystal City, easily reached on the Blue and Yellow Lines. Take a picnic blanket and watch airplanes before it's time for the fireworks show.
Fourth of July Toolkit
Whether you are an Arlington resident or visiting Arlington over the holiday, you will find that there are plenty of ways to see the fireworks. Take the bus to Rosslyn or Crystal City and Pentagon City, then walk the last few steps, picnic basket in hand. If you really want to head into Washington, DC for the fireworks, don't let us stop you! Just first check out our toolkit for hints, tips, and our recommended mode of transportation.
Editor's Note: This was first published in June 2017 and has been republished with information written by Christy Lee.
Photo Credit: Sam Kittner/Kittner.com for Arlington Transportation Partners