Did your company relocate to a new office? Have employees moved homes recently? Or are staff members just tired of their current commute?
Whether it's by choice or due to a life change, most people aren't sure where to start when looking for a new route to and from work. However, Arlington Transportation Partners (ATP) aims to alleviate the stress of a new commute by offering custom commute planners as another free service to employers and their staff.
Commute planners provide detailed directions on ways to get to work based on an employee's home and office locations. ATP representatives research various transit options throughout the region, including Metro, Metrobus, ART, Fairfax Connector, DASH, DC Circulator, VRE, MARC train and commuter bus lines. We also provide information about carpool and vanpooling options, which are helpful for those who live further out away from public transit. For employees who live closer to the office, we provide convenient bike route information and nearby Capital Bikeshare stations that could help with first and last mile issues.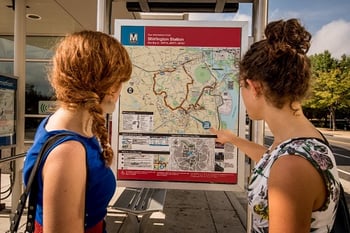 The customized commute planners might suggest a new route an employee might not have thought of before, or show a more convenient option that is cheaper than their current commute. For some people, the options on the commute planner may not be ideal – it could still be faster or make more sense to drive. However, the alternative options provide a backup plan in case your regular mode of transportation is unavailable.
As we've previously highlighted on our blog, there are also great tools and resources for employees to check out when they are quickly looking for transportation options between point A and point B. CarFreeAtoZ is a web-based program created by Arlington County Commuter Services, which finds options for travelers and compares them based on time, cost, calories burned and CO2 emissions. We also recently highlighted other tech apps and services, which provide great options for commuters to figure out their options on the go.
Let ATP find the best commute options for your employees – contact us today to learn more about commute planners and our other customized services.