At Arlington Transportation Partners (ATP), we are big fans of active commuting. As a new member of the team, I haven't taken the leap yet, so I reached out to my coworkers who have been active commuting for years. I'm happy to share their advice for beginners and seasoned active commuters alike. These tips should help prepare for the commute during the upcoming colder temperatures. I am really excited to put them to the test soon as well!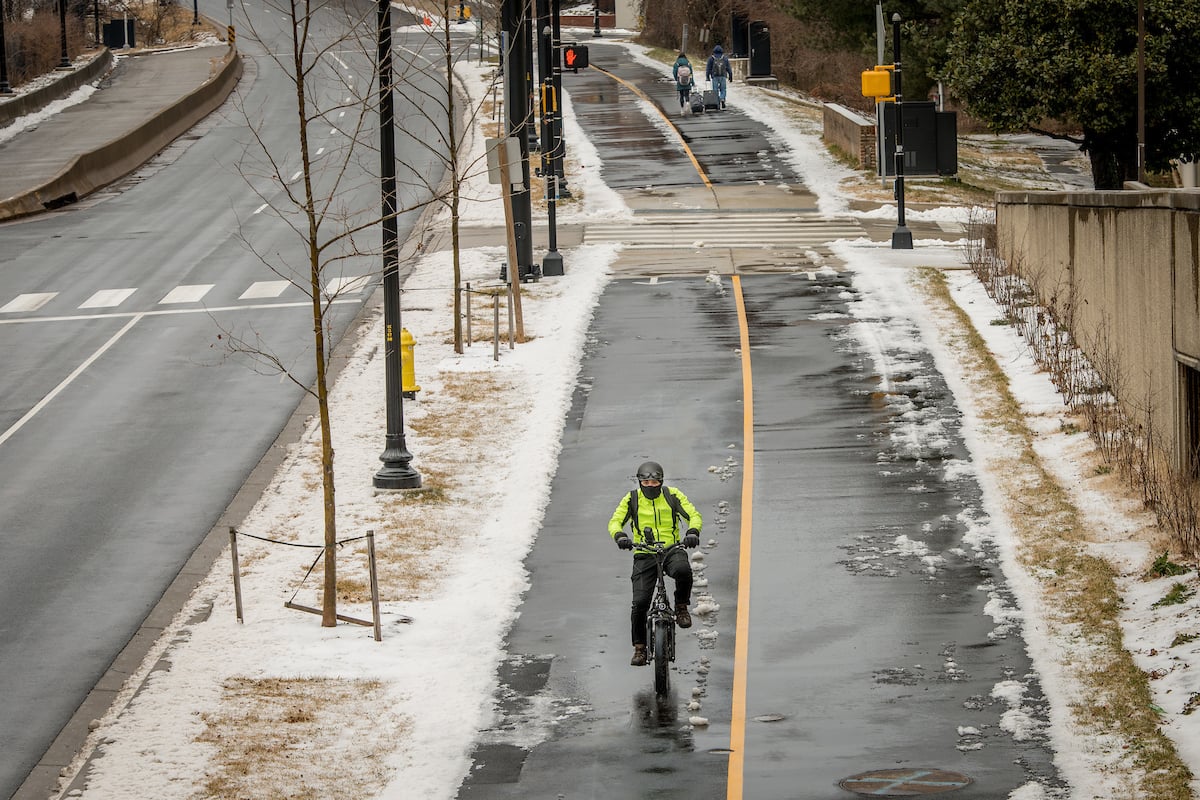 Plan and Prepare
So you want to try active commuting, great! My colleagues say Google Maps' bike routing function is a perfect place to start. Depending on where you live there may be multiple route options, between trails and neighborhood streets, but it will present the fastest routes.
Although, they mainly reported that with time and trial and error, they've come to find routes that are most comfortable to them and just keep up with any construction that may pop up.
The number one answer for how best to prepare was practice! Try your route on a weekend to get a feel for it with low stakes. Practicing your alternate routes in case of snow, rain, and ice are key to being flexible and switching gears without leaving you stranded. The Guaranteed Ride Home program is worth looking into if you're still concerned about needing to get home on a dime.
My colleagues also recommend having a couple of bike maintenance supplies with you for emergencies. Raymond and Henry suggest a multitool with wrenches and screwdrivers, a spare tube, and an air pump/CO2 cartridge.
The proper equipment
There is no perfect formula for what gear is necessary since I received different answers from each person I asked, but the one thing they all agree on is layering.
ATP's active commuters swear by thermal and compression layers, the best part, you might have these at home already! Raymond says to avoid cotton in your layers and large, bulky coats. Opt for thin, breathable layers and wool or synthetic fabrics. Here's a checklist from each of our active commute pros:
Henry: Gloves, cycling cap, and windproof outer layer
Mary: Waterproof socks, balaclava, and bar mitts in addition to gloves
Fadi: Beanie, compression shirt and pants, lights, and reflective vest
Raymond: Chromatic glasses with full coverage, combination of cycling cap and neck buff
Nick: Balaclava, waterproof snow gloves (good for wind too!), and thermal layers
Have you considered switching to an e-bike?
Raymond, Mary, and Nick have converted to e-bikes and are raving about the benefits and opportunities. E-bikes have helped make their active commute more reliable, the weather is less of an excuse, and they are not as tired by the end of the commute.
They continue commuting by bike throughout the day with ease to meetings held outside of the office. It allows them to carry more weight with little physical strain and overall provides flexibility throughout the work week.
If you're interested in purchasing an e-bike, the e-bike buying guide may be helpful to aid your search. If you're not ready to purchase one, the Capital Bikeshare app or any dockless e-bike vendor are a great, inexpensive way to give it a spin.
Tricks of the Trade
If you're still not convinced, these last bits of advice from our experts might help simplify and give you that extra kick to try it active commuting during the winter days:
Pack your bag the night before and use a checklist so you don't forget anything. Leave some items at work like laptops, notebooks, toiletries, and work clothes/shoes.
You don't need all the gear or to commit 100%, use what you have and try it once a week to start. Give yourself time to find what works best for you.
You should be a little chilly when you leave so you don't get too warm as you start to move.
Join a friend or coworker who already commutes actively and do it together.
Be creative, try carrying your materials in different ways, like a basket, saddle bags, or wearing a backpack.
Are You Ready for Winter Commuting?
I sure am! As much as I am enjoying the work I do, I can't say the same about my commute yet, but I am working on it. Having colleagues who can help me out is a great start, and I'm encouraged to heed their advice and give it a go soon, once I plan and prepare. I'm going to use the Bike Comfort Map to see what routes I could take that would be suitable for someone new to biking on the road.
ATP can also consult with your employer about incorporating structures to support your active commute like, an active commute benefit, flexible workplace policies, and Capital Bikeshare corporate memberships. We can also provide you with the best resources to keep up your commute through the winter. Contact us now to plan your winter commute, before it gets too cold.
Photo Credit: Sam Kittner/Kittner.com for Arlington Transportation Partners