The League of American Bicyclists' Bicycle Friendly Business (BFB) program turned 10 in October this year. In the last decade, the BFB program has inspired businesses across the country to adopt, enhance, and enjoy bicycling as a key component to their success. Arlington Transportation Partners (ATP) supports BFB as a crucial part of the County's Bicycle Friendly Community status, and our efforts are paying off—34 of the 46 Bicycle Friendly Businesses in the Commonwealth of Virginia are located in Arlington County.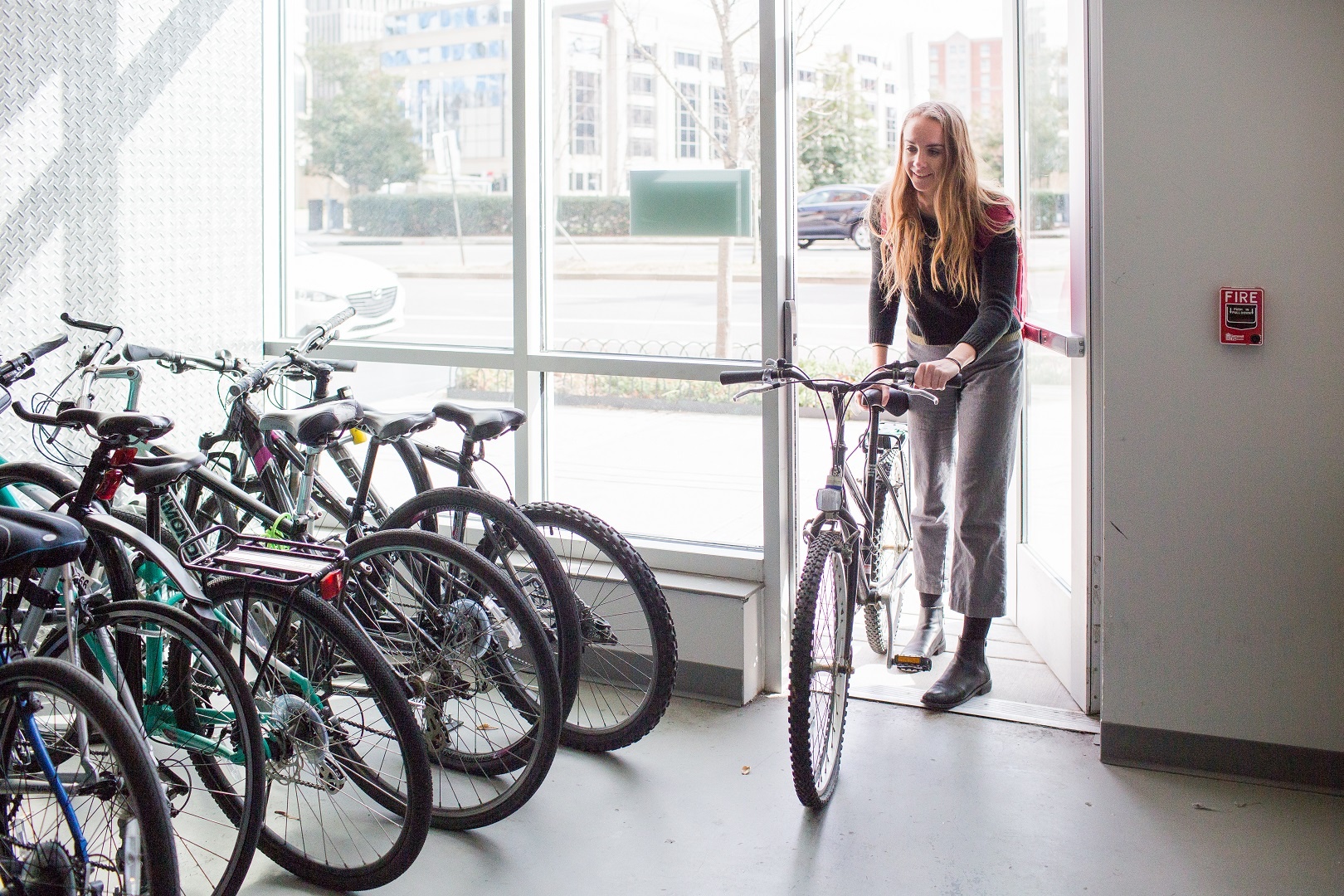 Meet Some Arlington BFBs
Through the BFB program, employers and property managers recognize that making it easier for employees to bike to work, improves the companies, the individuals, and the communities. Below are a few of the designated companies and buildings in Arlington.
Public Broadcasting Service
Public Broadcasting Service (PBS) has been a Bicycle Friendly Business since 2013, and in 2017, moved up from a Bronze Level to a Silver Level, with support from ATP. PBS offers Capital Bikeshare corporate memberships, secure bike parking, on-site showers, and supported their own cycling team. To help them increase their award level, ATP and BikeArlington hosted an event to provide those interested in bike commuting with information on how to start, as well as bike maintenance tips and a fix-a-flat workshop for seasoned bike commuters. The event was a hit and secured PBS a spot as a Silver Level Bicycle Friendly Business.
The Nature Conservancy
A Bronze Level BFB in 2012, The Nature Conservancy moved up to Silver in 2018. They provide secure bike parking and a Fix-It Station to commuters, plus this year the company added bike storage that can accommodate bikes with trailers. This reflects the changing face of bike commuters—parents who want to bike with their children, and need better spaces to park.
Century Center I & II (Lowe Enterprises)
Lowe Enterprises manages Century Center I & II in the heart of Crystal City, and actively promotes transportation options through their partnership with ATP. The buildings were designated Bicycle Friendly Businesses in 2017 at the Bronze Level, thanks to their secure bike parking and Capital Bikeshare corporate memberships provided to tenant employees. The buildings will also be featured on the Tour of Arlington during the 2019 National Bike Summit.
Arlington Public Schools
Four Arlington Public Schools (APS) schools have been designated as Bicycle Friendly Businesses for their efforts to help teachers bike to school: Ashlawn Elementary School, Discovery Elementary School, Oakridge Elementary School, and Yorktown High School. Each school excels in its own way—from creating space for indoor staff bike storage to weekly participation charts in the hallways. Yorktown High School even created a staff bike club that bikes to work and on weekends together, allowing them more time to connect outside of the classroom.
Enjoy the BFB Rewards
From engaging employees to attracting new companies, the growth of Bicycle Friendly Businesses in the last 10 years is something for Arlington to celebrate. All of our BFBs, including the ones featured here, would agree, as they see employees and tenants healthier, happier, and more engaged. Join us in congratulating the Bicycle Friendly Business program and wishing it many more years and participating businesses.
If your business, school, or property is interested in earning national recognition through the Bicycle Friendly Business program, ask us how you can apply. The next deadline is February 2019 and we'd love to help you reach a new level in sustainable bike commuting.
Photo Credit: Reema Desai/ReemaDesai.com for Arlington Transportation Partners