The team at Arlington Transportation Partners toured Crystal City by bike to explore the most significant projects that will improve mobility in the area. These projects are part of a master plan to renew the business district taking advantage of its unique accessibility and improve the walkability of the area.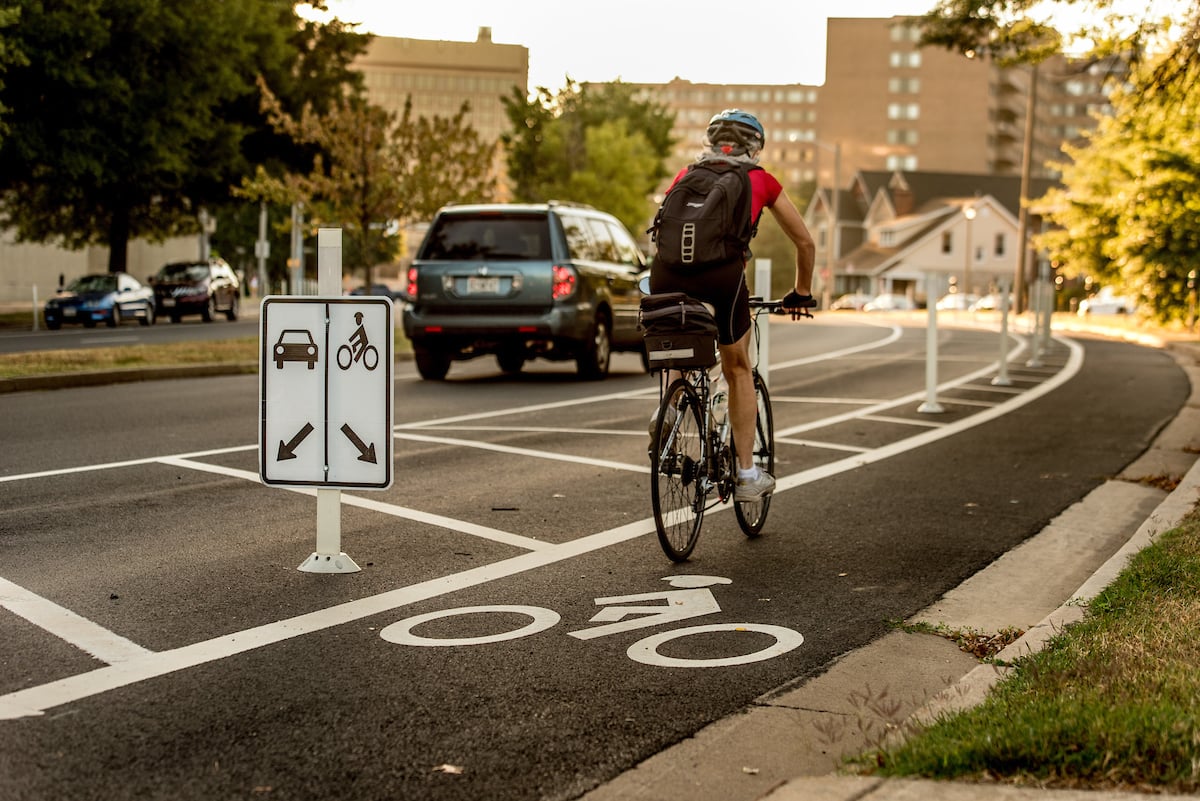 Improving Access to Crystal City
Crystal City is at the center of many highways and freeways such as Interstate I-395, Richmond Drive Freeway, and George Washington Parkway but it is also home to regional and local transit such as the Virginia Regional Express, Amtrak, Metrorail, Metroway and more. This model was relevant 60 years ago, but today's focus on sustainability, walkability, and the need to provide access to several modes including biking has necessitated a major change.
The current plan devised by National Landing BID received the support of a vast majority of residents and business owners. Over a dozen residential developments are under construction. Some office buildings were remade as condos or studios, and many are being renewed. The plan received significant backing when one of the top 10 companies in the US announced in 2018 the construction of their new headquarters in the area as well.
Top Five Projects in Crystal City
Redesigning Route 1
This national highway is partially an elevated freeway that provides a quick pass across the traditional business center. The Virginia Department of Transportation (VDOT) is engaged in a program to convert this road into a multimodal urban boulevard. This program features groundbreaking ideas such as bringing the intersections with 15th and 18th Street to an at-level crossing.
Removing these six-lane bridges while forcing drivers to a full stop would bind the urban fabric of downtown Crystal City, clear up a significant obstacle for pedestrians trying to get from one side to the other, encourage transit use, and promote healthier commuter habits. Currently, only minor construction works have begun while the bridges proposals are being reviewed.
Expansion of Metroway
Metroway is a bus-rapid-transit conceived as a fast transportation parallel to Metrorail between Braddock Station and Pentagon City, with intermediate stops across Alexandria, Potomac Yards, and Crystal Drive. It benefits from the existing street infrastructure and provides an efficient way of moving across the Route 1 axis or accessing the Metrorail system.
Construction of a new VRE hub-station
Currently under development, the express railway will have an entirely new and expanded station near the existing one and a direct opening to the Water Park. This project aims to provide a more robust connection to the renewed district and Metrorail through a new entrance.
A second entrance to the Metro Station
This new facility will provide safer and direct access to Metrorail from the future VRE station and all the new office buildings currently under construction. The project features the expansion of the station's mezzanine and the construction of a new tunnel, escalator, stairs, and elevator entrance from Crystal Drive.
Crystal City to DCA multimodal connector
Currently, the bridge on 26th street is the only direct access to the airport. The aim is to make it possible for visitors and residents to walk from their home or office in National Landing to any terminal in just 10 minutes, overpassing Crystal Drive, the rail lines, and the parkway with an iconic aerial structure.
Change is On the Way
These projects, along with dozens of other public and private initiatives, are in motion. It's just a matter of time to see how they will help Crystal City become a thriving place to work, live and visit. They prove that when governments, companies, and neighbors work together, they can achieve the most unimagined and beneficial transformations.
Photo Credit: Sam Kittner/Kittner.com for Arlington Transportation Partners