The benefits of taking transit, carpooling, biking, and walking have been well documented for adults commuting to work, and for tweens and teens. However, these options are not always feasible, especially for parents with younger children.
We typically hear things like, "I would love to bike commute, but I don't have time after dropping the kids off at school," or, "If I carpooled to work, how would I get home in case my child gets sick during the day?"
These are valid concerns for parents whose commutes are often dictated by their children's hectic school and activities schedule, demanding a high degree of flexibility when it comes to travel modes.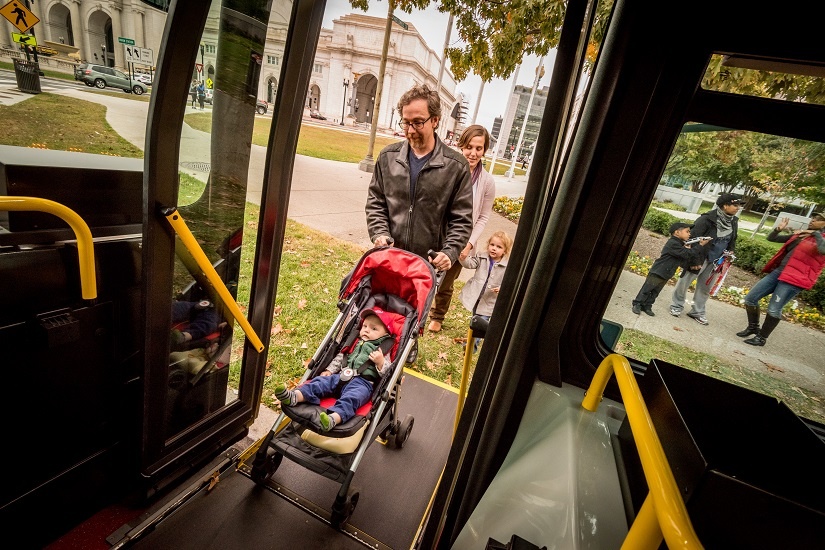 Flexible Options for Commuting With Kids
There are alternatives for parents who want more choices when it comes to their commute. Even leaving the car at home once or twice a week can help avoid traffic on the way to work and save money on transportation costs.
Here are some simple tips and ideas to consider that can help reduce commuting stress, improve productivity at work, and still get your kids where they need to be.
Try flex-time work schedules or teleworking
Talk to your employer about flex-time work schedules. Changing your hours so you can get the kids off to school while giving yourself enough time to catch the bus, bike, or walk to work can provide the flexibility needed to get to work on time while using your preferred commute mode.
In our office, work schedules reflect our individual needs—some of us work 9:30 a.m. to 6:30 p.m. to get the kids to school in the morning or 7:00 a.m. to 4:00 p.m. so they can be home in time to pick them up.
Teleworking is also a great option for working parents, since you no longer have to spend time during the day traveling to and from work and can better coordinate around kids' schedules. If your employer doesn't currently offer telework, check out our blog on how to approach the conversation with your employer.
Get connected with transit resources
New technology and tools have made it much easier to take public transit. If you live in a well-connected area, such as the Ballston-Rosslyn Corridor or Columbia Pike, try taking your kids on transit. Web-based tools such as Trip Planner and busETA are great ways to figure out the closest transit stop and when the next train or bus arrives. Smartphone apps like the Transit App also allows you to see real-time schedules when riding the bus or Metro.
For busy parents, knowing the available options and being able to plan ahead is crucial when traveling with kids. Not to mention that taking transit helps you save money on gas and you don't have to spend time trying to find parking. See our full list of transit apps and resources.
Register for Guaranteed Ride Home
Guaranteed Ride Home (GRH), sponsored by Commuter Connections, is a great solution for parents who have the "sick child dilemma" and are worried about the lack of flexibility that may come with ridesharing or taking transit.
Commuters who ride transit, carpool, vanpool, bike, or walk at least twice a week are eligible to receive up to four free cab rides home per year in the event of an unexpected emergency. Enroll in the program and give yourself the peace of mind and confidence to use other modes of transportation for your commute.
Bike with your kids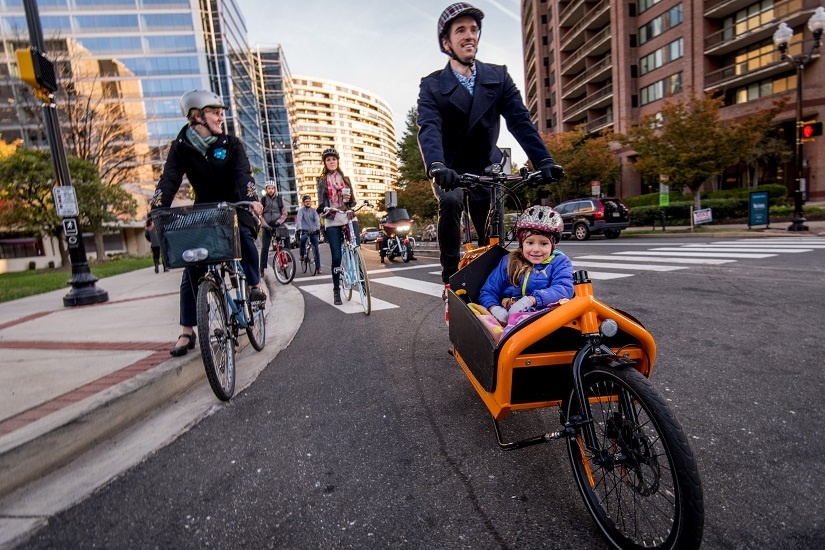 For the truly ambitious parents, there are some awesome high-occupancy bicycles (HOBs) out there that are great for toting kids (or groceries). These specialty bikes can be a little pricier than a typical bicycle, but when compared to the cost of owning a vehicle, it is definitely more affordable than driving.
Plan Your Commute With Us
If you commute in or out of Arlington, Virginia, we can inform you of all the sustainable transportation options available to you with a Customized Commute Plan. Or, if you're interested in implementing telework or alternative schedules at your business, get in touch with us and we'll help develop policies and provide resources.
Editor's Note: This was first published in April 2013 and has been republished with updated information written by Christy Lee.
Photo Credit: Sam Kittner/Kittner.com for Arlington Transportation Partners