New modes of transportation have the potential to create enormous social change, but the adoption of those new modes rarely occurs without its share of growing pains.
For some, e-scooters provide an efficient option for traveling around Arlington and the greater DMV region. In fact, some early research shows that these shared mobility devices may even help reduce our collective vehicle miles traveled and take some cars off the road. While there is still a need for continued research, e-scooters can serve as a positive addition to our multi-modal transportation system even though their introduction into our communities has created new challenges for some.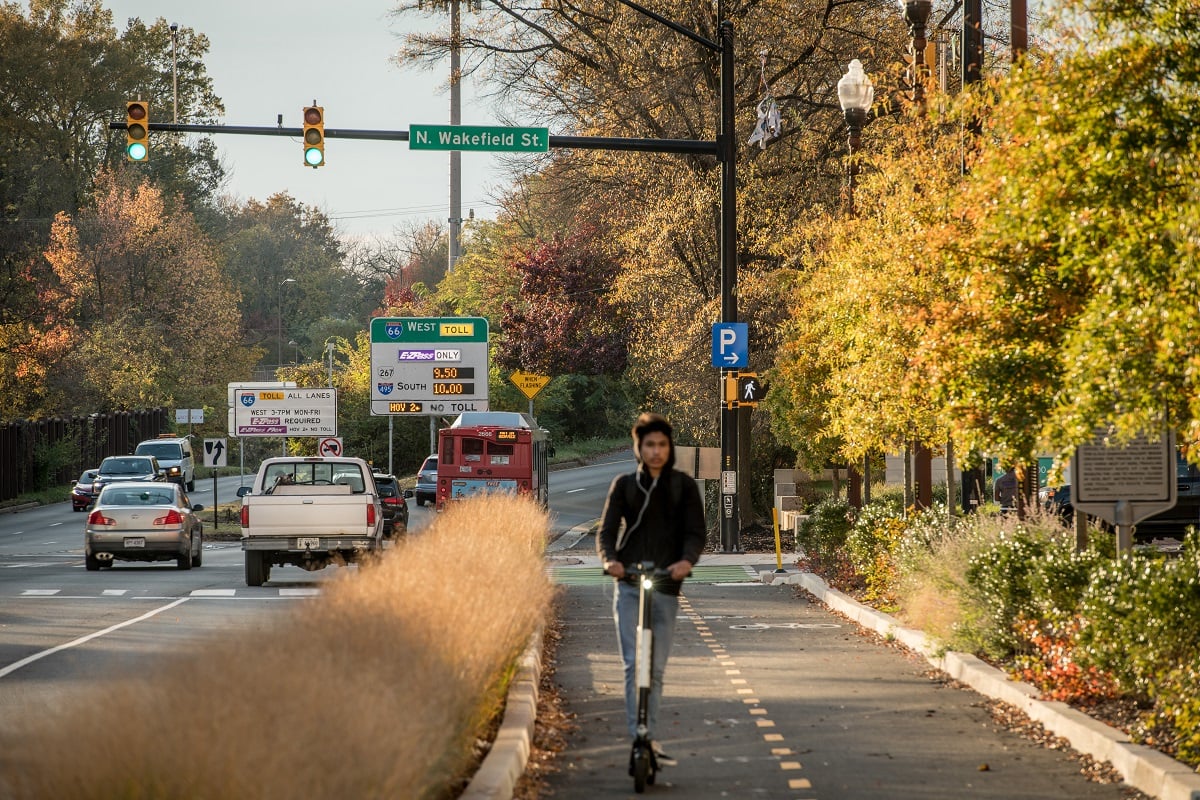 E-Scooters and People with Disabilities
Although so much of the popularity of the e-scooters is attributable to their convenience, that can come at a cost to those who have limited mobility.
The good news is that there are some steps that riders can take to reduce any negative impact that this new mode of travel can have for people with disabilities.
Park responsibly
The ideal place to park is along the sidewalk next to an existing bike rack, or near the curb. Make sure you're not blocking wheelchair ramps, walkways, or travel lanes. Find out more on how you can keep Arlington's roads accessible to everyone.
Note: for a path to be in compliance with ADA and passable by most wheelchairs, it should be a least three feet wide. This is a good rule of thumb to utilize when looking for parking.
Move obstructing e-scooters
If you see an e-scooter that is obstructing a sidewalk, travel lane, or is parked on a private property, you are free to move it. This small act constitutes very little effort for some but can help to prevent a major headache for someone else. Property management and companies can apply other rules to manage curb space.
E-Scooter corrals
E-Scooter corrals create a parking space for scooters so that they are accessible for potential users, yet out of the way for everyone else. Try to park your scooter in a corral when possible. Private property owners can also create their own scooter corrals.
Provide feedback
Arlington County's Shared Mobility Device pilot program has been extended and County staff is still accepting feedback via the mobility@arlingtonva.us email address. If you experience any mobility challenges created by a shared mobility device, make sure your voice is heard.
Sharing the Road
E-Scooters are a very popular addition to our transportation system, and there are efforts everyone can make to ensure our roads are safe for all users.
Join us at our third annual Our Shared Street Pop-up on August 22, 2019, to try out our mobility experience station and to learn more about transportation and sharing the road in Arlington.
Photo Credit: Sam Kittner/Kittner.com for Arlington Transportation Partners