The Washington Metropolitan Area Transit Authority (WMATA) kicked off the year by announcing Monday, January 7, as the first day personal bicycles are allowed on Metrorail trains during weekday rush hour, ending a previous restriction of bikes on trains to off-peak hours.
This is great news for people on bikes in case they run into poor weather, get a flat tire, or simply get tired. See below what this means for commuters.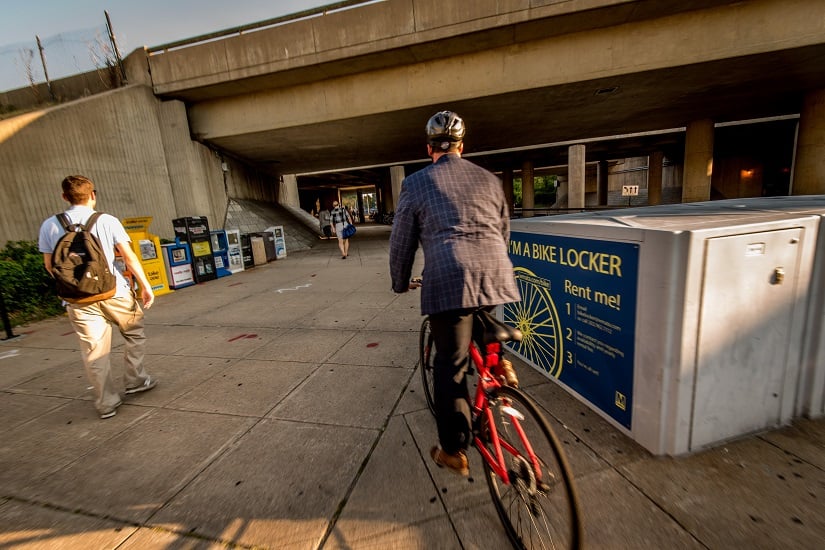 Long-Distance Commuting Made Easier
People who commute by bike within Arlington and DC have more flexibility than those who travel longer distances to get to work. With more buildings situated close together and a network of bike lanes and trails, the miles are much more manageable.
However, this isn't always the case for people who commute long distances or go outside the Beltway. For example, imagine an Arlington resident who needs to travel to a location in Fairfax County that is not near a Metro station. With the new hours, such a commuter is now able to use Metrorail to get as close as possible to their workplace and then complete their journey by bike.
This option can also help commuters traveling between Arlington and Alexandria circumvent the Metrorail closures on the Blue and Yellow Lines this summer from May 25 to September 2. Passengers can take Metrorail as far south as Braddock Road Metro and then ride their bikes to their destination.
Share the Ride
Even though hours have expanded and standard-sized bikes (not just folding bikes) may now be brought on board, people are still asked to be courteous when boarding Metro. The rules for bringing bikes on Metro have not changed. Bicycles are still only permitted through the front and back doors of a train car where there is more space available. Bikes are not allowed through center doors, or on escalators. Avoid boarding when cars are too crowded and use elevators to access the platform. All passengers, with or without bicycles, are asked not to block doors and walkways.
Bikes on the bus
You can also bring your bike on the bus—Metro and ART buses are equipped with bike racks at the front to help people make trips around Arlington smooth and seamless. To learn more about this easy-to-use amenity, check out this great blog, but feel free to ask your bus driver any questions.
Explore Your Options
Even before the rush hour bike-on-Metro ban was lifted, Arlington residents have always had so many flexible ways to get around without a car. Bus routes, Metro, bike lanes, and now e-scooters all connect to help you travel to where you want to be.
The ATP team has tried all modes and we are happy to help find the best options for you.
Photo Credit: Sam Kittner/Kittner.com for Arlington Transportation Partners