We are able to travel between Arlington and Washington, DC using some well-known bridges. From a small historic bridge, a high-traffic bridge and to the oldest surviving bridge, they are beautiful works of architecture that connect the city to its neighbors.
But why are we talking about these bridges? Both northern bridges have great places around them that are worth visiting, below are some of my personal favorites. The weather might be cold and frightful, but the places to visit are delightful so put on your winter jacket and head out to explore.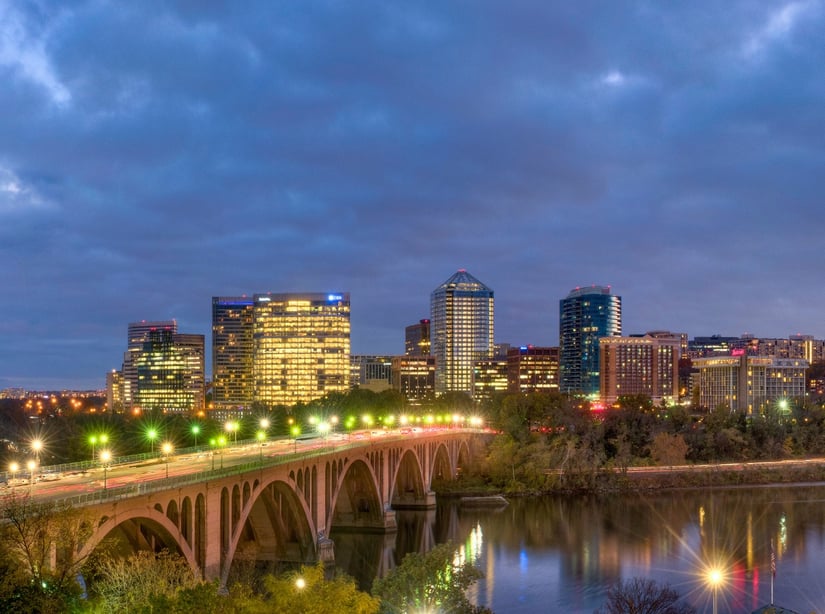 Francis Scott Key Bridge
The Francis Scott Key Bridge, more commonly known as the Key Bridge, is one of the area's oldest surviving bridges. It spans across the Potomac River and connects Rosslyn in Arlington, Virginia and the Georgetown neighborhood of Washington, DC. This bridge is open to all modes including buses, bikes, and pedestrians.
Ways to get across
Taking Capital Bikeshare either way across the bridge is a quick 5-minute ride depending on your pace, with docks conveniently located on either end. You can also take the DC Circulator or Metrobus 38B.
Places to visit around Key Bridge
Trail connections to the Key Bridge
Capital Crescent trail is an 11-mile route that runs from Georgetown to North Bethesda, MD which can be accessed right under the Key Bridge. The trail is a beautiful escape to enjoy scenic beauty and nature. I recommend taking a break in Bethesda and enjoying a sweet treat at Paul.
The Custis trail is a hilly 4-mile paved route that extends from the Key Bridge at Rosslyn, westward to the Washington & Old Dominion Railroad trail. The trail connects the Key Bridge into Georgetown near the southern end of the Capital Crescent Trail. To make the ride enjoyable, remember to shift to an easier gear when riding up the hills.
Theodore Roosevelt Bridge
This bridge, named in honor of the 26th President of the United States, crosses over the Potomac River into Arlington, Virginia. The bridge is a little over a half-mile long with beautiful views of the Kennedy Center and the Rosslyn skyline.
Ways to get across
You can also take a bike or Capital Bikeshare, walk, or jog across the bridge. If you're new to biking, here are some tips so you too can bike safely and confidently in Arlington.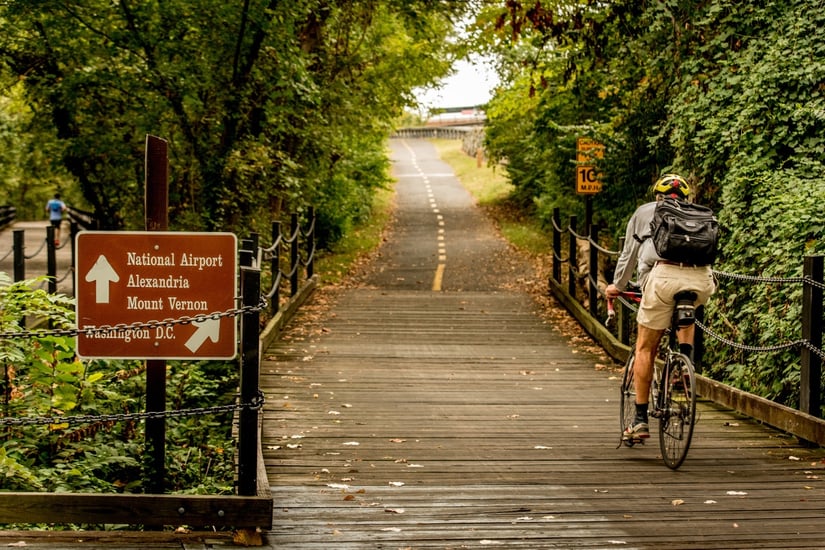 Places to visit around the Theodore Roosevelt Bridge
Theodore Roosevelt Island is a great place to park your bike and explore 2.5 miles of walking trails and a memorial to our 26th president.
The Kennedy Center is also nearby this bridge, half a mile from Theodore Roosevelt Island park, and is a great place to watch a musical or dance performance.
Trail connection
Mount Vernon Trail is an 18-mile paved multi-use trail, a popular urban route that runs from Rosslyn to George Washington's House in Mount Vernon. Enjoy your ride while viewing some monuments.
Take Your Next Steps
Things to do, check! Commute options, check! Ready to head out and explore? Stay tuned for my favorite places to explore around the southern bridges. In the meantime, download some of our quick glance guides to Urban Villages in Arlington County. Have information on nearby trails, Capital Bikeshare stations, transit, and carshare at your convenience.
Photo Credit: Sam Kittner/Kittner.com for Arlington Transportation Partners