The commute gods keep smiling on our Amazing Commute Race day, as we had another bright and beautiful morning for the seventh year in a row! Every year, our team meets up at one location and takes off on different modes to see who can commute the fastest to our offices in Rosslyn. In the past we've highlighted different modes such as slugging, vanpooling, regional transit operators, and a variety of active modes.
This year's race started at the recently opened Washington Dulles International Airport (IAD) Metro Station. Because it's a bit far out from Arlington, we decided to start the race at 7:45 a.m. instead of our usual 8:00 a.m. start. We incorporated the usual suspects in terms of modes including e-bikes, buses, the Metro, carpooling, driving, and a multimodal approach that combined Metro and biking!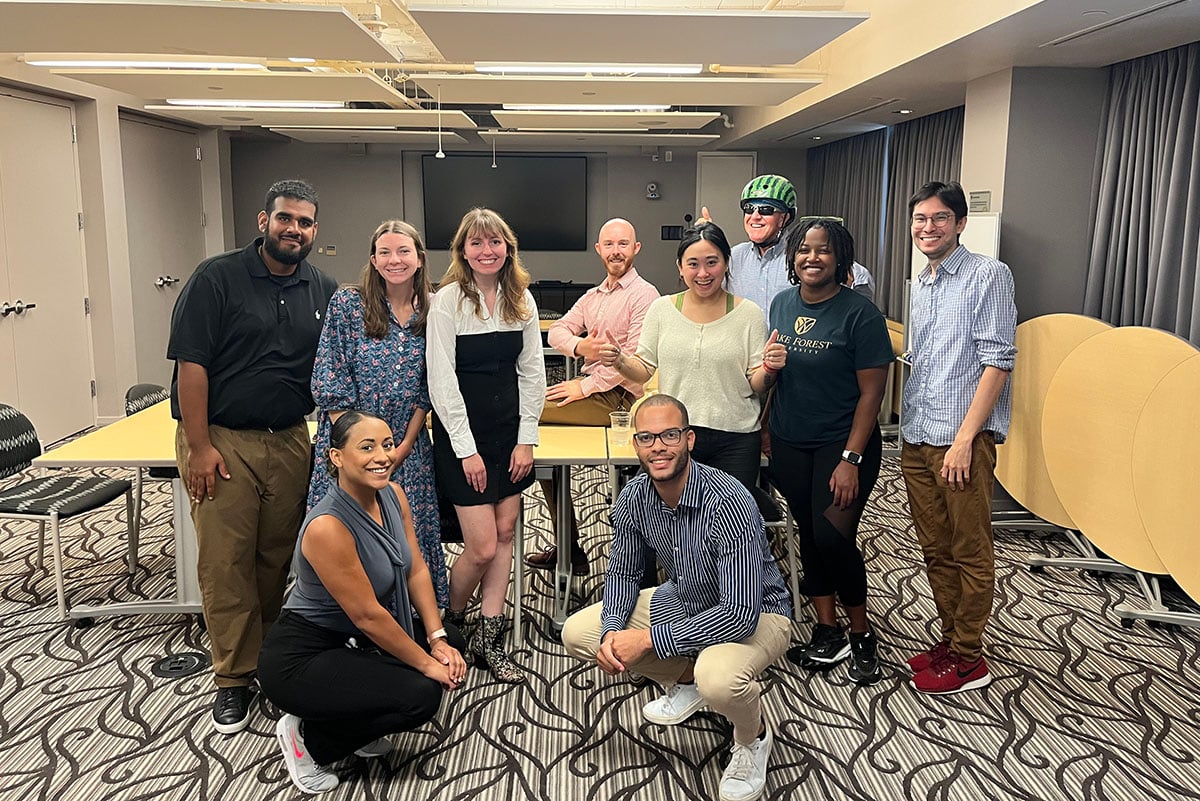 Racer Stats and Takeaways:
7th Place Winner – E-Bike | Henry
Mode used: Personal E-Bike
Total time: 2 hours and 28 minutes
Total Cost: $0
Summary: My commute from the Dulles Airport Metro Station to our office in Rosslyn via e-bike was really quite enjoyable, save for about 2 miles on Old Ox Road. Getting out of the airport was the most complicated part, but simply following a Google maps route on a handle bar mounted phone was easy enough. The plan was to ride to Herndon and pick up the Washington and Old Dominion Trail into Arlington, switch to the Custis Trail, then exit into Ballston and ride county streets to Rosslyn. Autopilot Road out of the airport was lightly traveled and had a sidewalk (which I jumped on when traffic got heavy). Ariane Way was also lightly traveled and not too, bad.
But Old Ox Road, a 4-lane, 40-mph speed limited "stroad", offered no comfort and required a mix of riding on gravel shoulders; narrow sidewalks with grass clippings, broken glass and gravel, or short quarter-mile sprints during breaks in traffic. However, once that 2-mile adventure was over, I weaved through residential streets to connect to the W&OD Trail about a mile west of Herndon. That 4.3-mile journey took 24 minutes. From there, the commute was a pleasant trail ride the rest of the way, with cool-to-warm Fall weather. I was able to cruise on my Gazelle e-bike at about 15mph on the lightly traveled route, and used up about 60% of my battery charge. The entire ride was 26.83 miles, and took 2 hours and 28 minutes (actual riding time of 1hr, 53min, factoring out stops for lights at major crossings, 6 social media posts, and 1 bathroom break).
The #AmazingCommuteRace is almost over! Raymond from team #multimodal and @HenryTDunbar are still fighting out on the trails! pic.twitter.com/vlSdvvWtIh

— Arlington Transportation Partners (@ATPcommutes) September 12, 2023
6th Place Winner – Multimodal (Metro + Capital Bikeshare) | Raymond
Mode used: Metro + Capital Bikeshare Classic and E-bike
Total time: 98 minutes
Total Cost: Metro: $2.80 | Classic Capital Bikeshare: $0.00 | Capital Bikeshare E-Bike: $7.20
Summary: I met with the team at 7:30 a.m. at the Dulles International Airport Metro Station. We started the race at 7:52 a.m., and I headed off up the escalators to grab a train to the nearest CaBi station. While I waited for the next train, I opened the Capital Bikeshare app to find the nearest station.
Reston Town Center was it. Once I arrived at Reston Town Center the station out front only had 2 bikes. Both classics. The classic bike is great but for a 1 hour plus ride, an e-bike would be preferable. I opened the CaBi app to look if there were any nearby e-bikes and luck struck. I found one e-bike 5 minutes away. I switched bikes and made my way to the Washington and Old Dominion Trail.
The W&OD trail is a beautiful rail trail through the suburbs of Northern Virginia, mostly flat with some inclines. I know the trail well and made a pit stop at my favorite sign – LOVE – Virginia is for lovers, right outside the town on Vienna on the Trail. After about 12 miles, I turn off to the Custis trail for the last leg of the commute. After a few steep climbs it was all down hill to the office. I docked my CaBi in the station in front of the office and made my way to my desk. No need to change, thanks to the e-bike.
Team #multimodal comes in sixth! Way to go Raymond! #AmazingCommuteRace pic.twitter.com/dLH8CleAhO

— Arlington Transportation Partners (@ATPcommutes) September 12, 2023
5th Place Winner – Bus | Nick
Mode used: Fairfax Connector + Metro
Total time: 58 minutes
Total Cost: $6.00 ($2.00 for the Fairfax Connector + $4.00 for Metro)
Summary: I left the terminal with all the other bleary-eyed travelers and entered the fray of the airport pickup loop. I quickly spotted the Fairfax connector parking about 50 yards from the taxi zone under a shelter. I walked directly onto the bus and after an airconditioned 4 minute wait, I was off with my fellow riders. There are two lines from Dulles on the Fairfax Connector, the 952 and the 983, that go West to East and South to East respectively. Both busses connect directly to neighborhoods and the business parks of Reston and both terminate in Reston Town Center. The ride was efficient and, if you need to get from Dulles directly to your hotel or important meeting in Reston, I doubt you could get there faster any other way.
My stop was directly outside the Wiehle-Reston Metro and I was on the sliver line in a matter of minutes. Once in my seat, I was able to relax, read my book, and enjoy zooming past the traffic on the Dulles Toll road. It's a straight shot form there to Rosslyn where a short, hilly walk was all that separated me from the office. Overall, taking this bus connection is a great way to go if you want to make a pitstop for a coffee before getting on the metro or if you want to get to a local destination in Reston.
Nick from team #bus comes in at fifth place! Almost beat #rideshare! #AmazingCommuteRace pic.twitter.com/U99HZsTCmN

— Arlington Transportation Partners (@ATPcommutes) September 12, 2023
4th Place Winner – Rideshare | Tai
Mode used: Uber
Total time: 56 minutes
Total Cost: $36.92
Summary: Once at the pickup area at Dulles, it was easy to get to the designated area and wait for my rideshare vehicle. Within the app, you can choose from a few areas where to have your car pick you up which helps your driver know exactly where you are for quick and easy pickup.
Before starting the route, the app estimated that the trip would take around 25-30 minutes, however, this ended up not being the case, since I was a single rider. Due to the change to HOV3+ requirement on the I-66 Express Lanes, rideshare drivers may not take the route planned by the app, and opt for an alternative that does not include tolls.
This is because as of now, there is no formal way to include the toll costs with the cost of the ride like you can with other roads, since these tolls are dynamic and change depending on the volume of cars on the road. It is up to the driver to decide which route they will take, but that will also put the cost of the toll road on them, which they may not get back via the tip. If planning to use a rideshare service for this route or similar, definitely think ahead and be prepared to add some extra time on top of what the app estimates, since your route may need to change to accommodate.
Tai on team #rideshare not happy at coming in fourth place! But he made it! #AmazingCommuteRace pic.twitter.com/IuxwX730Zg

— Arlington Transportation Partners (@ATPcommutes) September 12, 2023
3rd Place Winner – SOV | Sebastian
Mode used: Personal Car (no E-ZPass)
Total time: 46 minutes
Total Cost: Free
Summary: Participating in the Amazing Commute Race was quite an adventure. I embarked on my journey from Dulles International Airport, and thanks to the guidance of the Waze app, I navigated through Leesburg Pike and then onto Arlington Blvd. I set off at 7:50am, and after a smooth 45-minute drive, I arrived at the Rosslyn office promptly at 8:35am. It was not only an efficient commute but also an enlightening lesson in optimizing my daily travels.
What made this route particularly appealing was Waze's feature that showed me all my options, including those with and without tolls, ensuring I made the most cost-effective choice. I strongly encourage everyone to incorporate the Waze app into their daily commute routine.
Team #SOV comes in at second place! Sebastian drove responsibly and did not text updates while driving. He had to take the long way in to avoid the $30 toll on #I66. pic.twitter.com/ZWn6hGViZt

— Arlington Transportation Partners (@ATPcommutes) September 12, 2023
2nd Place Winner – Metro | Jennifer
Mode used: Metro
Total time: 45 minutes
Total Cost: $6.00
Summary: My commute was smooth sailing. I arrived at the Dulles Metro platform at 8:20 a.m. at the same time the train was arriving. I boarded one of the 7000-series Metro cars and sat in one of the many empty seats. I checked the digital display and could see I had 13 stops before reaching my destination, Rosslyn. I opened my Amazon Prime app and watched a show throughout the ride. The ride had no delays and was on time. I exited the train at 9:05 a.m. and walked a few blocks to the office sitting at my desk at 9:15a.m.
And Team #Metro comes in at third place! #AmazingCommuteRace pic.twitter.com/VrQVwSQZza

— Arlington Transportation Partners (@ATPcommutes) September 12, 2023
1st Place Winner – Carpool | Bianca, Ellie, Erin, Rachel
Mode used: Carpool
Total time: 40 minutes
Total Cost: Free HOV 3+ on I-66 Express Lanes
Summary: Our carpool's commute was fairly easy and painless. Our main struggle began before the start of the race while trying to find an entrance to the Dulles Metro from the parking lots and garages. We originally went into a garage adjacent to the Metro just to learn that it only led to the airport terminals. Our only option would have been to park and go through the airport to find the station. This could have been improved with better signage in the area around the Metro.
After a quick parking lot selfie with an incoming train, we began the race from the parking lot. We entered the Dulles Toll Road using our E-ZPass Flex set to HOV. This allowed us to avoid the $20.50 toll on I-66 this morning thanks to our 4-person carpool. We were able to breeze by standstill traffic leading up to I-66 and enjoy the beautiful sunrise.
When we made it to Rosslyn we encountered some mild congestion from stop lights and construction and then parked after just a quick 40 minutes on the road.
Ding ding ding ding we have a winner! #TeamCarpool #AmazingCommuteRace pic.twitter.com/RolVnfxLCs

— Arlington Transportation Partners (@ATPcommutes) September 12, 2023
The Ultimate Winner – Telework | Wendy
Mode used: Telework
Total time: 45 minutes
Total Cost: Free (after home office set up)
Summary: I really enjoy teleworking and have been remote working since 2015. There are some things I miss like interacting with colleagues at the office, getting my exercise in during my active bike commute or the amount of books I consumed while taking transit. Teleworking functions best for me when i treat my home office as if I was in Rosslyn at the office. I wear business casual clothes (no pajama bottoms for me!), have a defined workspace at home so my brain knows it's work time, include "water cooler" talk during meetings on Teams. This allows me to get to know my colleagues and foster an open environment on video calls, and be available for my colleagues similar to when someone knocks on your office door to have a conversation.


Team #telework is ready for work! #AmazingCommuteRace pic.twitter.com/W6ILvlcd5N

— Arlington Transportation Partners (@ATPcommutes) September 12, 2023
What Will You Do for Car Free Day?
Now that you have a better idea of what it costs and the time it takes to commute to work using public transit, bikes, and active commutes, we hope that you will try out a new commute as you plan to commute more regularly to the office this fall. In fact, with Car Free Day coming up on September 22, it's a perfect opportunity to try a new commute! Take the pledge today and you'll also enter a raffle and receive some great giveaways!