Throughout COVID-19, WMATA's Metrorail and Metrobus systems have continued to transport essential workers and other passengers to businesses, residences, and more. While ridership decreased as much as 90% on Metrorail, as the region begins to re-open and more people consider their commuting options, there are important updates for businesses to help support employees returning to their regular commute or traveling to the office for the first time.
As we look towards what this means for the communities in which we work, WMATA will be hosting a webinar, provided on two different dates, for employers to receive important information about SmartBenefits and for the return to the office.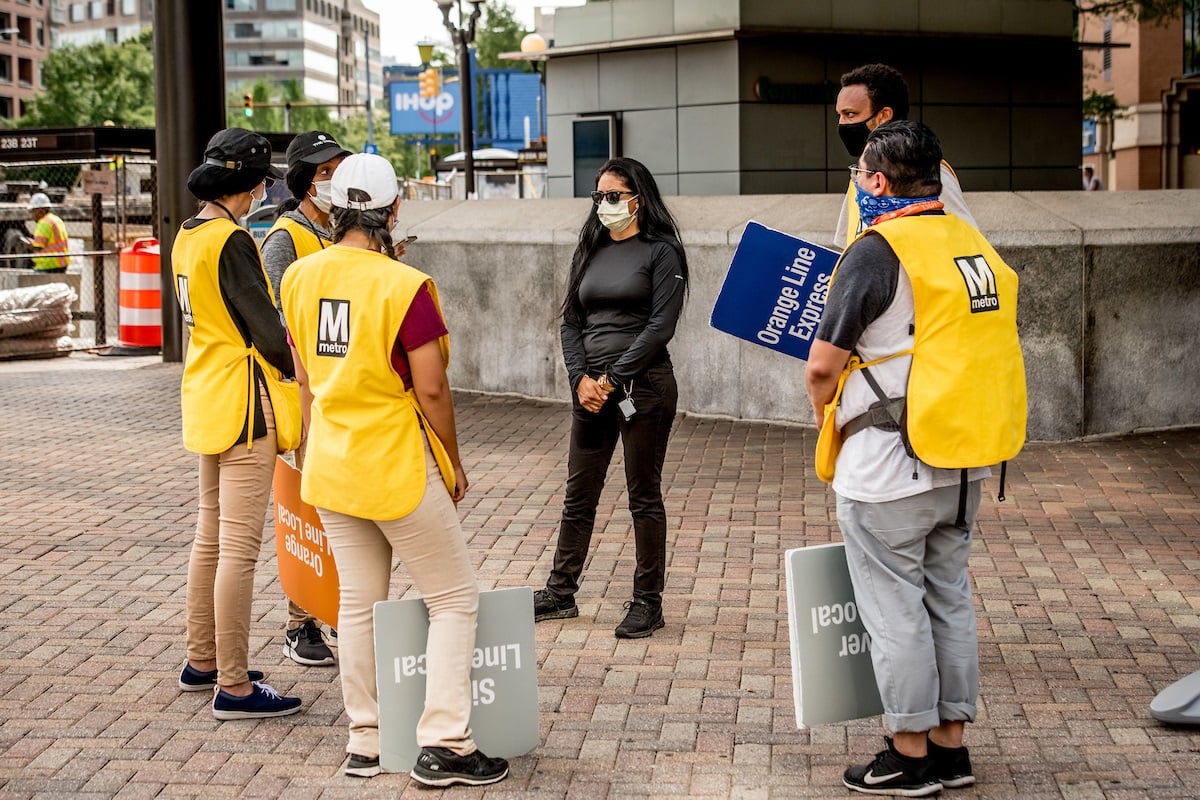 Safety Measures Implemented
WMATA implemented a number of safety measures during COVID-19 in response to the continued federal mask mandate on public transportation. When you visit a Metro Station now, you'll see hand sanitizer installations you can use before your ride. Additionally, WMATA's added new air filtration system on buses and trains to bring new air in every three minutes in addition to conducting daily deep cleanings, using hospital-grade cleaners.
Individuals commuting on Metrobus can now also find real-time crowding information using BusETA or apps like DC Metro and Bus. You'll find crowding predictions on Metrorail, bus stops, and while riding public transportation.
New Improvements
Beginning July 2021, new faregates will be installed at Metro Stations. The new faregates will be brighter, have larger displays for reading balance information, and allow people to move through them easier, reducing lines that previously formed at faregates as people waited to enter or exit the system. The new faregates won't be compatible with first generation SmarTrip cards (more on that later) so signage will be placed in the station 30 days in advance of that station's faregate upgrade to notify riders of the upcoming change.
While virtual SmarTrip cards have been available for iPhone and Apple Watch users for nearly a year, WMATA also announced that Android users can now use a virtual SmarTrip card on their phone to pay transit fares with Google Pay. Users can download the SmarTrip app and either purchase a new SmarTrip card (free for a promotional period) or transfer their balance from a physical card to a virtual one.
WMATA also announced service enhancements that have now been approved by Metro's Board of Directors. The service changes, which largely go into effect beginning Labor Day weekend in September, include:
Free transfers between bus and Metrorail (previously riders received a $0.50 discount)
More frequent all day service, as often as every six minutes in off-peak hours, which will support companies with more flexible work policies or mid-day travel
More frequent late night service, as often as every 10 minutes after 9:30 p.m., and expanded hours, helping evening workers
$2 flat fare on Metrorail on weekends to support leisure travel and weekend workers
Increased service on Metrobus and Metrorail to support the return of employees and students
SmartBenefits and Card Replacement
As you may know, WMATA is phasing out first generation SmarTrip cards. SmarTrip cards with serial numbers that do not begin with 0167, 0176 (Apple virtual card), or 0177 (Android virtual card) won't be compatible with the new faregates coming this summer. While individuals who do not use a commuter benefit can replace their card now, those participating in an employer-provided commuter benefit program will need to wait.
An online, self-service portal for employees participating in a commuter benefit program is expected to be available in late June which will allow employees to transfer their balance and their benefits to a new card. At first, only those who have tapped their SmarTrip card within seven calendar days will be eligible to transfer benefits to their new card. Commuter benefit administrators will not need to re-assign benefits for employees with outdated cards or take any action beyond educating employees.
More Updates
WWMATA's recent webinar shared these updates and more, including what to expect during this summer's station closures on the Yellow and Green Lines, reminders for SmartBenefits administrators, and questions that may arise when employees return to commuting. Check out the full presentation below and reach out to your Arlington Transportation Partners' (ATP) representative for more details or to connect with WMATA's SmartBenefits team for customized training.
Photo Credit: Sam Kittner/Kittner.com for Arlington Transportation Partners
Editor's Note: This blog was first published in May 2021 and has been republished with new information written by Marie Cox.