2018 was a great year for the multi-family properties involved in Arlington Transportation Partners' (ATP) Champions program. The multi-family program hit a record high of properties enrolled and even implemented behavior changing programs. Take a look at some of the highlights from our favorite events and achievements of our top level Champions.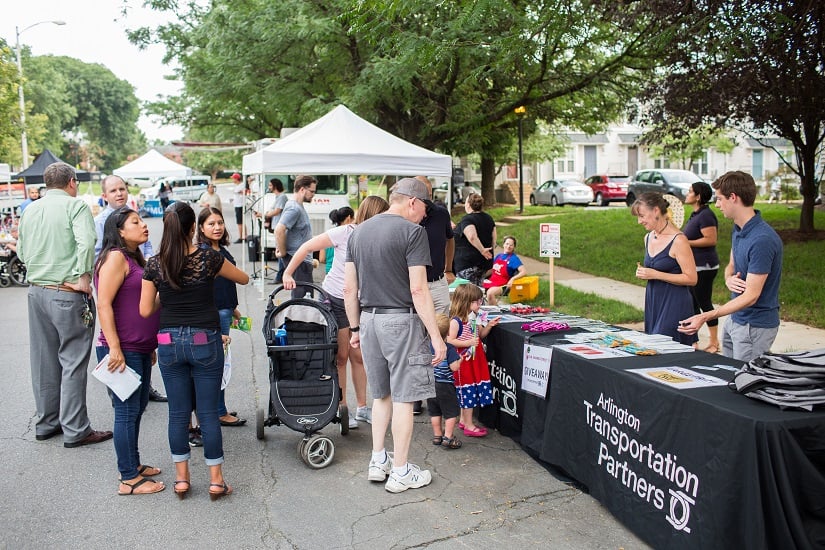 Ice Cream, Cookies, and Transportation
Three-time Platinum Level Champion, Westview at Ballston Metro, knows that it is all about location and that many residents have chosen to live at Westview because of its accessibility and proximity to Ballston Metro Station. Knowing this, they encouraged residents to engage with ATP to learn about their transportation options by bringing in an ice-cream cookie truck for an evening so residents could engage with ATP over a delicious treat.
Moving Zipcar on Site
AVA Ballston (AvalonBay Communities) has been an active ATP Champion the past four years, upgrading and improving their transportation related amenities to meet the needs of residents. They have worked alongside ATP to provide shuttle service to Ballston Metro Station and real-time information via TransitScreen. After identifying that residents wanted carsharing on site last year through a resident survey, AVA worked with Zipcar to have a dedicated spot on their property. Residents are now steps away from wheels when they need them and can feel at ease when considering a car-lite lifestyle.
Transportation Staff Trainings
ATP offers transportation staff trainings for property managers, leasing staff, concierges, and all other on-site employees so they can best meet residents' transportation questions and concerns. Each training is customized to meet the staff's needs and tailored to the property's specific location. Oakland Apartments (E.G. Reinsch Companies) had their staff undergo a transportation training in 2017, and through the training identified that many of the staff had heard of Capital Bikeshare, but had not tried it themselves. This year, ATP and BikeArlington led Oakland staff in a Capital Bikeshare hands-on training where they learned about bikeshare and went on a ride to get the full effect. Both the classroom and hands-on trainings helped their staff understand this great transportation options steps from their property.
Our Shared Street Pop-Up
ATP hosted the second successful Our Shared Street Pop-up event on Columbia Pike this summer. A huge addition to the event this year was the mobility experience station that featured all kinds of modes that locals could try, ranging from cargo bikes, to e-scooters, to Capital Bikeshare. Giving participants the ability to try new options broke down barriers to entry in a safe setting. Closing South Oakland Street for the event and allowing locals to ride around with ease was a great way to promote fun and learning on two wheels.
Networking and Learning with car2go
Our ATP Champions have expressed that they love networking events, so we hosted a networking happy hour event this year that allowed for some afterhours fun and transportation education. The event this year was sponsored by car2go who also shared information about their new services and the importance of carsharing as a mobility option available to those who live in Arlington.
Nudging Residents to Try New Options
Dittmar Company often hosts resident transportation events at its properties along the Rosslyn-Ballston corridor so that ATP can engage with residents about their commutes. In 2018, Dittmar made a commitment that several of its Gold and Platinum Level properties would give residents an extra incentive to try out the metro, bus, or Capital Bikeshare. Dittmar purchased pre-loaded SmarTrip cards and Capital Bikeshare passes that were given to residents during an instant giveaway at an on-site ATP resident transportation event. Simple nudges like these encourage residents to try out different modes.
Start Planning for the New Year
It's never too early to start planning for 2019, and what you want to achieve. Whether it's becoming an ATP Champion for the first time, achieving Platinum Level, or implementing a new program such as a transportation staff training, ATP is here to help. We're ready when you are.
Photo Credit: Reema Desai/ReemaDesai.com for Arlington Transportation Partners