Mobility Lab's The Switch, highlights the innovative work that Arlington Transportation Partners (ATP) and Arlington Public Schools (APS) are doing together to positively impact the lives of those who live, work, play and learn in Arlington, Virginia.
This is the first in a series of videos about people in Arlington making the switch from driving alone to using a different mode to get to work. Here, four APS employees who carpool and bike together share their experiences.
Benefits and Results of Mode Shift
Staff enrolled in the APS transportation demand management (TDM) subsidy has increased 250% since the fall of 2016, due to outreach and education by ATP
The 2016 APS Go! survey shows a 5% reduction in staff drive alone rates
Nine schools showed a single occupancy vehicle (SOV) decrease of 10% or more between 2013 and 2016; an additional six schools had an SOV decrease of 5-7%
17 out of 41 schools and sites have participated in ATP's Champions
At least 300 APS employees have registered since the announcement of Capital Bikeshare corporate memberships for APS employees
Additional Achievements
Oakridge Elementary School's Principal, Dr. Lynne Wright, admitted she would have never thought of staff transportation if ATP hadn't brought it to her attention, now her school is a top achiever.
Dr. Wright is not the only principal to embrace ATP's assistance in switching commutes. Check out the achievements of some other schools.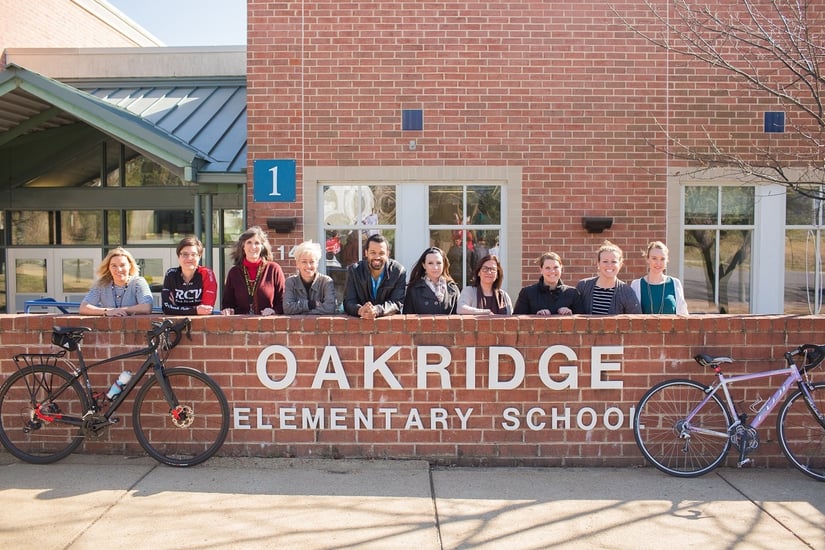 Promoting active transportation to staff
Ashlawn Elementary School and Oakridge Elementary School joined the ranks of Arlington businesses designated Bicycle Friendly Businesses from the League of American Cyclists. Both schools are currently at Silver Level.
Oakridge Elementary School have been a Platinum Level Champion two years in a row and created a Staff Commuter Lounge. It's an indoor, secured room with:
Bike racks
Bike tire pump and repair kit
Drying rack
Cubbies and a bench
An attached restroom with a toilet and sink
Yorktown High School staff created their own bike club who regularly bike to school and had the most staff participating in Bike to School Day 2017 in May. As a reward, ATP hosted an on-site bike tune up for staff as they got ready for the new school year.
Rewarding carpoolers with priority parking
ATP created a priority carpool parking spot for Hoffman-Boston Elementary School staff. Three carpools formed after this mode was incentivized and promoted amongst staff, resulting in six staff carpooling together.
Educating staff and students of transportation options
Arlington Community High School and Arlington Career Center hosted a transit training event for staff and students with an ART bus and driver, the ART outreach team and the Mobile Commuter Store.
Swanson Middle School hosted transit training for sixth graders who attended a presentation by ATP on differences between public buses and school buses. They also learned specifics on riding public buses and did a classroom bus route mapping exercise.
Making the Switch is Easier with ATP
As these Arlington Public School employees make the switch, they build community, save money and help the environment. ATP supports school administrators through Champions and ongoing activities and events. Find out how your school benefits from working with ATP and make the switch this year.
Photo Credit: Reema Desai/ReemaDesai.com for Arlington Transportation Partners