The most recent round of Bicycle Friendly Businesses were announced last week by the League of American Bicyclists. Arlington Transportation Partners (ATP) is excited to highlight four Arlington businesses and properties that received new designations or increased their award level. These businesses submitted applications and were awarded based on their bike-friendliness, including encouragement, engineering, education and evaluation of bike programs and commuting.
Arlington, Virginia, which is a Silver Level Bicycle Friendly Community, now has a total of 41 Bicycle Friendly Businesses. Only Fort Collins, Colorado and Boise, Idaho have more awarded businesses in the country.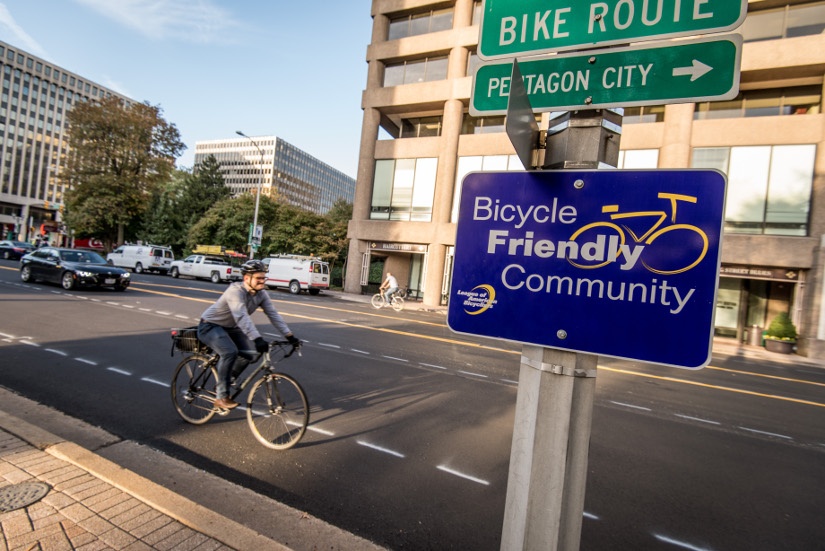 In the DC region, bike commuting has steadily increased over the past several years as more employees have found biking a more convenient and healthier way to get to work, while companies are choosing to locate in more urban and accessible areas. Businesses and properties have responded to this growth by adding more bike-friendly amenities, programs and benefits to encourage and promote biking to work.
Building features such as secure bike rooms, showers and lockers have become popular amenities, while bike to work day events, bike incentives, tune up days and Capital Bikeshare memberships help set companies apart when attracting and retaining quality talent.
New and Renewing Awardees
Congratulations to the following organizations and properties for earning Bicycle Friendly Business designation this Summer! Check out all of the Arlington businesses that have been recognized by the League of American Bicyclists here.
Silver Level
1400 Crystal Drive (Lowe Enterprises)
Oakridge Elementary School
PBS (leveled up from Bronze)
Bronze Level
Century Center (Lowe Enterprises)
Learn More About the BFB Application Process
Does your business or property support employees biking to work? ATP can walk you through the application process and help you achieve national recognition for your efforts. Bicycle Friendly Business designation can also help your business earn credit in ATP's Champions program. Contact us to learn more about the process and see if your business or property would qualify. The next application deadline is in October!
Photo Credit: Sam Kittner/Kittner.com for Arlington Transportation Partners