Continuing with tradition, it was a beautiful day in Arlington, VA for Arlington Transportation Partners to hold our Amazing Commute Race for the sixth time!
This year, the team met up at King Street Metro Station in Alexandria so we could highlight options for commuters who might face issues with the Metro Shutdown. Each racer picked a mode to see who could arrive first at our office in Rosslyn. Previously we'd tried different ridehailing services vs public transit, a variety of active modes, and unique commutes like slugging. This time around we added ebikes, e-scooters, as well as carpooling (sort of).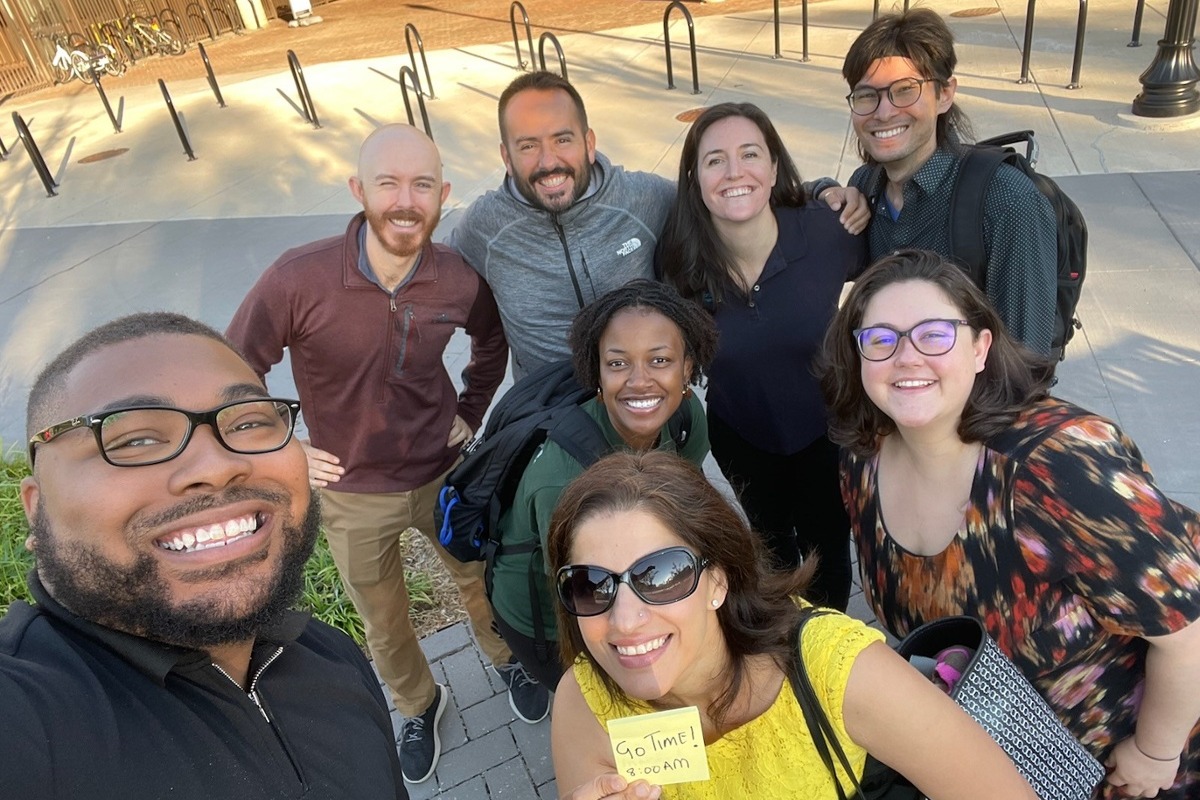 Pre-Race Facts
Race Start Time: 8:00 a.m.
Race Location: King Street Metro Station
Modes Represented: Bike, ARTBus, Metrorail, Carpool, Ebike, Multimodal (Capital Bikeshare, walking, metro), and Telework
Race End Time: The clock stops when the racer is at the office or at their desk
Racer Stats and Takeaways
Tied for 7th place winners – Erin and Tai
Mode Used by Erin: E-Scooter + Shuttle + ARTBus 43
Total Time: 70 minutes.
Cost: Shuttle: Free | ARTBus 43: $2.00 | E-Scooter: $1.38
Summary: I met with the team at 8:00 a.m. at the King Street Metro Station in Old Town, Alexandria. Unfortunately and surprisingly, there were no e-scooters anywhere within walking distance so I had to rethink my route to the office. I was originally planning on taking an e-scooter to Crystal City, however, so my plans didn't change too much. I chose to ride the WMATA free shuttle, which is currently offered to commuters while the Yellow Line is closed during the shutdown.
The shuttle left King Street Metro Station at 8:10 a.m. and arrived at Crystal City at around 8:40 a.m. There, I was able to find an e-scooter and I rode it all the way to the 18th Street bus bay, around 8:42 a.m. It was my first time riding an e-scooter and most of the sidewalks in Crystal City were closed due to construction. But I was able to ride without any issues! The ride from the Metro Station to the bus bay took about 6 minutes, and from there, I hopped onto the ARTbus 43. The bus ride to Rosslyn took about 10 minutes and the short walk to the office took about 4 minutes. I arrived at the office at 9:10 a.m.
And Erin finishing up the race! pic.twitter.com/8XVRNNwIh3

— Arlington Transportation Partners (@ATPcommutes) September 14, 2022
Mode Used by Tai: Shuttle + ARTBus 43
Total Time: 70 minutes
Total Cost: Shuttle: Free | ARTBus 43: $2.00
Summary: With the Metro Shutdown now in full effect, I hopped with Erin and Pinky onto the free WMATA shuttle heading off to Crystal City and arriving at 8:40 a.m. I only had to wait a few minutes before the ARTBus 43 arrived. It was a very quick ride with no stops all the way to Rosslyn, arriving there at 9:00 a.m. on the dot. I then enjoyed the beautiful weather and slowly walked up the hill to our offices, arriving at 9:10 a.m.
Since the WMATA Shuttle is free during the shutdown, it only cost $2.00 to ride the ARTBus 43. Both rides were pleasant, and it was great to catch up with colleagues along the way.
6th place winner – Alberto
Mode Used: Metroway + ARTBus 43
Total Time: 67 minutes (This includes time Alberto took to shower)
Cost: Shuttle: Free | ARTBus 43: $2.00
Summary: Coming from Madrid, Spain, I tend to enjoy the bus more than any other mode of transportation. As it was a beautiful day, I took advantage and walked to Braddock Road, where I caught the MW1 heading towards Crystal City in National Landing. I had to wait for a few minutes, but in 75 degrees weather, I won't complain.
The bus was not crowded, and I arrived in 15 minutes to Crystal City. As I was going to sit down to wait for the ARTBus 43, the bus arrived and we were zooming to Rosslyn. Once I arrived to the office building, I took a shower as I had been to the gym before the race started. I was at my desk by 9:07 a.m.
Team #bus update! Alberto is enjoying the sunshine while walking to the bus station! pic.twitter.com/WDzqLQLLqG

— Arlington Transportation Partners (@ATPcommutes) September 14, 2022
5th place winner – Sheila
Mode Used: Capital Bikeshare + Metro
Total Time: 65 minutes
Cost: $2.30
Summary: Capital Bikeshare was a great option to get from the King Street Metro Station to the Crystal City Metro Station. I enjoyed my ride on a beautiful fall day and got to see lots of kids, people, and dogs utilizing the wonderful trails in Arlington and Alexandria. What was really impressive was that even with a lot of construction taking place along the route, the trails and bike facilities were perfectly maintained for use.
I was able to easily dock the Capital Bikeshare bike and walk on over to the Metro. At the entrance to the Metro, there were people ready to answer any questions about the current shutdown. I walked down to the train platform and only had to wait a couple minutes before the train arrived. It was smooth sailing to Rosslyn where I ran into Pinky on the escalator and we walked up to the office together.
The multi-modal Capital Bikeshare and train (or bus) option is a great alternative during the Yellow/Blue line shutdown. I got some exercise and outside time in this morning that brought a smile to my face before going into work.
ATP Pro-tip: This is a great option for someone who is interested in trying out a bike commute without the commitment of a long ride or purchasing a bike.
Team #multimodal and team #shuttle + #metro showing great teamwork and arriving together to the office to start their day! pic.twitter.com/0PH6j7FXnE

— Arlington Transportation Partners (@ATPcommutes) September 14, 2022
4th place winner– Pinky
Mode Used: Shuttle + Metro
Total Time: 65 minutes
Cost: $2.30
Summary: My commute was easy-peasy! It started with a ten-minute wait at King Street Metro Station to board the free Yellow Line Shuttle which was a nice luxury coach bus.
At 8:20 a.m. we arrived at Braddock Road Metro Station where a few more passengers boarded the shuttle and we were off to Crystal City Metro Station. I discovered two cute places along the drive that I plan to visit on my compressed Friday: Spill the Tea and Chop Shop Taco.
The shuttle reached Crystal City Metro Station at 8:40A a.m. and I walked down to the platform to board the Blue Line metro which arrived within 3 minutes. I reached Rosslyn Metro Station and ran into Sheila who happened to be on the same train as me and we walked up the Rosslyn escalator , 194 steps! Made it the office and at my desk at 9:05 a.m.
Lots of teams making it to #rosslyn at the same time. Who will sprint up the hill to 1501 Wilson Blvd? pic.twitter.com/47M56KKHrs

— Arlington Transportation Partners (@ATPcommutes) September 14, 2022
3rd place winner –
Katie
Mode Used: Carpool Now App + VRE + Metro
Total Time: 60 minutes
Cost: $2.30 (Yup, VRE is free all of September!)
Summary: My original commute option was to find a carpooler on the Carpool Now app by Commuter Connections. I was a bit nervous that the Carpool Now App wouldn't be able to find me a ride and was telling a colleague about this the day before. They suggested that I take the VRE as a backup plan and I sure am glad I had that backup plan.
Signing up for the Carpool Now App didn't give me too many problems. I requested a ride and after about waiting 5 minutes, the app told me there were no drivers in the area and I decided to take the VRE.
The way finding signs and the personnel at the stations were all extremely helpful in finding the VRE station and the platform on which I needed to be. I didn't research prior to getting on the VRE and I found that I didn't need to! Everything was laid out well and the system is easy to use. There are so many great parts to the VRE, from the FREE FARES all of September to the quiet ride, a row of comfortable seats to myself, all while on an airconditioned train.
I relaxed for the 15-minute ride to Crystal City. From there, I took a 5 minute walk to the Crystal City Metro Station to take the Blue line train to Largo and got to Rosslyn in about 20 minutes. I took the short walk up to the office and was happy to find out I got third place!
For someone who did not research, was riding a new line, and hadn't had any coffee for the day, I'm happy with the commute I choose.
Katie made it! Third place but still a true #winner! @VaRailExpress really came up big for her! pic.twitter.com/pOGnBGwosv

— Arlington Transportation Partners (@ATPcommutes) September 14, 2022
2nd place winner –
Cortlind
Mode Used: Lyft line
Total Time: 45 minutes
Cost: $30.00
Summary: I took a Lyft line to the office from King Street Metro Station. It took about 6 minutes to find a ride. The ride originally stated it would be 45 minutes but changed to 25 once we started driving. I assume the other rider the app picked canceled. Lucky for me!
There was surprisingly little to no traffic and I didn't have to share my ride. Ridesharing is an easy way to get to work but the price point can be a little high. I ended up paying $30.00 for one way on Lyft. Yes, the scenery and the ride were nice, but paying that price on a daily basis would become an issue, especially compared to what my colleagues had to pay for their Metro and bus rides. I arrived at the office at 8:45 a.m.
Cortlind was not far behind! @lyft line #rideshare comes in second! pic.twitter.com/vsUfQUqw63

— Arlington Transportation Partners (@ATPcommutes) September 14, 2022
1st place winner –
Nick
Mode Used: Personal e-bike
Total Time: 42 minutes
Cost: $0.15 (Nick's calculation for the cost of electricity)
Summary: I pulled out of the King Street Metro parking lot enjoying a pleasant autumn chill for the first time this year. Taking the Potomac Trail, I was able to avoid sharing the road with cars and instead shared the road with many great dogs! Cutting through Crystal City construction was the only 0.8 mile stretch during which I shared the road with car traffic, then I took the Mt. Vernon trail. Despite construction in the area, the trails were clear and open!
The sun was up and warming my face as I followed the flight paths from DCA at Gravelly Point (and even had time to watch a plane or two!). The last leg of the trail hugged the shimmering water of the river as I went under and over the bridges into DC. I finally hopped off the Mt. Vernon trail directly into Rosslyn where I coasted into the parking garage of my office— energized, not sweaty and ready to start the day!
E-Biking was not only the fastest mode but it was super enjoyable, not sweaty, and I got a little bit of exercise!
Taking a victory lap around the office #ebike pic.twitter.com/FLPRjEq4dy

— Arlington Transportation Partners (@ATPcommutes) September 14, 2022
The True Winner
–
Wendy
Mode Used: Telework
Total Time: 30 minutes (The dog needs to go for a walk in the morning!)
Cost: $0! Work pays for my hardware/software and subsidizes my phone line
Summary: Even though I telework, I start my day early to enjoy the sunrise while walking my dog. We both appreciate the exercise and routine and it makes for a more relaxed and quiet pet while on video calls.
After the walk it was time to get ready for the day. I grabbed my coffee and got dressed as I would if I were going to the office. It may be more comfortable to be in casual clothes but I prefer business casual to put me in the right frame of mind.
Telework wins most days, but I do miss my active commute at times both for the exercise and the change of scenery. During the pandemic, I invested in an under-the-desk treadmill to rack up some steps when I'm not in meetings. It has helped break up the day since I can now choose to sit, stand, or walk while I work on projects or tackle the inbox.
Meanwhile team #telework @TDMWendy is already at her desk and following the race! Which non-telework mode will make it first?? pic.twitter.com/bPTrVyNP7f

— Arlington Transportation Partners (@ATPcommutes) September 14, 2022
How Will You Commute to Work?
Now that you have a better idea of what it costs and the time it takes to commute to work using public transit, bikes, and active commutes, we hope that you will try out a new commute as you plan to commute more regularly to the office this fall. In fact, with Car Free Day coming up on September 22, it's a perfect opportunity to try a new commute! Take the pledge today and you'll also enter a raffle and receive some great giveaways!