Updated to include an addendum from Wendy Duren, Program Director, on why an #AmazingCommuteRace.
In years past, the Amazing Commute Race has started in Washington, DC; however, as Arlington employees we wanted to show a very normal and typical commute pattern. Arlington County reported in their 2017 profile, that 17.2% of weekday inflow to the County comes from Fairfax County - so we picked the best location we could to incorporate as many modes as possible.
Naturally, some modes took on a multimodal and active nature but it's all part of the fun. At the end of the day, our active commuters can check gym off their day's to-do list.
So here's the rundown, our official pre-race selfie and the winners of the 2017 Amazing Commute Race. Spoiler alert: Metro nailed it this year.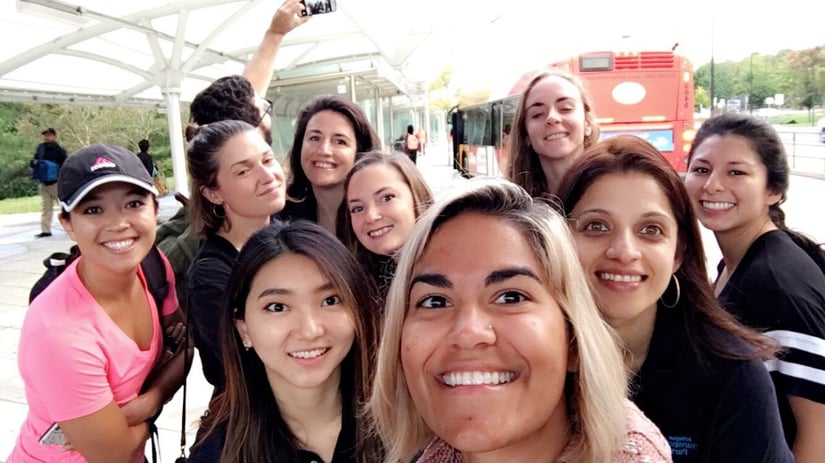 Pre-Race Facts
Race start time: 7:20a.m.
Race location: Springfield*
Modes represented: Metrorail, Capital Bikeshare, Slugging, Fairfax Connector, Running, Lyft Line, Telework, Virginia Railway Express (VRE), Single Occupancy Vehicle (SOV)
Race end time: The timer doesn't stop until you're in professional attire at your desk
*The majority of us started at Franconia-Springfield Metro Station, but two racers started at their respective modes (Fairfax Connector and the slugline) since neither of these modes/specific routes needed pick up at the Metro.
Racer Recap
1st Place Winner - Metro | Sheila
Mode: Metrorail
Total Time: 42 minutes*
Price: $5.20
Summary: I enjoyed a relaxing commute on Metro this morning. When I arrived at the platform in Franconia-Springfield there was a train waiting that I easily hopped on and grabbed a seat before it departed three minutes later. The journey was seamless with no delays or waits. I could simply relax and enjoy the ride to Rosslyn while reading The Express. Once I arrived in Rosslyn, I got some exercise in by doing the real-life Stairmaster up the escalator before strolling up the hill to reach the office first! Yay Metro for the win!
*I arrived two minutes later than the trip planner probably because I stopped to snap some selfies, but Metro was on time according to the trip planner. #Back2Good indeed.
We officially have a winner! Sheila is officially in the office as of 8:03am. @wmata #Metro with first place! #back2good #AmazingCommuteRace pic.twitter.com/GHbcNVr5eI

— ArlingtonTransPrtnrs (@ATPcommutes) September 14, 2017
Honorable Mention - Telework | Wendy
Total Time: 0 minutes
Price: $0
Summary: To make this a truly inclusive activity for both team and modes, we decided to include a telework option. Technically always a winner in both time and price categories, Wendy gets the honorable mention alongside Metro's blue ribbon.
#MeanwhileInMinnesota @TDMWendy basically an eternal winner with no traffic. #telecommute for the win pic.twitter.com/FgoKx1AFNR

— ArlingtonTransPrtnrs (@ATPcommutes) September 14, 2017
2nd Place Winner(s)** - Fairfax Connector | Brooke & Slugging | Elizabeth
**Yep - you read that right. There was an official tie for both slugging and the Fairfax Connector. Read below to see the price breakdown and routes taken.
It's a tie for second place with @ffxconnector and @sluglines, both arriving 1 minute after Sheila! pic.twitter.com/PSeEONXgva

— ArlingtonTransPrtnrs (@ATPcommutes) September 14, 2017
Mode: Fairfax Connector > Metrorail
Total Time: 43 minutes
Price: $5.25 = $3.50 (Bus) + $1.75 (Metro, including the transfer discount)
Summary: It was great trying a new mode of transportation since I normally take Metro as my primary mode to work. It felt like the first day of school trying a new transit mode. I arrived to the Backlick Park and Ride lot early (no Fairfax Connector bus available at Franconia-Springfield Metro) to scope out a parking space as I assumed the lot would fill up quickly. I was the first to board the bus and was able to get a great seat. We had a fast and smooth ride in the HOV lanes to the Pentagon.
Once I arrived at Pentagon Metro, I waited approximately six minutes for Metrorail from the Pentagon. The wait for the Metro from the bus at the Pentagon was seamless, I would definitely take this bus to Metro option again.
Brooke checking in for #fairfaxconnector express from Saratoga to Pentagon and on to the office #AmazingCommuteRace pic.twitter.com/TYk5K5ZQL5

— ArlingtonTransPrtnrs (@ATPcommutes) September 14, 2017
Mode: Slugging > Metrorail
Total Time: 43 minutes
Price: $2.25 (Metro)
Summary: Having never slugged before, I was interested to see how it all worked. It's a pretty flawless system – people (the "slugs") walk up to the side of the road by the signs that say "Carpool Staging Area" and wait for cars to pull up. Two people jump in a car and off they go; taxis were also there picking up slugs (no fare, just HOV access). It was a very smooth process, but I felt pretty awkward in a silent car with two men. Slug rules state that slugs do not speak unless spoken to by the driver, and our driver was not talking. I didn't even feel comfortable taking pictures out the window of the traffic we were passing! I wasn't sure where the driver would drop us off at the Pentagon; but once I got out, I knew right where I needed to go for the Metro Station. The Blue Line train pulled in just after Brooke and I ran into each other and took a selfie. We were steps behind Sheila once we neared the office, but the elevator was too full to jump in, or it would have been a three way tie!
We're getting into positions for the third annual #AmazingCommuteRace! Here's Elizabeth at her #slugging line pic.twitter.com/TAIObnu32o

— ArlingtonTransPrtnrs (@ATPcommutes) September 14, 2017
3rd Place Winner - VRE | Marie
Mode: VRE > ART bus
Total Time: 48 minutes
Price: $9 = $7 (VRE single ride) + $2 (ART bus)
Summary: This was a very relaxing commute. Instead of purchasing a single ride fare card at the station, I bought and validated my ticket using VRE's new mobile app which is very colorful and simple to use. The VRE arrived about 2 minutes early at Franconia-Springfield and I easily found a seat. The train was quiet and provided comfy seats and coffee cup holders to make early mornings a bit more doable. I used the time on the train to check out the view and filled in some answers to the crossword puzzle in the VRE Magazine.
I got off at Crystal City and snagged a photo with the VRE attendant before walking about a block to catch the ART 43. It came within about 3 minutes and took me directly to Rosslyn without any stops in between. I had a seat to myself and watched the view as we went by the Pentagon and Arlington Cemetery.
Marie made it to Crystal City after taking @VaRailXpress #AmazingCommuteRace pic.twitter.com/uyeV2veD8H

— ArlingtonTransPrtnrs (@ATPcommutes) September 14, 2017
4th Place Winner - Lyft Line | Jamee
Mode: Lyft Line
Total Time: 69 minutes
Price: $21.10
Summary: I requested the Lyft line exactly at 7:20a.m. and waited 8 minutes for the driver to arrive. I immediately saw that the price was quite high and only $2.82 less than it would have been for a private Lyft. I told the driver that I was participating in an office commute race and her immediate response was that I would probably lose. Off to a great start.
My driver was new to Lyft and the DC area, but she was very friendly and enjoyable to talk to. Our initial estimate for arrival time was 8:04a.m., but as the trip went on the time continued to increase. Luckily, we did not pick up any other passengers which would have undoubtedly increased my arrival time as well. We started on 395, but eventually took a different route through Alexandria. About 40 minutes in, my Lyft driver said that my coworkers were going to file a missing person's report because I had been in the Lyft so long. We were becoming great friends at this point. We finally made it into Rosslyn at 8:28a.m. and to the office at 8:32a.m. My Lyft driver and I mutually decided that this was not an efficient form of transit during rush hour, especially for the price.
#LyftLine made it 5th to the office, ready to work by 8:37a.m. #AmazingCommuteRace pic.twitter.com/7uyBFyFE43

— ArlingtonTransPrtnrs (@ATPcommutes) September 14, 2017
5th Place Winner - SOV | Erica*
*Pinky rode with Erica for the purpose of providing updates, so Erica could safely drive without being distracted
Mode: SOV, no HOV allowed
Total Time: 82 minutes
Price: $14.50 = $7 (early bird parking) + $7.50 (mileage), not included: wear/tear on car + insurance.
Summary: Driving from Springfield to Rosslyn at rush hour, without the luxury of access to the HOV lanes, was a pretty stressful and inefficient way to go. Traffic was slow and some of the drivers around me were a bit aggressive (if not distracted by their cell phones). It wasn't awful, but I can't imagine doing it twice a day, every day of the week. I definitely missed the carefree reading time that my normal bus commute allows. Also, the cost of parking would really add up quick. The only benefit I found was being able to drink my coffee and eat breakfast on the way! It's clear by the race results that if you're coming from Springfield to Arlington, driving alone is not a winning commute.
Erica still stuck in a traffic in her #SOV and breaking out the snacks #AmazingCommuteRace pic.twitter.com/DM1cMc47Hz

— ArlingtonTransPrtnrs (@ATPcommutes) September 14, 2017
6th Place Winner - Capital Bikeshare | Claudia
Mode: Metrorail > Capital Bikeshare
Total Time: 84 minutes
Price: $5.95 = $4.45 (Metro) + $1.50 (Bikeshare usage fee for 30+ minute ride), not included: annual membership fee since it's an employee benefit for ATP (if not a benefit, cost is around $0.23 per day)
Summary: The Metro ride was smooth and since I prefer to work out before work or on my way home, taking a mulitmodal route with biking included was a good way to combine exercise and commute. The views on the Mount Vernon Trail were beautiful, so I paused to take photos which may have added to my time. Capital Bikeshare bikes aren't necessarily built for speed, but it's better to take it easy on shared trails anyway. It was a great day for riding and I can't believe I haven't done this before. I did have to wait for the shower, but still a great commute.
Update as the race is still on: #SOV is 6th, while @bikeshare made it in 7th place pic.twitter.com/zT9DvLa4gs

— ArlingtonTransPrtnrs (@ATPcommutes) September 14, 2017
7th Place Winner - Run Commute | Keara
Mode: Metrorail > Run (4.9 miles)
Total Time: 98 minutes, includes the 15 minutes I had to wait for the shower
Price: $4.45
Summary: It was great only waiting two minutes for Metro, the ride was super easy. Awesome running route along the trail, really great morning for a run! Surprised at how quick Metro traveled to Crystal City too. This is also a great way to incorporate exercise into a longer commute. I would have been at my desk almost 25 minutes earlier if I didn't have to wait for the shower! Probably could have beaten the SOV!
Keara's ready for the work day after her #run to the office, in 8th place #AmazingCommuteRace pic.twitter.com/pbADoLqg48

— ArlingtonTransPrtnrs (@ATPcommutes) September 14, 2017
What, No Vanpool?
Guys - I can't tell you without blushing, but it's really embarrassing. We messed up the vanpool option. I mean, where do I even start? From missing the HOV exit (thanks, Siri) to exiting too soon (my bad) to not being the best navigator in the land and having the best navigators live tweeting - it was an all around fail.
However, what I can say is that even if we had successfully pulled off a fake vanpool simulating the use of the HOV-3 lanes, we still couldn't give you an exact price on the cost of our vanpool. Each vanpool varies based on the size of the van, the amenities and the number of passengers; however, they are usually completely covered by the transit benefit.
With that said though, our trip would have been fairly similar to those of the Fairfax Connector and slugging. Cost of gas would have been covered and parking is free at most buildings in Arlington for vanpools and carpools.
Conclusion
It certainly was an interesting commute race and to help understand all that mumbo-jumbo up top - here's the official breakdown. Gold marks best results in both time and money, while red marks the worst results. The green is my opinion for best mode option all around and perhaps today's official winner - if you can handle the all the official slugging rules.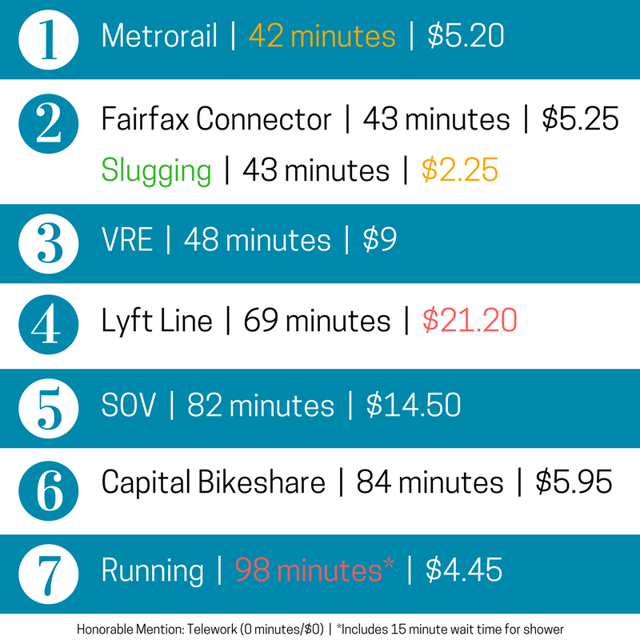 At the end of the day and as we always say, it's about knowing your options and this race highlights the many you may have for your commute.
But also, can we give a round of applause for Metro winning this year? We might not be completely over SafeTrack yet, but we're #blessed for the latest major improvements in on-time performance. Nice one, WMATA.
---
Race Addendum by Wendy Duren

When I first thought of the idea for Arlington Transportation Partners (ATP) to hold an #AmazingCommuteRace, I figured it would be something fun that our work family could rally around and see how available mobility options fare against driving alone. Since then, it has evolved to include more modes, more racers and more benefits to us internally than first envisioned.

Many TDM professionals and advocates not only promote the benefits of mobility options, they choose a lifestyle that allows them to walk the talk by residing in livable and walkable neighborhoods. These neighborhoods are popping up in unexpected places and many suburban communities are developing in ways that emulate city life with a variety of mobility choices to utilize. Even though the tides are turning in some regions, there will always be individuals who value a more suburban or rural lifestyle. Their reasons for this choice are no less valuable than the reasons provided by people who choose to live in the city or more livable and walkable neighborhoods.

The #AmazingCommuteRace provides many of our urban-living TDM advocates the opportunity to understand the challenge of the commuter who may not have three, four or even more choices on how they can get to work. It also allows people on our team to experience a commute mode they have never tried before like a commuter train, vanpool or in the case of a new option we tried this year – slugging. For some of our team, this is the first time they have tried some of the very options we promote.

This annual event is a great motivator and team builder for ATP. It allows us to wave our goofy freak flags a little and compete for the fastest commute. More importantly it gives us a glimpse into the commutes of others and allows us to lend a more empathetic ear when engaging with many of our clients and their employees. Congrats to Sheila and her winning Metro ride! I wonder what new mode we can incorporate next year?
Photo credits: ATP Team for Arlington Transportation Partners