This is the sixth consecutive year that Courtland Towers (Dittmar Company) is participating in Arlington Transportation Partners' (ATP) Champions program. Courtland Towers and ATP have a strong relationship that helps them retain current residents and attract new residents to their property.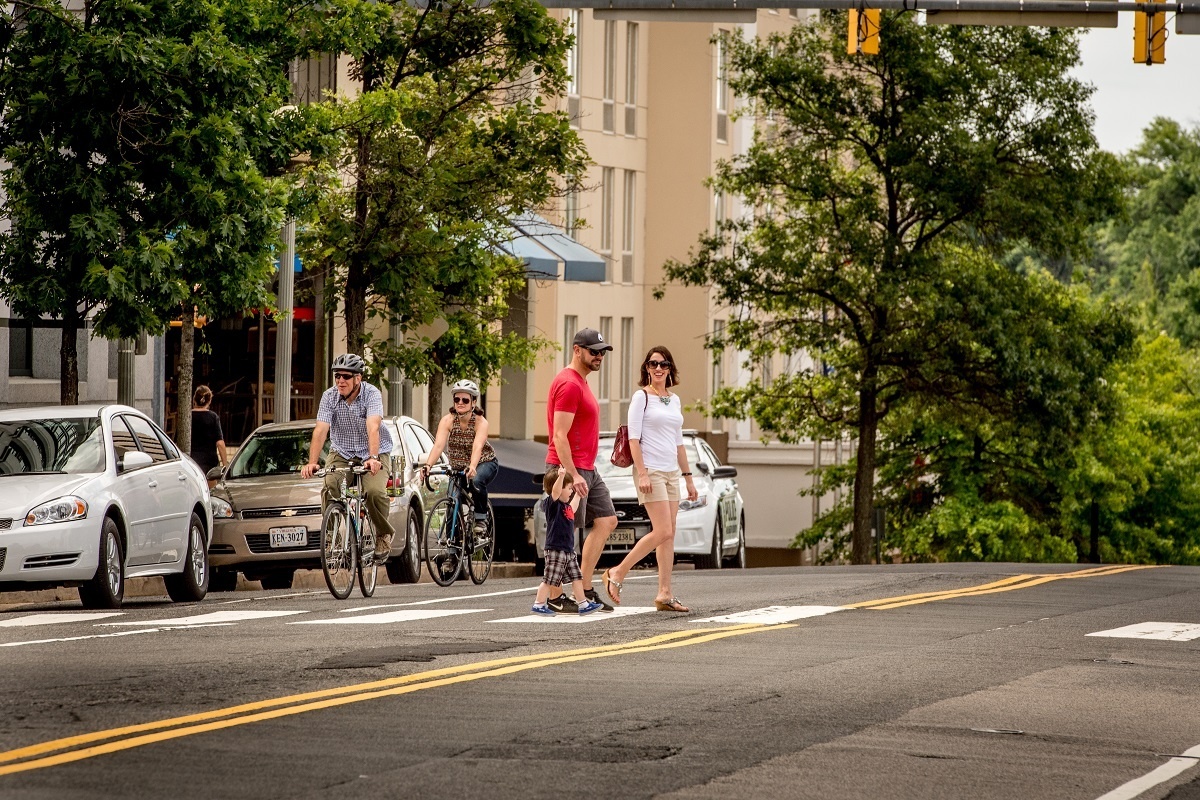 Commitment to Their Residents
With their great location near Courthouse Metro Station, Courtland Towers residents can benefit from a multi-modal lifestyle. Transportation options start with sharing information. Courtland Towers recently installed a real-time transportation digital screen that makes this multi-modal lifestyle seamless. The new screen provides residents with dynamic transit schedules as well as availability of other options such as scooters, bikeshare, or nearby ridesharing vehicles.
Providing transportation options
The property management team at Courtland Towers knows that transportation is not a one-size-fits-all model, so they support residents who travel by various options. Courtland Towers offers free, pre-loaded SmarTrip cards to residents. The SmarTrip cards can be used on all ART buses, WMATA Metrobuses, and Metrorail. Courtland Towers also supports bicycling for their residents. New residents have access to Capital Bikeshare passes upon move-in so they can explore the DC metro region.
Committing to be more sustainable
Electric cars have become increasingly popular over the years and property management at Courtland Towers noticed that their residents were adopting this shift as well. They considered, what could be a better way to serve residents than by having a charging station on-site? Now, residents can conveniently charge their electric vehicles using the property's on-site EV charging stations.
Understanding their residents
There is no question that an essential part of Dittmar Company's strategy is based on understanding the needs of their residents. Over the years, ATP partnered with Courtland Towers to host events for residents, helping them understand the different commute options available just outside their door. Courtland Towers also earned Platinum Level in Champions 2019 by participating in a case study to dive deeper into their participation in the program and the impact they made to their residents.
With ongoing COVID-19 precautions and lockdowns, Courtland Towers staff communicates any changes to building facilities and policies to their residents. Property management also took advantage of the surveying services provided by Arlington Transportation Partners. ATP designed a resident survey to understand how commute and work patterns of residents changed. Also, the property manager encouraged the residents to join BikeArlington's Virtual Bike Challenge, helping the residents to stay active and healthy.
Make an Impact on Your Residents and Prospects
By including transportation programs in their leasing and retention strategy, Courtland Towers is able to increase the satisfaction of residents and also helped the property stand out in a very competitive market. There's still time to enroll in Champions 2020 and be connected to an Arlington Transportation Partners representative. We can work with your and your property to identify custom transportation programs and solutions to engage your residents and property staff to the transportation systems surrounding them.
Photo Credit: Sam Kittner/Kittner.com for Arlington Transportation Partners