Usually when I meet new people, the first question they have for me is: "Is Santa your father?"
He's not; he's my uncle, but we are very close.
The second question people ask me is how much of an adjustment it was to switch from traveling by magical reindeer to riding public transportation when I moved here. My answer has evolved over time, but ultimately three things have stood out to me.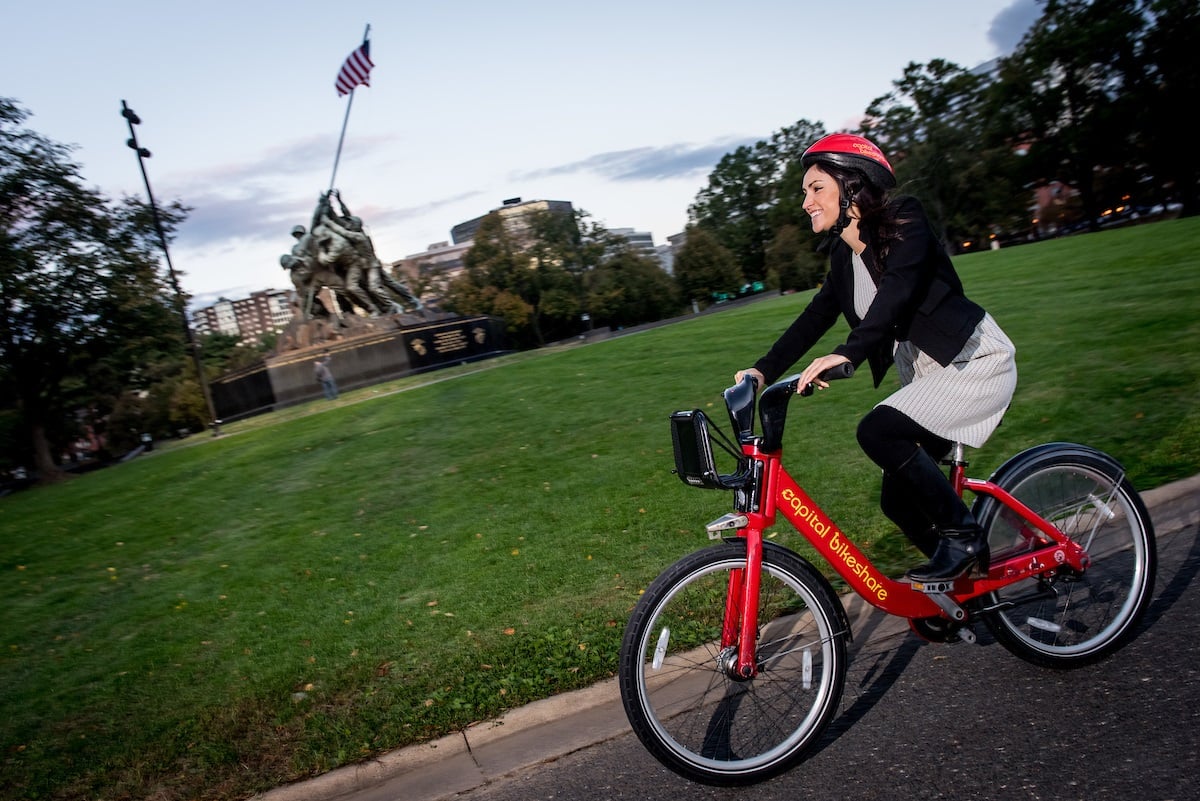 Biking is Basically Like Riding Reindeer
Back home one of my favorite excursions was taking a reindeer out for a midnight ride among the stars. Here I love riding on Mount Vernon Trail late at night, and seeing a beautiful full moon reflected on the Potomac. In the summer I use Capital Bikeshare to go to Gravelly Point for a picnic or watch the sunrise at the Iwo Jima memorial.
On the more practical side, I enjoy riding to my favorite places and not having to deal with traffic. After four years of living here it still shocks me when a four-mile car trip from DC takes about twenty minutes longer than it would have by bike.
Maybe biking is magic after all.
The Bus Has Plenty of Cargo Space
Sometimes I helped my uncle deliver toys, and actually got to ride the sleigh. Let me tell you, that thing has trunk space.
These days when I'm running errands and my bike basket isn't spacious enough, I take the bus. On weekends there's so much space for presents, cookies, tinsel, and a tree—just once though. But even on weekdays when I take my gym bag and change of clothes into the office, there's still plenty of room, and some buses even have overhead luggage racks.
There's Nothing Like Metro
Using Metro was definitely the biggest adjustment for me, because it meant that I was in a real city and not in the land of ice and snow. But I love the big details like huge arched ceilings and crowds of people bustling to go to work or catch up with friends, and the little details like counting books, or wondering what podcasts people are listening to.
I moved here in March and my first SmarTrip card was the pink commemorative Cherry Blossom one; it was so nice to see everyone taking Metro excited to walk around the Tidal Basin and enjoy the warmth and sunshine.
Find Your Own Transit Magic
Whether you're new in town or just getting reacquainted with your hometown, there's always room to find something exciting about how you get from point A to point B. Maybe there's a present at the end of the trail or maybe the gift is just in the adventure.
Photo Credit: Sam Kittner/Kittner.com for Arlington Transportation Partners