As part of Champions, property managers can hold a resident event with their ATP representative. This is a great opportunity for your residents to ask their burning questions about how to travel around Arlington for work or for fun. Some questions are asked more than others, so we've collected them below to share with all of you.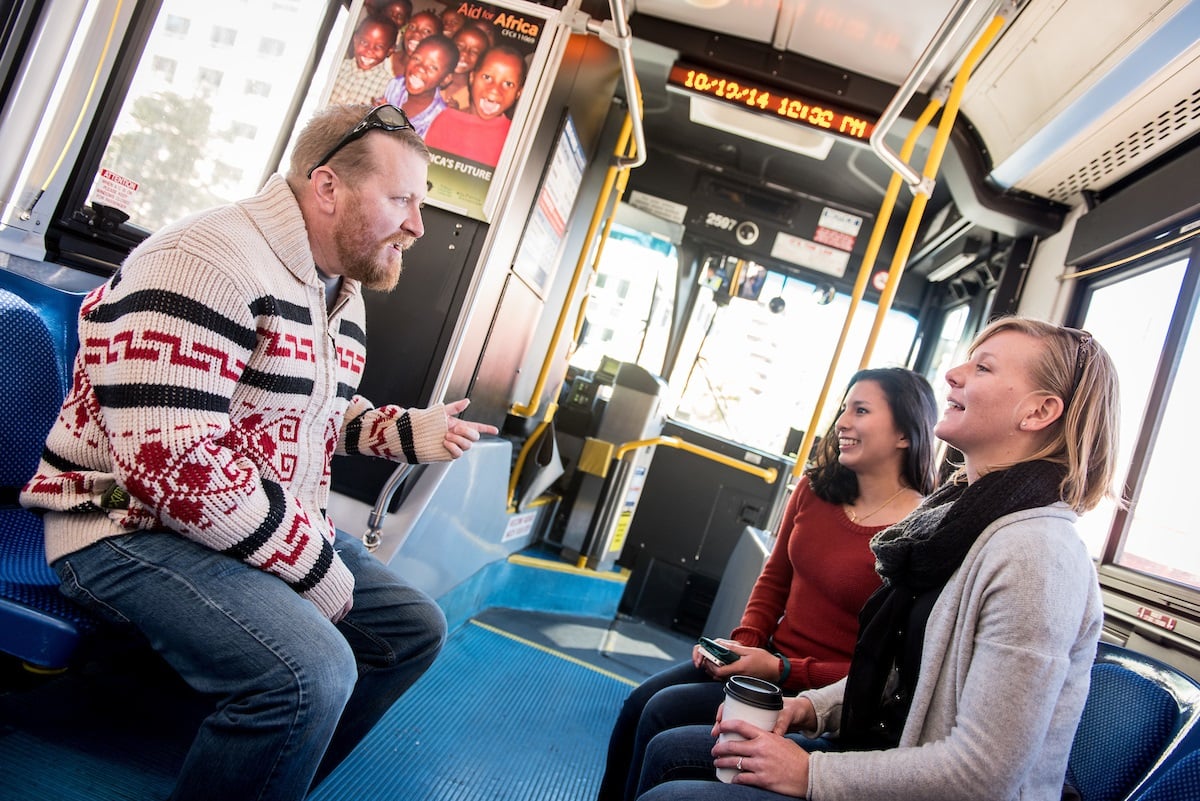 How Do I Ride the Bus?
Many of your residents are curious about the bus, but don't know how to start riding. Fortunately, riding the bus is easy.
Passengers pay the $2.00 fare using cash or the same SmarTrip card that is used on Metrorail. Pay when you board, then simply get off at your stop.
Do my kids have to pay?
Up to two kids under the age of five can ride for free with an adult passenger. Children who live in Arlington and are enrolled in Kindergarten to 12th grade at any school can enroll in the iRide program and pay only $1.00 on ART buses.
What bus do I take?
Your favorite navigation app can tell you where to wait and what routes to use for your trip. Apps like Transit or City Mapper also show bus arrival times based on your location. To practice, pick a destination on a route near your home.
I have a flat bike tire—can I bring my bike on transit?
All buses have racks at the front to hold your bike. Just pull down the rack and secure your bike or ask the bus driver for help.
You can also take your personal bike on Metrorail at any time of day. Just use the elevator instead of the escalator, board through the front or end doors of any car (not the middle door), and avoid riding cars that are too crowded.
Is Capital Bikeshare Just for Tourists?
Anyone can use Capital Bikeshare. You can buy the Annual membership for $85.00, a single trip for $2.00 or other short-term passes on the Capital Bikeshare app.
Riders can also use the app to find stations, unlock bikes, and find a route on the Capital Bikeshare app. The first 30 minutes of any ride are always free. Overage fees apply after that. Remember to dock the bike at a CaBi station when you're done.
How Do E-Scooters Work?
E-Scooters are a great way to travel for very short distances, or up an annoying hill on a hot day. Each scooter company has its own app, scooter model, and pricing structure, so you can pick your favorite brands based on your preference. Just use the app to unlock a scooter, pay by the minute, and then lock the scooter again when you're done.
You can ride on the streets and bike lanes using normal bike etiquette, and end trips on sidewalks without blocking anyone's way. Each app has safety and parking tips in case you forget.
What's Going on with the Metro?
WMATA is constantly working on expanding and improving all facets of Metrorail service. The new Silver Line station at Dulles Airport is currently expected to open in the summer of 2020, and designs are in the works for a station at Potomac Yard.
When will the Blue and Yellow Lines reopen?
Most recently, WMATA closed the six Metro stations south of Reagan National Airport for repairs and improvements. The stations are now reopened as of September 8, 2019, and passengers can check out the new features like shiny new LED arrival displays, slip-proof floors, and beautiful new skylight roofs.
Be Ready with the Answers
Don't wait for a lobby event to give your residents information about options to get around. Join Champions and register your team for a training session to become transportation experts for your residents!
Editor's Note: This blog was updated on September 10, 2019 with new information written by Claudia Pors.
Photo Credit: Sam Kittner/Kittner.com for Arlington Transportation Partners