Culture, collaborative, authentic, work/life integration—these are the keywords that commercial real estate professionals are keeping in mind as they look for new ways to attract tenants and renew leases. For businesses, these elements are key when looking to relocate or expand their offices, and are critical factors in recruiting and retaining talented employees.
In the DC region, the market has shown that companies and their employees want to be in locations that have walkable amenities and gives people an experience beyond just to going to the office.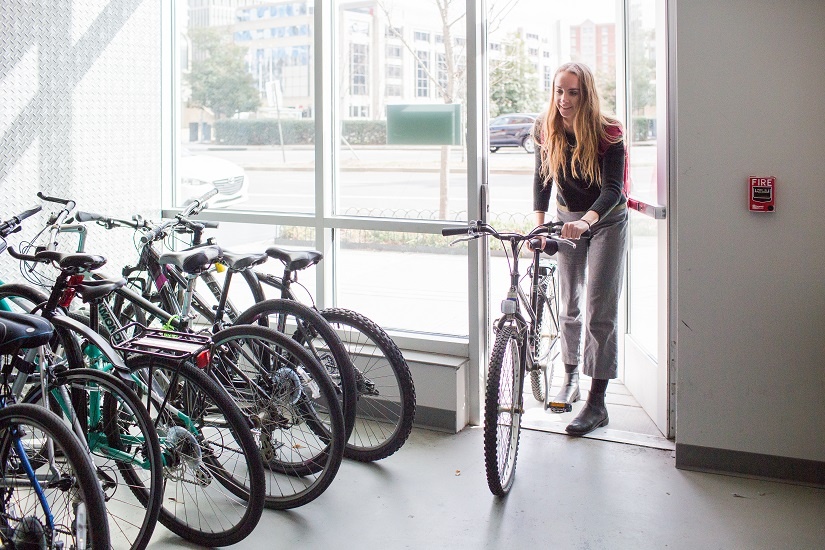 As many employers are searching for more ways to attract talent in the competitive DC region, innovative and unique features are considered crucial to recruitment and building company culture.
For real estate developers and owners, this means designing and re-positioning new and vacant office space to meet demand. Many design and real estate firms are bringing elements from the hospitality and residential industries to bring more character and full-service amenities to office buildings. This includes cozier lobbies, top of the line fitness centers, and sustainable initiatives.
Shifts in Company Culture
Businesses are placing more emphasis on health and wellness components in the office space, as well as flexibility in both office design and technological advances. This includes open floor plans, more collaborative workspaces, and nearby amenities and transportation options.
For many developers, that means going beyond just having a bike room, but also providing bike tune-ups and other features to cater to tenants.
What Companies Are Looking for When They Relocate
It has been widely documented that companies such as Nestle, Gartner, as well as smaller startup companies are making relocation decisions based on employee commutes and the neighborhood amenities available. The importance of place and the community surrounding an office has become just as important as the internal features when it comes to retaining tenants.
The Central Place development in Rosslyn as well as upcoming Ballston Exchange and Ballston Quarter projects are notable examples in Arlington where developers are putting priority on placemaking and attracting quality retail tenants to their projects. In addition, there is the understanding that employees, residents, and visitors to these sites are multi-modal. Developers are making non-driving options such as transit, biking, and walking key components to the overall planning and operation of the projects.
What This Means for Arlington
As Arlington continues its economic development initiatives to attract companies and reduce the vacancy rate, commercial property owners will need to consider how to tailor office space and building amenities for tenants.
Creating office suites and building level programs that are in line for company cultures and employee lifestyles will be an important factor in competing with newer submarkets in the DC region such as NoMa, Capitol Riverfront, and along the Silver Line.
Through Arlington Transportation Partners' Champions program, the Commercial and Residential Services programs can help your property stay ahead of the competition and incorporate in-demand transportation amenities for your tenants.
Editor's Note: This blog was published in February 2016 and has been republished with information written by Keara Mehlert and Christy Lee.
Photo Credit: Reema Desai/ReemaDesai.com for Arlington Transportation Partners