In 2019, Arlington Public Schools' H-B Woodlawn moved from its long-time home on Vacation Lane in the Cherrydale neighborhood to the Rosslyn urban village. Uncertainties mounted over whether the school would maintain its defining qualities in the new, urbanized setting. One of the major concerns to face the school staff and administrators was parking: where is everyone supposed to park? Four years later, Arlington Transportation Partners (ATP) takes a look at how using sustainable modes of transportation helped ease the parking crunch at the school.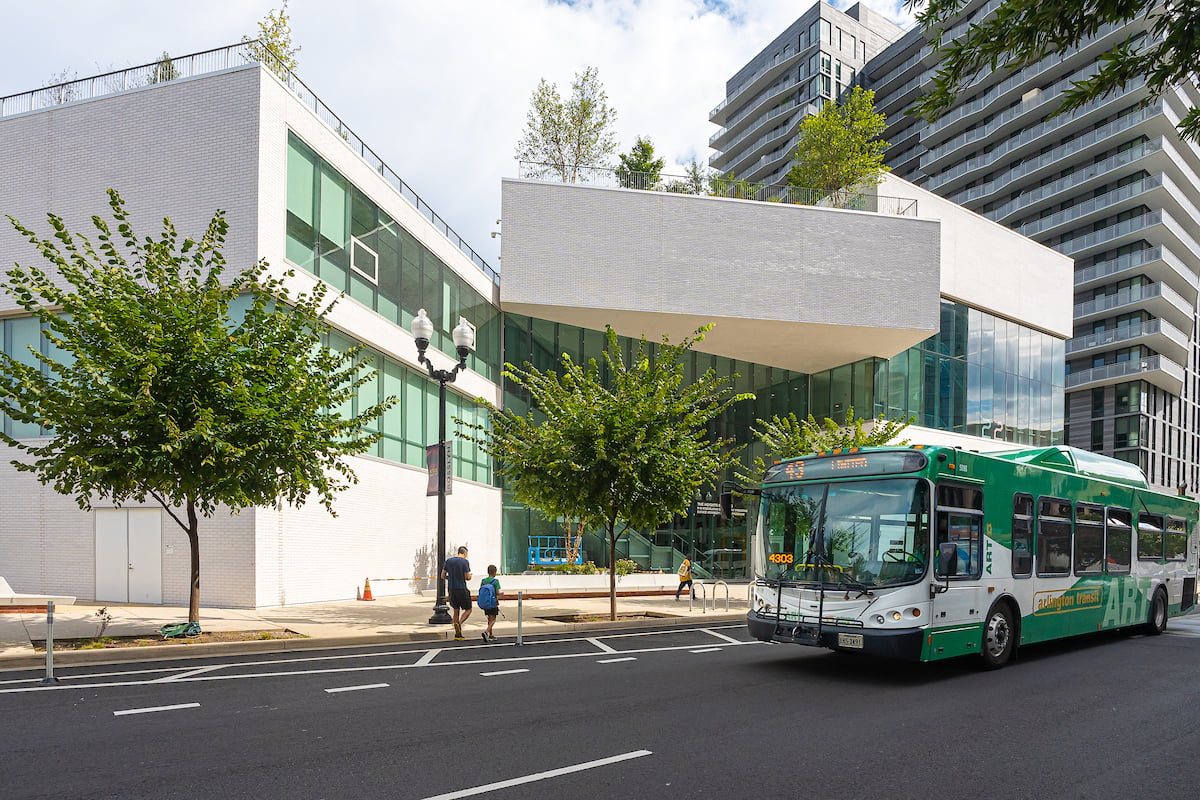 Public Transit
H-B Woodlawn is located on Wilson Boulevard, one of Arlington's main arterial roads with a vast variety of public transportation options that provide convenient access to the school for both staff and students.
Teachers have embraced the location for ease in accessing experiential learning opportunities. Assistant Principal, Graham McBride says: "Field trips to DC can be done without the use of APS Buses. If we're using APS buses, they need to take kids back to school at 1:30 p.m. so they can do their regular afternoon runs, but Metro frees us from that limitation."
H-B Woodlawn's population utilizes Metro for far more than just commuting. It plays a significant role in the school's June-time programming, which consists of two weeks at the end of the school year for staff-led excursions and activities. Graham also shared that students use APS buses, Metrobus, ARTBus, and ridesharing options to travel to school, with 150 students enrolled in the Student iRide SmarTrip Card program.
Walkability
Local businesses are easy to support with dozens located at a walking distance around the school Rosslyn, including a weeknight farmers market. Staff can conveniently access quality breakfast and lunch options and easily run an afternoon errand at one of the grocery or department retailers.
Students are afforded off-campus privileges and are welcomed by neighboring businesses who have seen economic benefit from the steady stream of income during the school year. Walkability also positively influences staff and students' ability to use active transport as a commute option. About the same number of staff walk or bike compared to the number of those who use public transit.
Providing Transit Benefits
In collaboration with ATP, H-B Woodlawn offers its staff transit benefits that outweigh the parking benefit, along with free showers and lockers. These benefits promote commuting modes other than single-occupancy-vehicle trips by making the commute more convenient, comfortable, and cost-effective.
Two Sides to Every Coin
H-B Woodlawn's relocation to Rosslyn presented multiple challenges to the school when it came to commuting and parking, but every problem has a solution. H-B Woodlawn's dedication to promoting transit options, as well as carpooling and vanpooling, and active transportation to their students and staff has paid dividends. Embracing change can lead to positive outcomes and H-B Woodlawn now stands out as a leader in the community.
Is your organization looking for parking management solutions? Maybe you're wondering how implementing transit benefits at your workplace can help your staff commute easily and more often to the office. ATP can help you reach your goals.
Photo Credit: Albert Ting/theclickting.com for Arlington Transportation Partners